Academic ProgramsGraduate & Professional Studies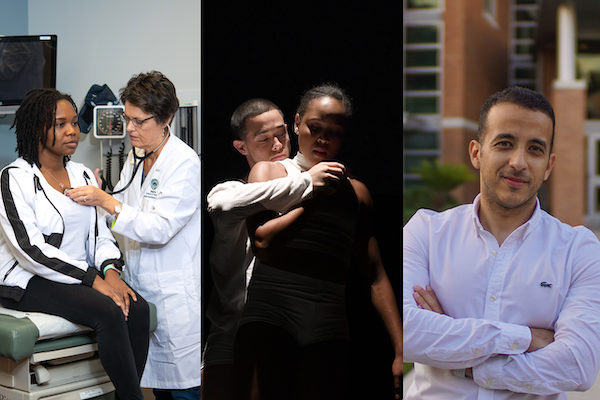 Grow Boldly Into Your FuturePursue Your Passions
You've already found a field or degree that you're passionate about. Now it's time to dream even bigger. Our 50+ graduate programs and professional studies can help you take the next step toward a bold future, providing you with an expansive curriculum and real-world learning experiences that will help set you apart in the competitive and ever-changing workforce.
We offer:
Master's programs from the Brooks Rehabilitation College of Healthcare Sciences, the College of Arts & Sciences, Davis College of Business & Technology, Linda Berry Stein College of Fine Arts & Humanities, and the Public Policy Institute
Dual master's programs in business administration, business analytics, public policy, nursing, law, marine science, health informatics, and organizational leadership
Doctoral programs in nursing practice, occupational therapy, and business administration
Post-graduate certificate programs in nursing, education, and healthcare quality and safety for students who want to continue their education, or specialize their career, but have already earned a graduate degree
Fast Facts
Graduate at your own pace with one, two, and three-year program progression options
Year-round start times, with many programs beginning every 8 weeks
Hybrid, online, and on-campus options
Full-time and part-time options
Small class sizes that allow you individualized attention
Full-time, expert faculty who are researchers and scholars in their field
Tuition reimbursement and financial aid available
Details vary by college and program. This information applies to most of our programs.
Available Programs
College Of Arts & Sciences
School of Social Sciences & Education
School of Science & Mathematics
Public Policy Institute
Davis College of Business & Technology
School of Business
Linda Berry Stein College of Fine Arts & Humanities
School of Performing Arts
School of Art & Design
Brooks Rehabilitation College Of Healthcare Sciences
Keigwin School of Nursing
School of Applied Health Sciences
School of Orthodontics
College of Law
Public Policy Institute
Interdisciplinary
Request InformationLearn More
Loading...