Master of Science in Speech Language Pathology
CSD Upcoming Events
If you are interested in learning more about the Department of Communication Sciences and Disorders (CSD), we invite you to attend one of our visit days. Our CSD faculty will be available to meet with interested undergraduate and graduate students on:
For additional information and to schedule a meeting, please contact us at graduateadmissions@ju.edu.
Considering a Career in Speech-Language Pathology?
The Master of Science in Speech-Language Pathology Program (MS-SLP) at Jacksonville University is for those students planning careers as speech-language pathologists. We are developing professionals who are knowledgeable and skilled in the assessment, diagnosis, and treatment of speech, voice, swallowing, language, and cognitive disorders. Under the direction of experienced faculty, students will gain the skills needed to assess and treat individuals with diverse needs.
Speech-language pathologists can work in schools, hospitals and private health offices and diagnose, treat and prevent a variety of communication, speech, and language disorders.
Students who hold a bachelor's degree in a field that is not in communication sciences and disorders, speech-language pathology, or the equivalent, must complete pre-requisite courses before they begin graduate work in speech-language pathology regardless of the institution they attend for graduate school.
Jacksonville University offers the undergraduate pre-requisite courses in Communication Sciences and Disorders. These pre-requisite courses are required for students to meet the general course requirements prior to application to a MS-SLP program.
Jacksonville University has also partnered with Sant'anna Institute to offer Pathways to Speech Language Pathology: a prerequisite program required for application and admission into a SLP Master of Science. Coursework is completed online, with a culminating field and study experience in Sorrento, Italy.
Request Information
Loading...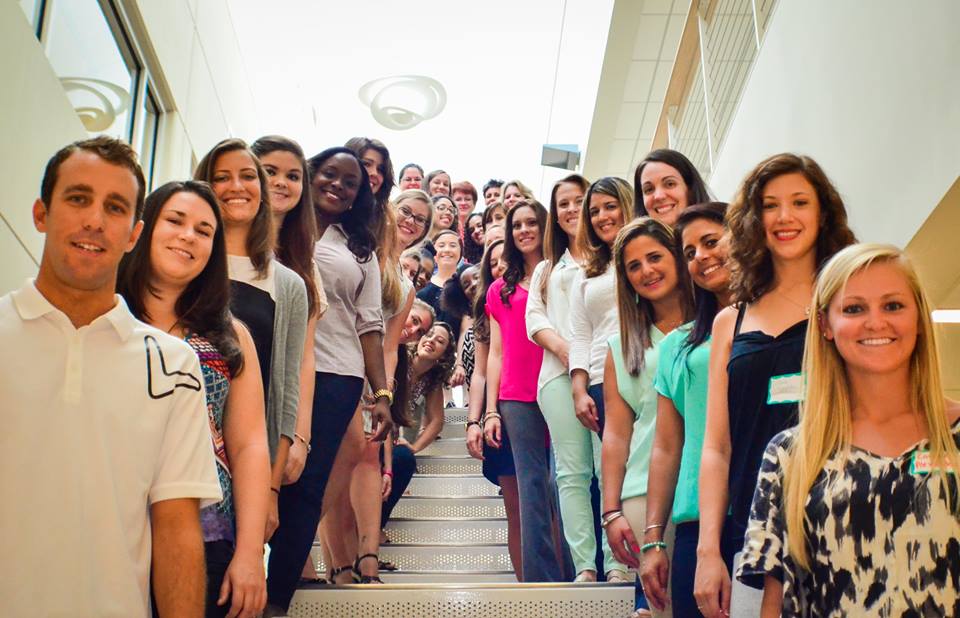 Admissions & Curriculum
Attention Students
GRE and application fees for all graduate programs
have been temporarily waived.
The admissions process for the MS SLP program includes the use of a rubric. The rubric categories include a cumulative grade point average (CGPA), prerequisite coursework grade point average (GPA), letters of recommendation, content and writing style of the personal statement (essay), professional and personal experience related to the coursework and field, a combined GRE score for quantitative, verbal and writing components. A prompted video submission may also be requested. The review committee consists of all full-time faculty members.
Admission to the School of Applied Health Sciences (SAHS) is selective and limited to those students who have demonstrated potential for successfully completing the program. An admission decision is based on evaluation of an applicant's previous coursework and their grades earned*, a written personal statement, a professional resume, individual experience within the field, and three letters of recommendation. Where applicable, official GRE scores and a personal interview are also utilized in final evaluation for admission.
If you decide to apply, please have official transcripts sent to the Office of Admissions at Jacksonville University. JU requires applicants to send transcripts from every college/university attended, even if the course resulted in a drop, withdrawal, failure or if the course was transferred to another school. For information on how to send your transcripts to JU, please visit the Registrar's JU transcript instructions site.
International Applicants must meet all Jacksonville University International Student Admission Criteria as outlined in the JU Catalog, including English Proficiency including TOEFL (minimum score of 650 for paper, 280 for computer, and 114 if Internet based) or IELTS requirement of 8.0 if the applicant's primary language is not English.
Title IX: Jacksonville University does not discriminate on the basis of race, color, national origin, sex, disability, religion, sexual orientation, or age in its programs and activities. The following person(s) has/have been designated to handle inquiries regarding the non-discrimination policies:
James Williams, Director Human Resources
Telephone number (904) 256-7025
Kristie S. Gover, Ed.D., Chief Student Affairs Officer/Title IX Coordinator
Telephone number (904) 256-7067
The application cycle for the Fall 2020 cohort is now closed. The Fall 2021 application cycle will open in Summer 2020.

Request More Information Apply Now
Additional Information
For more information about regarding the graduate admission process to the MS SLP program, please contact Ms. Pamela Adrian at padrian@ju.edu.
For information regarding admissions to Jacksonville University, visit the Office of Admissions.
Note on transfer credits
Students of the MS SLP program may transfer in a maximum of nine semester hours of graduate academic credit from a comparable regionally accredited academic institution. The credit must be in courses similar in content and rigor to Jacksonville University's Master of Science in Speech-Language Pathology Program, and the grade must be at least a "B".
To be eligible for transfer credit the student must submit a transcript, course syllabus, and catalog description of the course to the Program Director of the MS SLP program. The Program Director and Academic Advisor will review the provided information and compare it with the Jacksonville University course for its equivalence in content and credit hours. Once the decision has been made, the student will be notified by email and letter of whether or not the course has been accepted. If the course(s) is/are deemed equivalent, a letter from the Program Director that indicates that the transfer credit is allowed will be sent to the Jacksonville University Registrar and placed in the student's file.
ASHA CCC-SLP Application Standards
A career as a Speech Language Pathologist involves working with individuals from a wide variety of backgrounds, ages, and ability levels, as well as handling confidential information. In an effort to ensure that the profession is made up of individuals of integrity, those applying for certification as an SLP must answer questions regarding their criminal background. A history of offenses may impact your ability to become certified in the future. For more details, download the 2014 CCC-SLP Application Standards PDF.
Additionally, as a student, it may inhibit your ability to complete the necessary practicum hours to graduate. All students accepted into Jacksonville University's graduate Speech Language Pathology Program must have an unencumbered background check as a clinical requirement. Offenses listed on a background check may result in your offer of acceptance being rescinded.
Prerequisites at JU
Jacksonville University offers the required CSD prerequisites on-campus for post-baccalaureate students who are interested in applying for the MS SLP program. Please contact Ms. Pamela Adrian to inquire about the prerequisites at padrian@ju.edu.
Learn more about the prerequisites
PLEASE NOTE: There is no guarantee that the prerequisite coursework offered by Jacksonville University will transfer to other university curriculum requirements for future graduate school application.
Accreditation
The Master of Science program in speech-language pathology at Jacksonville University is accredited by the Council on Academic Accreditation in Audiology and Speech-Language Pathology of the American Speech-Language-Hearing Association, 2200 Research Boulevard, #310, Rockville, MD 20850, 800-498-2071 or 301-296-5700.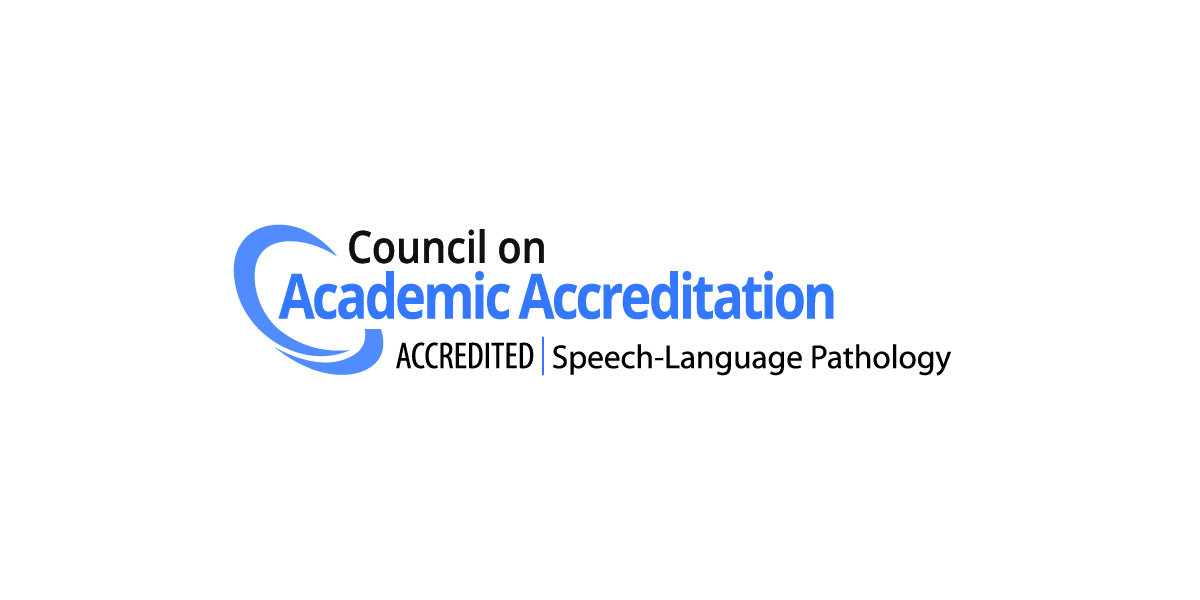 Contact Us
Judith M. Wingate, PhD, CCC-SLP
Department Chair and Professor, Communication Sciences and Disorders
Email address jwingat2@ju.edu