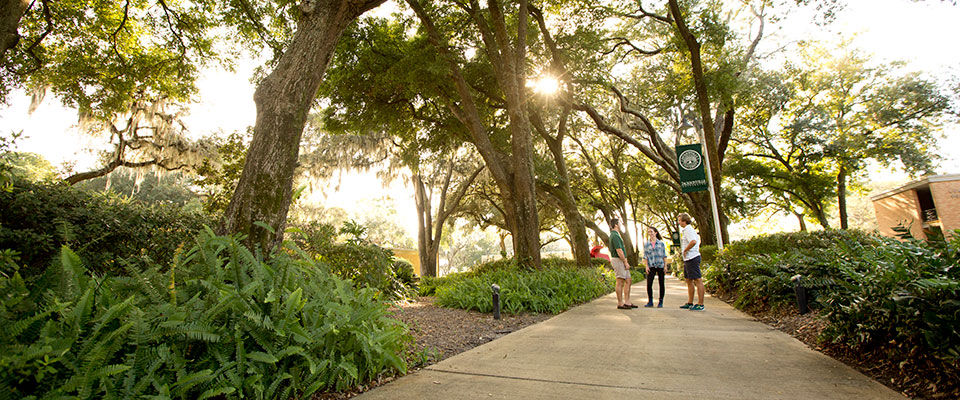 Majors & Programs
​​​​​​​Undergraduate
Jacksonville University offers a rigorous curriculum that addresses the diverse interests, curiosities, and educational needs of the total person. While its Core Curriculum exposes students to the broad spectrum of human thought and accomplishment, specialization for specific career or life pursuits is provided within the major.
The College of Arts and Sciences, the Davis College of Business & Technology, the Brooks Rehabilitation College of Healthcare Sciences, and the Linda Berry Stein College of Fine Arts & Humanities conduct JU's traditional undergraduate and graduate academic programs. Offering more than 100 majors, minors, and programs, the University confers the Bachelor of Arts, Bachelor of Business Administration, Bachelor of Science, Bachelor of Science in Nursing, Bachelor of Fine Arts, Bachelor of Music and Bachelor of Music Education. Pre-professional studies are available for students interested in dentistry, law, medicine, pharmacy and veterinary medicine. ​The Aviation Program is offered in cooperation with Aerosim Flight Academy.
College Of Arts & Sciences
School of Social Sciences & Education
School of Sciences & Mathematics
Davis College of Business & Technology
School of Business
School of Engineering & Technology
School of Aviation & Military Sciences
Linda Berry Stein College of Fine Arts & Humanities
School of Performing Arts
School of Art & Design
School of Humanities
Brooks Rehabilitation College Of Healthcare Sciences
Keigwin School of Nursing
School of Applied Health Sciences
STEAM Institute
Interdisciplinary
---
​​​​​​​Graduate
Jacksonville University is the dedicated, committed learner's choice for graduate study. Our full-time faculty are scholars and practitioners in their fields. Their dedication to teaching and student success provides an environment where students gain the critical thinking skills necessary to advance in their chosen careers.
All of our graduate programs are of a comfortable size that encourage and foster the development of strong communication skills and thoughtful risk taking, which is essential in all organizations in today's changing world.
Our graduate programs are specifically designed for the full-time working professionals in both context and convenience. Earning a Master's Degree is an attainable goal and most importantly – it will be a Master's Degree that is respected both in the community and nationwide.
College Of Arts & Sciences
School of Social Sciences & Education
School of Science & Mathematics
Public Policy Institute
Davis College of Business & Technology
School of Business
Linda Berry Stein College of Fine Arts & Humanities
School of Performing Arts
School of Art & Design
Brooks Rehabilitation College Of Healthcare Sciences
Keigwin School of Nursing
School of Applied Health Sciences
School of Orthodontics
College of Law
Public Policy Institute
Interdisciplinary
---