Office of the Provost
Related Links
Contact
Office of the Provost
About the Office of the Provost
At Jacksonville University, the Provost serves as the chief academic officer, working with the president to oversee academic policies and activities university-wide.
Dr. Christine Sapienza has served as the Interim Provost at Jacksonville University since May 2018. As a direct report to President Tim Cost and the leader of the University in his absence, Sapienza is responsible for four colleges, two institutes, and a diverse range of academic and research support systems. Learn more about the Interim Provost and her staff.
Mission & Objectives
The Office of the Provost provides vision, leadership, and oversight for all areas related to Academic Affairs in order to ensure that the quality of student education is a top priority in all decision making.
The Office of the Provost is also responsible for the recruitment, hiring, and support of faculty members and college administrators. Accomplished through a system of shared and collegial governance, this mission is executed by:
determining academic priorities for the University
working collaboratively with Admissions and Enrollment Management
optimizing support for faculty development
managing tenure and promotion processes
interpreting personnel policies equitably, correctly, and consistently
facilitating experiential learning initiatives and student engagement
fostering intellectual curiosity
promoting the importance of inclusion, diversity, and accessibility
providing budgetary support for faculty members, academic units, and academic programming
stewarding fiscal responsibility while being attentive to the needs of the University's academic community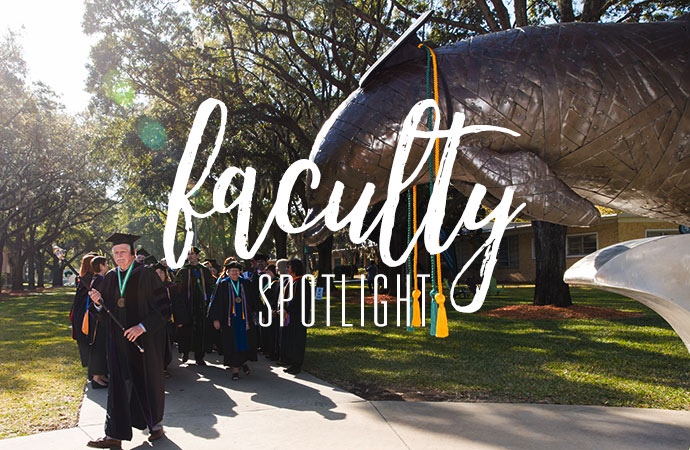 Faculty Spotlight
5 Fast Facts with the Director of the Center for Teaching and Learning
October 2018
Meet Dr. Annmarie Kent-Willette, Professor of Communications and Director of the Center for Teaching and Learning.
Areas of Oversight
Colleges, Schools, and Institutes
End of ASPIRE Sparks New Beginning for Jacksonville University
"There is a revolution going on at Jacksonville University," said Melanie Cost Young, "and you are the avant-garde." The ASPIRE Campaign Celebration on September 25 honoring leadership donors and volunteers featured students from across the University and project collaborations that brought together investors, parents, board members, alumni, community leaders and members of the JU Family …
Q&A with Dr. Andy, JU's "The Science of…" Guy
WAVE magazine recently sat down with Anthony "Andy" Ouellette, Ph.D., the number one brand ambassador for Jacksonville University's "The Science of…" (TSO) science-based video series. From the Jacksonville Zoo to the bottom of the St. Johns River, this innovative series highlights scientific endeavors across northeast Florida. Q: Your name has become synonymous with "The Science …
MSRI Grad Student Amanda Macek Named 2018 Guy Harvey Scholar
In an email to the Marine Science Research Institute (MSRI) Executive Director Dr. Quint White, graduate student Amanda Macek '20 said: "I have great news! As of this morning, I was selected as one out of eight recipients of the Guy Harvey Ocean Foundation Scholarship for a $5,000 award. It's going to be a great semester …