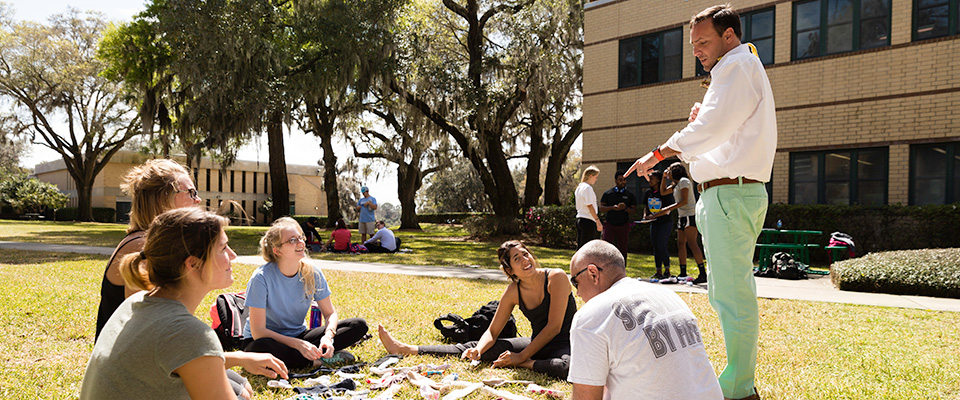 College of Arts & Sciences
Mission Statement
The College of Arts & Sciences will maintain and enhance academic programs that develop and foster knowledge of human cultures and the physical and natural world, intellectual and practical skills, personal and social responsibility, and interconnected learning.
Message from the Dean
Welcome to the College of Arts and Sciences!
Arts and Sciences is the heart of Jacksonville University. The College includes all of the areas considered for centuries to be important for an educated population. Science and Mathematics, Social Sciences, Humanities and Education including Wilma's Little People School along with the Naval Reserve Officer Training Corps (NROTC) are all part of the College of Arts and Sciences. Majoring and minoring in fields represented in the college can prepare you for graduate or professional school or for a career.
Regardless of your major field of study you will take courses in these areas to meet the core general education requirements. Study of writing and literature, international studies, social sciences, mathematics, philosophy, foreign languages, laboratory sciences and humanities will enrich your lives. Problem solving, critical thinking, and communication skills are highly prized in many careers and are a major component of the education you will receive at JU. Please explore the options available beyond the courses that you are required to take. You may find you have talent in an area you never even knew existed.
Sincerely,
Sandra Coyle, PhD
Interim Dean
Contact
Dean's Office
Sandra Coyle, Ph.D.
Interim Dean
Bonnie O'Steen
Administrative Associate