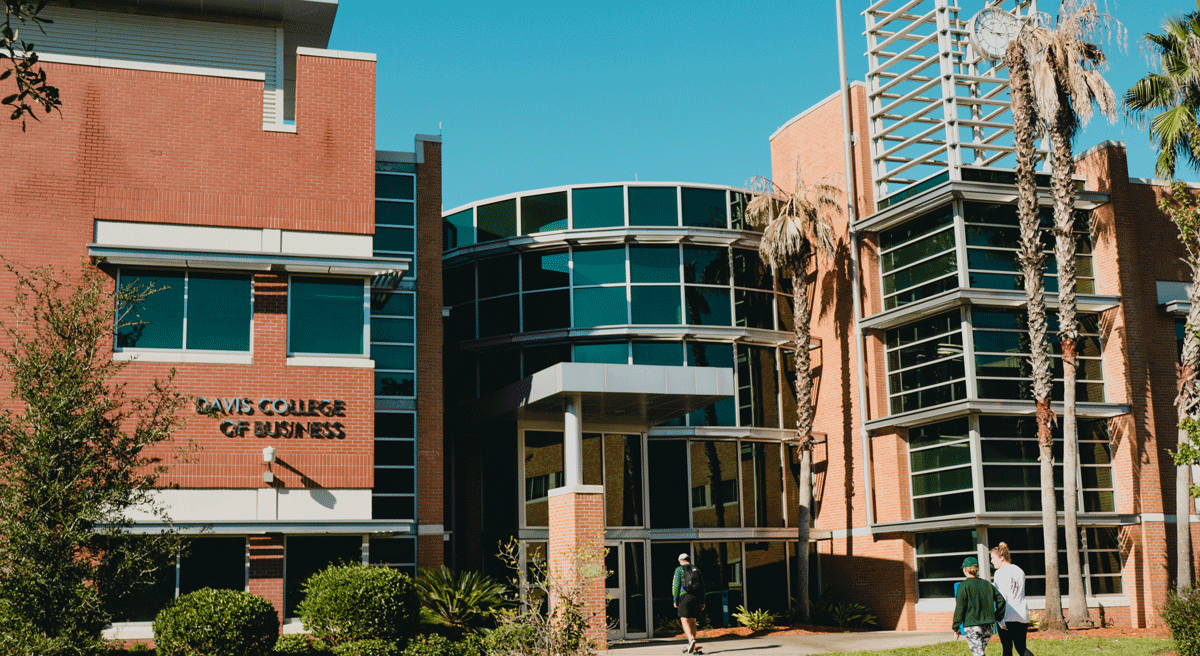 Davis College of Business
Contact
Davis College of Business
​​​​​​​Welcome to the Davis College of Business
The Davis College of Business at Jacksonville is perfectly positioned at the intersection of education and industry. Across the river from the city of Jacksonville, students take advantage of strong industry partnerships that result in practical course work and applied experiences inside and outside of the classroom.
With a world class faculty, we offer a personal, individualized educational experience that prepares students for sustained career success. Our curriculum includes the knowledge and skills most sought after by employers such as critical thinking, ethical reasoning, and communication. Our graduate programs build upon the knowledge of an undergraduate degree to prepare students for enhanced career success. We are proud of the fact that our students are highly in demand as evidenced by exceptional placement rates for graduates at all levels.
Professional development tailored to the personal goals of each student is our objective, achieved through the Davis College Center for Professional Development. Students can speak with a career counselor to explore career options, take advantage of VMock software for resume review and the Big Interview platform for mock interview practice. Internships or practicum experiences are recommended and students can apply to be a part of the Phins Up career mentorship program. Graduate students may have distinct development needs so opportunities are tailored for each program and designed to help grow a professional network for upwards advancement.
I welcome you to the Dolphin family. You will be hard pressed to find a college more dedicated to enabling your success than the Davis College of Business.
Dean Barbara A. Ritter, Ph.D.
Fast Facts about the Davis College of Business:
The only AACSB accredited private business school in all of North Florida and South Georgia.
Our faculty's research has been cited over 6,255 times since 2014.
Our Master's programs are all FLEX, meaning students can choose to attend in-person or online.
We maintain robust connections with the business community. Our Employer partners include Florida Blue, TIAA Bank, Miller Electric Company, Bank of America, Fifth Third Bank, Dixon Hughes Goodman, Black Knight, and others.
Our placement rates are consistently at or above 90% with an undergraduate median starting salary in 2019 of $41,600 and $59,000 for Master's level programs.
In 2016, the Davis College began competing in the Global CFA Institute Research Challenge. We won the Florida region in 2017, 2018, 2019, and won the national competition in 2018.
The Student Investment Group oversees funds totaling over $700,000.
The School of Aviation boasts one main flight simulator and two Red Bird flight simulators.
The EMBA program is 38 years strong with alumni that include CEOs, CFOs and Presidents of major Fortune 500 companies.
Our DBA students are marketable in business and higher education with 40% choosing to remain in academia.
The DBA has 100% placement rate with an average salary of $102,500.
Contact
Dean's Office
Dean, Davis College of Business
Executive Director of Career Services
Office location

Office 262

Directory entry

britter1@ju.edu

Telephone number

(904) 256-7430
Dayle Lasonde-Smith
Office Associate
Davis College of Business Introduces its Top 25
Introducing the Davis College of Business Top 25! These high-performing undergraduate and graduate students and future business leaders were chosen by a selection council comprised of Davis College faculty and staff who considered and carefully weighed an extensive set of …