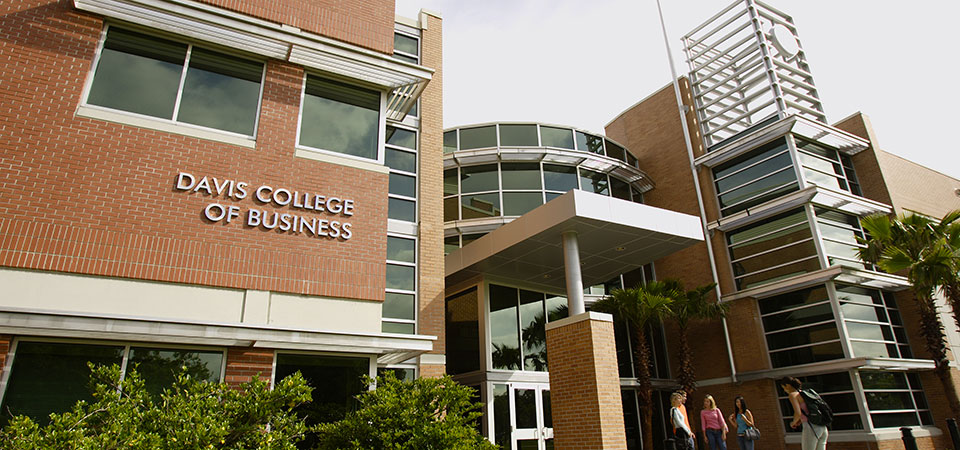 About the Davis College of Business
Whether you are looking to jumpstart your career, rise above others in your organization, or just want to reach higher and better yourself in business, there has never been a more important time and opportunity for you to discover how you can enhance your career outlook.
The Davis College of Business at Jacksonville University prepares you to stand taller and rise to the top!
Read a transcript of the video
Video Transcript
[The audio throughout the video is music: uplifting, energizing strings.]
1934: Jacksonville University is chartered.
1979: College of Business is established.
Accreditation from the Association to Advance Collegiate Schools of Business.
JU leadership authorizes the Davis College of Business to create its own identity.
By 2003, the Davis family had endowed the college with $19 million. These monies allowed for the 2005 construction of a stand-alone facility.
Goals:
Increase awareness.
Position JU Davis's master's degree programs as high-quality and high-value.
Attract prospective MBA students.
JU Davis Means Business brand is launched.
DBA applications increased by 188%.
MBA program applications increased by 40%.
DBA program achieved full enrollment with 47 students.
EMBA program reached a 10-year enrollment high with 27 students.
The sky's the limit for JU Davis College of Business.
Why Davis College of Business?
The JU Davis College of Business is the only AACSB-accredited private business school in all of North Florida and South Georgia. This region encompasses the most dynamic and economically diverse industries in the Southeast United States. Major international ports, logistics and transportation companies, global financial services companies, consumer goods and services organizations​, information technology, and world-class healthcare organizations operate within this area and provide rich opportunities for internships and careers. Nearby Cecil Field is also the only publicly-accessed Spaceport in Florida and home to a growing aerospace industry!
Jacksonville University and Davis are well-recognized partners in the growth of all these industry sectors and part of the cultural and social character of the community. JU Davis has a proud tradition of training top C-level executives in a number of industries and is rooted into the large network of alumni and corporate partnerships. Our role and place within the Jacksonville community is one we have earned through high quality, extremely relevant and engaging programs. Whether you are seeking an undergraduate major in finance or accounting, a career-advancing MBA, or the skills necessary to launch an aviation career, we are a great place for you!