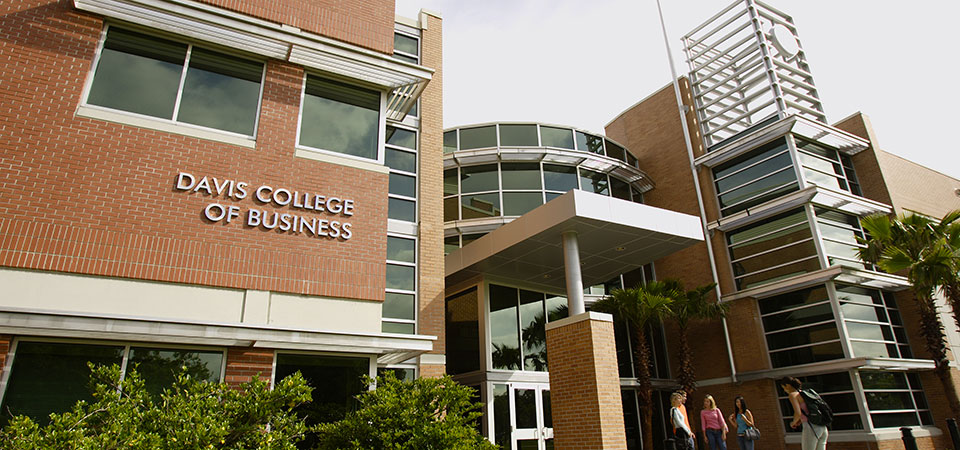 About the Davis College of Business & Technology
The vision of the Davis College of Business & Technology is to be the preeminent private college of business and technology in Florida for driven students, dedicated faculty and discerning employers.
Mission
Our mission is to empower students to achieve sustainable career success with a high quality, relevant, and applied educational experience that is delivered by faculty committed to advancing the individual development of each student.
We sustain and enact our mission through (1) our commitment to students, (2) relevant faculty intellectual contributions, (3) engagement with the business community, and (4) innovative curriculum.
Societal Impact Statement
The Davis College of Business & Technology endeavors to connect our primary stakeholder groups through the sharing of knowledge and skills in order to inspire positive change in Jacksonville and the surrounding region. We inspire innovations built on connectivity by serving as a hub for learning to elevate our local business community.
Our college positively impacts society in four main ways:
We develop future and current business leaders with the capacity to make ethical decisions.
We create opportunities for students to see how they can make positive change in their local community.
We connect local business, community, and government to make positive change for our city and the surrounding areas.
We solve problems by sharing knowledge with our business, community, and governmental partners
History
The business program at JU was established as a small division within the College of Arts and Sciences in 1967. The business programs were given the status of a College of Business in 1979 and the first MBA classes were offered in 1980 and first Executive MBA program in 1986.
The EMBA program is small by many business school comparisons, capped at no more than 20 students. Nonetheless, it has produced nearly 600 graduates since inception, and many of these individuals are now key business leaders within Jacksonville. It is viewed very positively by major firms such as Florida Blue, CSX, Haskell Corp., Lender Processing Services, Sea Star Lines, Mayo Clinic, etc. Indeed, participation in the Davis EMBA is seen as part of the succession planning programs in many of those companies.
Davis Legacy
The Davis family has represented hard work, success in business, and outstanding philanthropy on the First Coast and throughout Florida for more than 75 years. J.E. Davis and his brothers worked tirelessly to build the Winn-Dixie grocery chain into one of the nation's industry leaders. Along the way, the Winn-Dixie company and the Davis family have demonstrated an unwavering commitment to the community. In the 1950's, J.E. Davis began the family's association with Jacksonville University and launched a dedicated and fruitful partnership that continues to this day.
In 1984, the Davis family gave the University $3 million to build a new home for business programs. They had a vision for students to learn the fundamentals of business while focusing on practical approaches. And they had the foresight to know that a strong foundation in business skills would create generations of graduates who were ready to lead the enterprises of the future.
More than 20 years after the first gift that transformed the business program, the Davis family has again made state-of-the-art business education a hallmark of Jacksonville University. Their $20 million challenge grant in 1998 inspired the University to reach for the highest goals, while at the same time providing $10 million for the new Davis College of Business & Technology building. Now, students have the opportunity to learn from distinguished faculty and utilize the latest in business technology in a new facility made possible by the Davis family's never-ending vision of excellence for Jacksonville University.
Why Davis College of Business & Technology?
The JU Davis College of Business & Technology is the only triple-accredited private business school in all of North Florida and South Georgia, with AACSB, ABET and ABBI accredited programs. This region encompasses the most dynamic and economically diverse industries in the Southeast United States. Major international ports, logistics and transportation companies, global financial services companies, consumer goods and services organizations​, information technology, and world-class healthcare organizations operate within this area and provide rich opportunities for internships and careers. Nearby Cecil Field is also the only publicly-accessed Spaceport in Florida and home to a growing aerospace industry!
Jacksonville University and Davis are well-recognized partners in the growth of all these industry sectors and part of the cultural and social character of the community. JU Davis has a proud tradition of training top C-level executives in a number of industries and is rooted into the large network of alumni and corporate partnerships. Our role and place within the Jacksonville community is one we have earned through high quality, extremely relevant and engaging programs. Whether you are seeking an undergraduate major in finance or accounting, a career-advancing MBA, or the skills necessary to launch an aviation career, we are a great place for you!