Zimmerman Scholars
The Zimmerman Scholars Program is the premier leadership development program for undergraduate students in the Davis College of Business & Technology. The program is designed to prepare top students for leadership positions in major international organizations.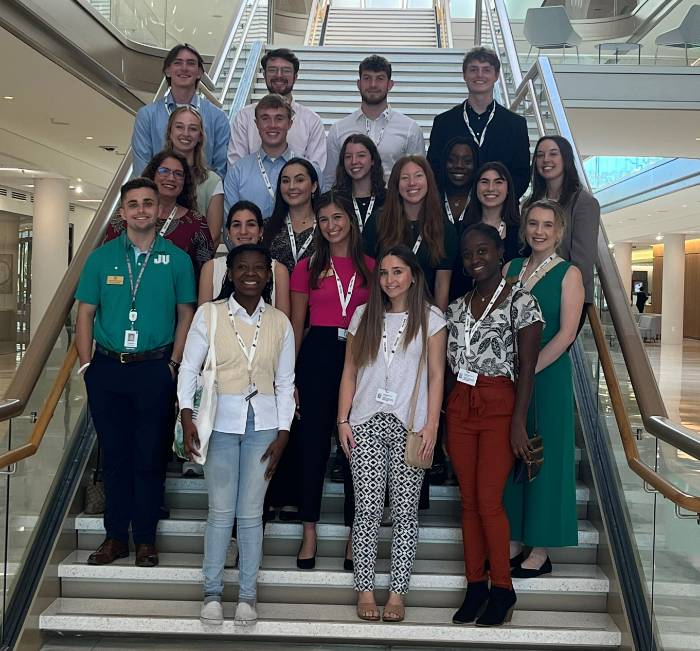 Program
The Zimmerman Scholars Program assists students with defining job-related career goals and provides ready access to the personal development necessary to achieve success.
All activities are designed to provide individual coaching based on a student's development needs and focuses on the skills most desired by employers: Problem-solving, ability to work in a team, work ethic, communication, leadership, flexibility/adaptability, organizational ability, and strategic planning skills. Throughout the program students will have the opportunity to engage with working professionals, work on real-life company based projects, and lead/mentor each other. Students will be mentored throughout the program by the Zimmerman Scholars Program Director.
Participation is by invitation following a competitive application process and includes cohort based activities and scholarship funding up to $5,000 annually. Scholarships are not automatically renewed and students must be invited to continue in the program each academic year.
Content
The program is designed to be engaging and focuses on career readiness. Program content will build on itself and advance as the student progresses through college.
Students improve their teamwork and communication skills, their organizational ability, and work ethic. They meet as a group to focus on these topics and receive individual coaching in each area. Participation in class is expected.
Students practice project management skills by planning a Career Trek visit to companies in Jacksonville. They also build their skills in problem-solving, flexibility/adaptability, and strategic planning skills. Current scholars participate in the selection of new scholars and serve as mentors to them during the first year. Students are encouraged to participate in an internship. As students continue to build their leadership skills, they lead project teams and consult on real business problems in the community.
Application Process
All undergraduate students (even entering Freshmen) majoring in Accounting, Business Administration, Healthcare Administration, Business Analytics, Finance, FinTech, International Business, Management, Marketing, or Sport Business, are invited to apply. The application process includes the submission of a resume, transcripts, and answers to a number of essay questions centered around work ethic, integrity, openness to self-reflection, and ability to work with others. Following the applications, there will be two stages of interviews. The first stage will consist of current Zimmerman Scholars and the Director of the Zimmerman Scholars Program. Students selected for the final interview round will be interviewed by members of The Executive Advisory Board of the Davis College of Business & Technology. Questions about the program or application process can be submitted to zscholars@ju.edu or jreid@ju.edu.
The application process for the Fall 2023 cohort of Zimmerman Scholars is open. Applications are open until June 2nd.
A cohort of up to 15 students will be selected each year, for a total of 60 students maximum in the program. Scholarship awards up to $5,000 annually are available for participants in the Zimmerman Scholars Program.
Are you a future Phin? Be sure to submit your Admissions Application, too!
About the Zimmerman Family Foundation
The Zimmerman Family Foundation Inc. is a Jacksonville-based, non-profit organization devoted to many worthy causes. It was established in 1998 by Charles Zimmerman, chairman of the board of Far East Brokers and Consultants, Inc., a premier importer of promotional and seasonal general merchandise to the U.S. supermarket and drug industries, as well as a supplier of powerful marketing and logistics support. Due to its dedication to quality, innovation, service and trust, Far East Brokers today supplies more than 12,000 stores across the country and is considered an industry leader by many of the most successful retailers in the world. The Zimmerman Family Foundation represents the heart of their company and its desire to give back to the community. President and CEO of Far East Brokers, Morrie Zimmerman, is continuing that tradition and is involved in many of the foundation's philanthropic efforts. Among them is the Zimmerman Scholars Program at Jacksonville University, which he, with the support of the Zimmerman family, helped establish. Morrie is also a valued member of the executive advisory board for Jacksonville University's Davis College of Business & Technology. The foundation includes Morrie and his wife Chase, his parents Elli and Charles, his aunt and uncle Nancy and Seeman. All are valued partners in the future success of the university and the Zimmerman Scholars Program.