Master of Science in NursingNursing Informatics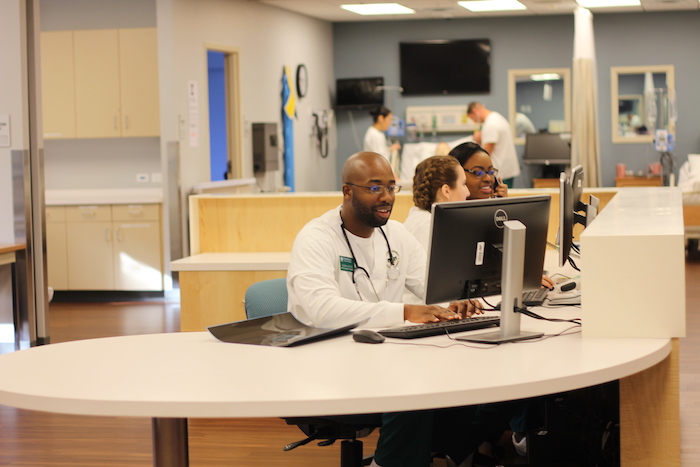 Why Choose Our Program?
Are you ready to take your nursing career to the next level? Our Master of Nursing Informatics program is designed to provide a convenient way for working registered nurses to earn their graduate degrees. Graduates of the Informatics program take on crucial IT positions within healthcare organizations such as Chief Medical Information Officer, Informatics Coordinator, and Director of EHR Support, among others.
Our degree:
Is offered in part-time and full-time tracks so you can learn at your own pace
Incorporates project-based clinical opportunities so you can continue working
If you already have a Master of Science in Nursing, you may be interested in the Nursing Informatics post-graduate certificate.
Virtual Information Session
Attendees will have the opportunity to meet with faculty and an admissions counselor to ask questions about our curriculum and admissions process.
Wednesday, December 6, 2023
3:00 p.m.
Register Now
Earn an MSN Your Way
JU's Nursing Informatics program prepares you to take the next step in your career whether that be a promotion or graduate school. The Informatics program was designed for you to complete your way:
Small classes provide you with individual attention
Courses offered online or in a hybrid format
Courses offered in 7-week flexible course formats that allow you to take terms off when you need it
Work with an academic advisor throughout the program who will assist you with individualizing your program progression in a way that works for your schedule.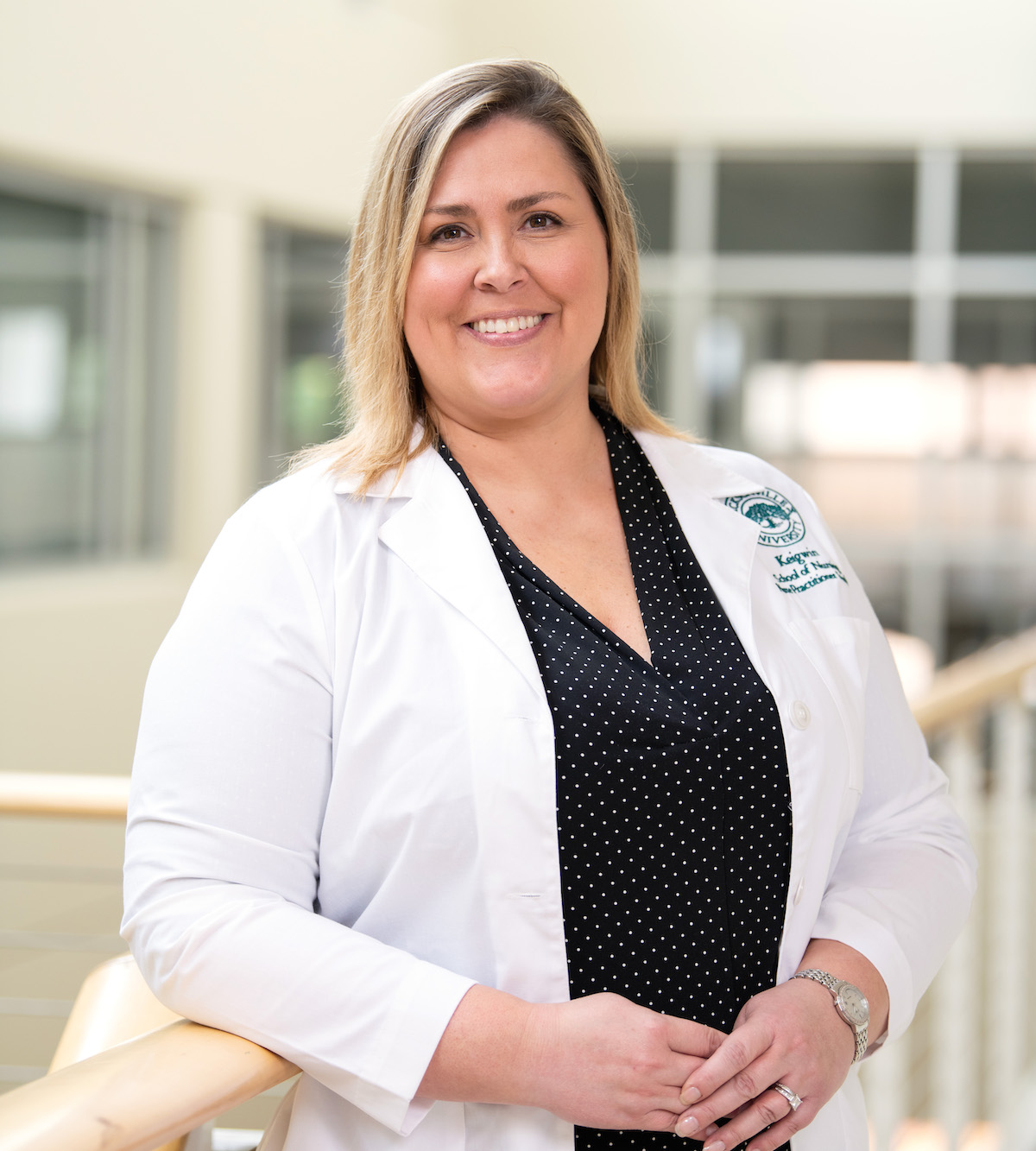 About Our Program
When you graduate from this program, you will have a Master of Science in Nursing with a concentration in Nursing Informatics.
Curriculum
MSN Core
NUR 510: Nursing Theory & Research I
NUR 512: Organization, Delivery, and Policy in Healthcare
NUR 514: Nursing Leadership and Advanced Roles
NUR 516: Information Systems & Technology for Improved Healthcare
NUR 520: Nursing Research & Theory II
NUR 551: Advanced Role Practicum
Informatics Core
NUR 584: Foundations of Nursing Informatics
NUR 585: Advanced Nursing Informatics I
NUR 586: Advanced Nursing Informatics II
NUR 587: Population Health Informatics, Epidemiology, and Evidenced Based Nursing Informatics in a Global Society
Discover a Modern Nursing EducationImmersive Learning in Healthcare
Dive into a unique learning experience; with Jacksonville University's Keigwin School of Nursing. Students will be immersed in experiential learning utilizing virtual reality labs, telepresence robots, simulation scenarios, and research, giving them first-hand knowledge of patient care.
Immersive Learning in Healthcare
My name is Amber Santos and I am the Director of Innovation and Quality. And what that just means, is that part of my job is to bring [in] innovative active learning into our curriculum. It's important for a nursing school to continually evolve. We can't just do the status-quo type of learning and education that we've always done. We need to evolve as a school, and part of that is bringing in the technology needed for today's students in today's healthcare.

We're seeing VR explode in the training industry for a lot of different reasons. We started looking at software that's out there for the nursing program. There's actually a surprising number of products that tailor to this type of experience, training nurses and other medical professions. Share Care U has excellent graphics that lets you go inside the human body and see different parts of anatomy and physiology, and then a few others [that] provide simulation experiences where you're actually in the hospital next to a patient conducting procedures.

Virtual Reality is an immersive learning tool that we use, and once they put on those goggles they're literally immersed into that environment. So, we can talk in the classroom about plaque buildup in our arteries and atrial sclerosis, but when they get into that VR world, this immersive world, they get to actually see it and they get to interact with it. [So] they can see how the blood flows through a vessel and how over time, plaque builds up. And then they can also click a box and see how a stent is placed into the vessel. So, it really just immerses them, and it provides a deeper level of learning and understanding.

My name is Melissa McCray and I am the Student Success Specialist and an assistant professor with the Keigwin School of Nursing. What helps nursing students be successful in nursing school is the use of technology; that's really a key component. What we are seeing more and more, is very tech-savvy nursing students and that's great because when you're in the field of nursing, technology is being introduced every day. And so it's important that those students are educated in our nursing programs to use some of this technology and interact with that technology. Like I can spin the lungs. Sorry, I', geeking out a little, there are a lot of secondary benefits from the type of learning we're providing to our students. It can be just them being a little bit more familiar with the technology, so when they see it in the healthcare setting, and they see a telepresence robot rolling down the hall of the facility they're working in, they will already have seen that and they will understand how to interact with that and communicate. They will also understand that even though that's a telepresence robot that could be a family member on the other end, so they still have to have that caring spirit of a nurse. And part of that is worked into our simulations so that they understand that while technology is a wonderful thing, it can never replace the impact a nurse can have. The caring part of what we do.
AdmissionsHow to Apply
Completed JU Application
Unofficial Transcripts from all colleges and universities attended with All Nursing Coursework & Nursing Degrees

If the candidate attended a college or university abroad, an official NACES evaluation of that transcript is required. Choose the course-by-course evaluation with the GPA option.

A minimum 3.0 undergraduate nursing GPA on a 4.0 scale is required
The following may be requested of students with a GPA of 3.0 or below

GRE/GMAT scores
Letters of Recommendation

Graduation from a regionally accredited program and CCNE, NLN, or ACEN accredited program

Resume or Curriculum Vitae (if applying to a Nurse Practitioner track)
Statement of Intent
Active U.S. Nursing License

Out-of-state applicants must be eligible for endorsement in Florida
International students must hold a current license from a U.S. state and be eligible for endorsement in Florida.

All international students whose first language is not English are required to submit proof of their proficiency in English, by providing scores for either: IELTS or TOEFL. If submitting score reports, they must be sent directly to Jacksonville University from the testing institutions.
Request for Information
Loading...
Contact Information Keigwin School of Nursing
Brooks Rehabilitation College of Healthcare Sciences
Phone: (904) 256-7000
Email: graduateadmissions@ju.edu
Quick Links