Master of Science in NursingPsychiatric Mental Health Nurse Practitioner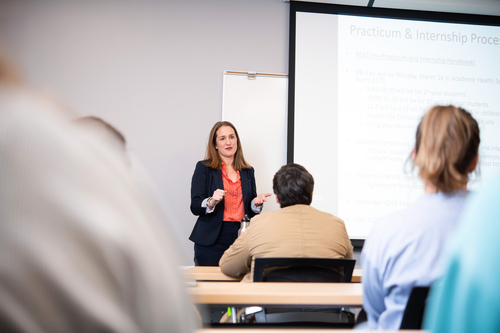 Why Choose Our Program?
Are you ready to take your nursing career to the next level? Jacksonville University's Master of Science in Nursing Program (MSN) prepares students for advanced practice roles in nursing. Our Psychiatric Mental Health Nurse Practitioner (PMHNP) program is designed to educate advanced practice nurses to demonstrate critical thinking and decision-making skills in evaluating the health of individuals and families suffering from mental health issues. Graduates, if they choose, will be prepared to continue study at the Doctorate level.
Our program:
Has strong clinical partnerships with leading providers and facilities
Is taught by licensed, practicing PMHNPs
Provides expert faculty to ensure that all students receive clinical placements
If you already have a Master of Science in Nursing, you may be interested in the Psychiatric Mental Health Nurse Practitioner post-graduate certificate.
virtual Information Session
Attendees will have the opportunity to meet with faculty and an admissions counselor to ask questions about our curriculum and admissions process.
Wednesday, February 22, 2023
6:00 p.m.
Register Now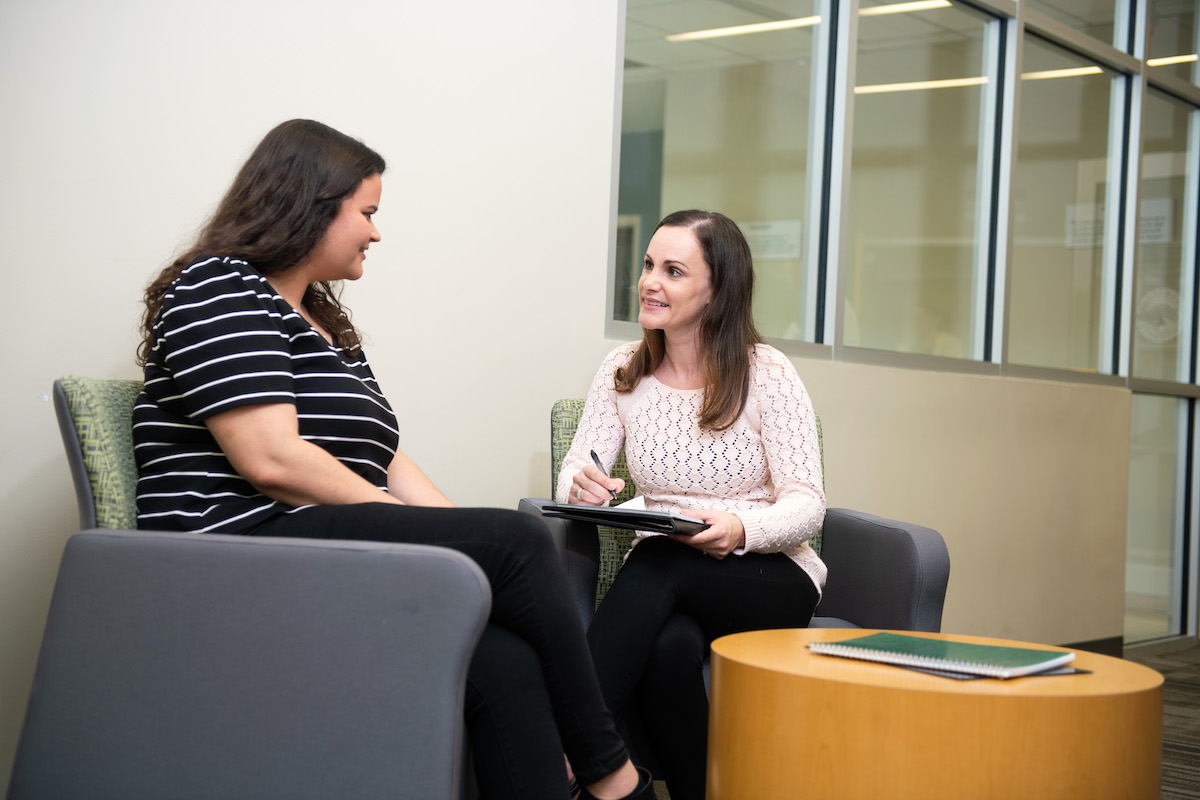 About Our Program
The MSN-PMHNP program begins one time per year, in the fall semester. The program is offered in both full-time and part-time tracks, on campus. Students will also have opportunities to learn experientially.
JU is working closely with SACSCOC, our accrediting body, to complete the standard accreditation process for our Palm Coast location. We anticipate approval in 2021.
Our Curriculum:
MSN Core
NUR 510 Nursing Theory and Research I
NUR 512 Organization, Delivery and Policy in Healthcare
NUR 514 Nursing Leadership and Advanced Roles
NUR 516 Information Systems and Technology for Improved Healthcare
NUR 520 Nursing Theory and Research II
APRN Core
NUR 501Advanced Health Assessment
NUR 502 Advanced Pathophysiology
NUR 504 Advanced Pharmacology
PMHNP Core
NUR 571 Psychiatric Assessment and Diagnostics Across the Lifespan
NUR 573 Psychopharmacological Management of Patients Across the Lifespan with Mental Health Disorders
NUR 574 Neuroanatomy for the Psychiatric Mental Health Nurse Practitioner
NUR 579 Psychotherapy Across the Lifespan for Individuals, Families and Groups
NUR 553 Advanced Role Practicum
Graduates are prepared for the Psychiatric Mental Health Nurse Practitioner National Certification Exam through American Nurses Credentialing Center. After successful completion of the certification exam graduates are prepared to apply for licensure as an Advanced Practice Registered Nurse in the state of Florida.
Kathryn Kane's StoryImmersive Learning
Dive into a unique learning experience, with Jacksonville University's Keigwin School of Nursing. Students will be immersed in experiential learning utilizing virtual reality labs, telepresence robots, simulation scenarios, and research, giving them first-hand knowledge of patient care.
Learn about Kathryn Kane's story, a student in our 12-Month Accelerated Bachelor of Nursing program, by watching her episode on The College Tour.
Immersive Learning at Jacksonville University- The College Tour
All right, everyone. Let's head over to the new Health Sciences Center to meet Kathryn. She's a student in JU's 12-month bachelor of nursing program, the only one-year program in the state of Florida. Being a forward-thinking university means embracing the benefits of technology. JU uses interactive tools like virtual reality and robotics to enhance and accelerate learning. Kathryn, the floor is all yours.
Thanks, Alex. I first came to Jacksonville University in 2008 to pursue a degree in Exercise Science, and to play volleyball. After graduating, I worked in healthcare for six years and then decided to pursue a second career in nursing. The U.S. has a dire need for nurses right now, so when JU announced their 12-month inaugural accelerated program, it was an easy decision for me to come back to my alma mater. Dr. Amber Santos and Dr. Melissa Mcrae and JU's Keigwin school of nursing have developed an immersive learning program that gives students a chance to dive into human anatomy and practice patient scenarios to hone our critical thinking skills. We have access to programs that let us see inside diseased lungs and coronary arteries, advancing our education; way beyond the textbooks. We also work with telepresence robots to simulate emergency scenarios with a remote physician or even telehealth services with patients and their families. These programs have boosted my confidence when going into the hospital for our clinical rotations. Ultimately, I'm becoming a safer, more knowledgeable nurse. Jacksonville University offers the only 12-month nursing program in the state of
Florida. It's a rigorous, demanding curriculum designed to address the growing nursing shortage in our country. My classmates and I eat, sleep, and breathe nursing. We built strong bonds, always encouraging and helping one another.
This is what it means to be a Dolphin. Thanks to JU and immersive learning, I'm going to be a practicing nurse later this year. I've learned not only nursing skills; but stress management, leadership skills, and
research skills for evidence-based practices. Back to you, Alex.
That is incredible. How cool is it to go inside the human body and learn how major organs function up close? It truly is an immersive experience. Thank you for giving us that demonstration, Kathryn. You will make a fantastic nurse.
AdmissionsHow to Apply
Completed JU Application
Unofficial Transcripts from Colleges & Universities with All Nursing Coursework & Nursing Degrees

If the candidate attended a college or university abroad, an official NACES evaluation of that transcript is required. Choose the course-by-course evaluation with the GPA option.

A minimum 3.0 undergraduate Nursing GPA on a 4.0 scale
The following may be requested of students with a GPA of 3.0 or below

GRE/GMAT scores
Letter(s) of Recommendation

Graduation from a CCNE, NLN, or ACEN accredited BSN program
Resume or Curriculum Vitae (if applying to a Nurse Practitioner track)
Statement of Intent
Virtual Interview
Active U.S. Nursing License

Out-of-state applicants must be eligible for endorsement in Florida
International students must hold a current license from a U.S. state and be eligible for endorsement in Florida.

All international students whose first language is not English are required to submit proof of their proficiency in English, by providing scores for either: IELTS or TOEFL. If submitting score reports, they must be sent directly to Jacksonville University from the testing institutions.
Request for Information
Loading...
Contact Information Keigwin School of Nursing
Brooks Rehabilitation College of Healthcare Sciences
Phone: (904) 256-7000
Email: graduateadmissions@ju.edu