College of LawJuris Doctor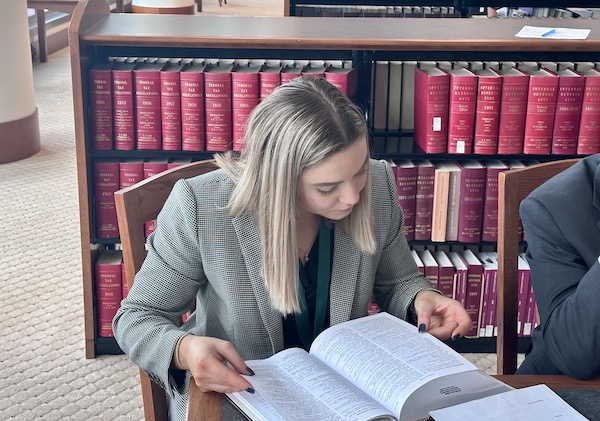 The JU AdvantageThe J.D. Program
The College of Law offers small class sizes designed for individualized instruction, competitive scholarships, easy access to Jacksonville's greatest legal resources, and strong community connections to legal professionals.
The J.D. degree is a full-time academic program designed to be completed in three years. The 90-credit curriculum provides a foundation of critical thinking, legal research and analysis, substantive law, and lawyering skills to prepare future lawyers, lawmakers, and leaders. Through the required academic coursework, experiential learning, cocurriculars, and other College programming, every J.D. student is expected to have attained competence in key areas in preparation to enter into the ethical practice of law.
Experience the JU Advantage
"Here, since I know everybody, I know all the faculty members and we're all comfortable with one another, this is a no judgment zone. We're able to provide advice to each other, encouragement, and on top of that, the friendships I've gained here have been vital."
Lauren Fisher, Class of 2025
Lauren Fisher on the student experience
One big things that many law students fear is the idea of cold calls. Here, since I know everybody, I know all the faculty members and we're all comfortable with one another, this is a no judgment zone. We're able to provide advice to each other, encouragement, and on top of that, I definitely believe that the friendships I've gained here have been very important and vital. We have lunch with one another one another, study with one another, and I definitely believe having a small cohort has helped us to develop very strong relationships and will definitely be seeing each other in future as lawyers in the city of Jacksonville.
Teaching and ScholarshipExpert and Engaged Faculty
The College of Law faculty are highly engaged in the study and practice of law. They have expertise in a variety of areas including media law, business law, environmental regulation, tort law, legal history, telecommunications law and policy.
Faculty Feature: Immersive Learning
Prof. Scott DeVito is one of the leads for an interdisciplinary consortium of JU faculty working with external technology partners, and public and private entities to develop a first of its kind platform for the development of experiential and immersive learning teaching modules.
"Using the platform, we will begin to build a series of immersive learning modules designed to teach students when and how to properly make objections during trial and deposition," said DeVito.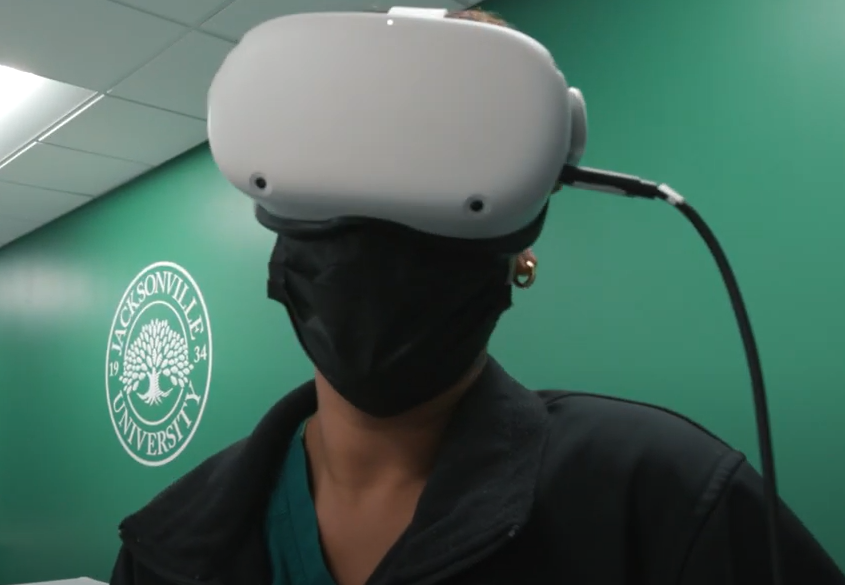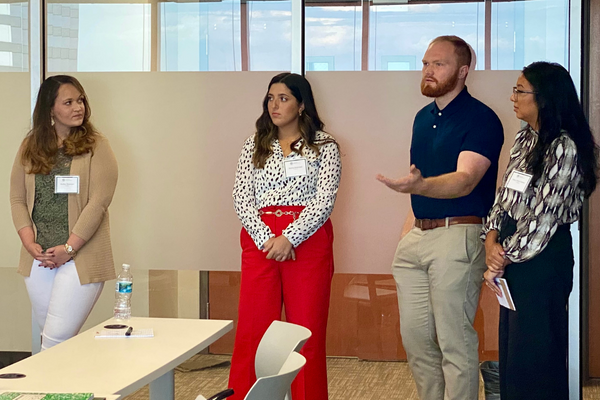 Professional DevelopmentWhat Lawyers Can and Must Do
From orientation to graduation, law students at Jacksonville University study not only principles of law, but also what it means to be a lawyer. In and out of the classroom, the students explore the professional responsibilities lawyers have to their clients, to society, and to the rule of law. Through classroom exercises, discussions, and workshops with faculty, practicing attorneys, judges, and other experts, students learn, analyze, and reflect on the values and principles, and the obligations and privileges at the core of successful legal practice.
A Holistic Approach to Legal EducationStudent Resources
Jacksonville University and the College of Law are dedicated to the success of our students, from the day you apply to your first day as a practicing attorney and beyond. You will build personal relationships with our expert faculty and staff who will mentor you through law school, help you understand the requirements of qualifying for admission to the bar, support your preparation for the bar exam. and offer career counseling. In addition to the College of Law faculty and staff, the University's institutional resources including financial aid, career management, the Veterans and Military Resource Center, and disability support are available throughout your law school career.
Accreditation Information
Consistent with accreditation protocol dictated by the American Bar Association (ABA), the Jacksonville University College of Law began the accreditation process in the spring of 2023. Our goal and highest priority is to achieve provisional accreditation by the time our first class of students graduates. The College of Law is not currently approved by the American Bar Association (Council of the American Bar Association Section of Legal Education and Admissions to the Bar, 321 North Clark Street, Chicago, IL 60654, 312-988-6738) and makes no representation to any applicant that it will receive approval from the Council before the graduation of any matriculating student.
Jacksonville University
General Counsel
2800 University Blvd N, Jacksonville, FL 32211
904-256-7549
Contact Information College of Law
VyStar Tower, 18th Floor 76 South Laura St. Jacksonville, Fla. 32202
Phone: (904) 256-7169
Email: mdavenp@ju.edu
Quick Links