College of LawAdmissions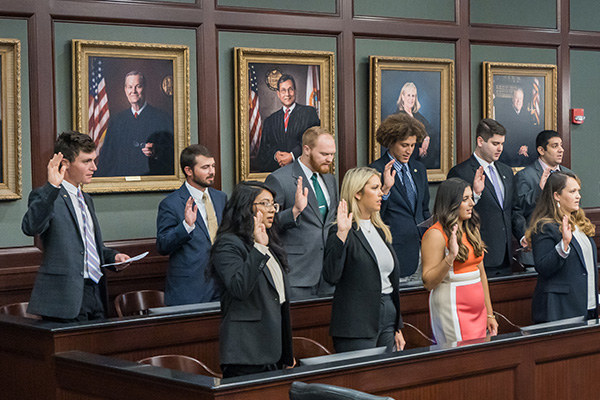 Welcome to JU Law
The JU College of Law is located in one of the fastest-growing, most dynamic metropolitan areas in the country. With courses held just steps away from state and federal courthouses, you will be immersed in the thriving legal epicenter of the city. Our full-time Juris Doctor program offers small class sizes designed for individualized attention, hands-on experience through externships at prestigious organizations, and easy access to the City of Jacksonville's (COJ) greatest legal resources. Want to learn more?
Deadlines
Fall 2024 Term
| Task | Deadline or date |
| --- | --- |
| Priority Deadline | May 1, 2024 |
| Final Deadline | July 15, 2024 |
Want to visit us virtually? Take a virtual tour of the Jacksonville University College of Law and our favorite downtown spots!
JU Law at a Glance
Our inaugural class of 2025 was made up of 14 students from eight undergraduate institutions including Florida State University, the University of North Florida, the University of Florida, CUNY John Jay College of Criminal Justice, and the University of North Carolina Wilmington. Undergraduate majors included political science, communication, economics, global club management, and business.
Inaugural student ages ranged from 21 to 32
50% of inaugural students identified as female
The inaugural class was 21.40% racially and ethnically diverse
LSAT scores ranged from 150 to 162
3 students began the program having already completed a master's degree
Several incoming students had previous legal work, including legal assistantships, clerkships, and internships
All statistics in the figure represent JU Law Class of 2025
A Holistic Approach to Admissions
The College of Law seeks to admit students with diverse backgrounds and viewpoints who demonstrate academic excellence, integrity, and a commitment to the legal profession. The College of Law evaluates holistically all information provided by applicants in an effort to advance the mission of the College of Law to provide quality legal education, focused on experiential learning and community partnerships, especially in the service of Jacksonville, Florida, and beyond.
An Admissions Overview with Missy Davenport
Hello! My name is Missy Davenport and I'm proud to be the Assistant Director of Admissions for the Jacksonville University College of Law. It's a very exciting time to be at the JU College of Law. Our Juris Doctor program is a three-year, full time and in-person program with expert faculty and small class sizes classes. Our state-of-the-art classrooms are just a short walk from county and federal courthouses, law offices, government centers, and legal aid organizations. This allows our students to be immersed in a vibrant legal community. Our students have ample opportunity to network within the Jacksonville legal community from day, one attending meetings and events with organizations like the Jacksonville Bar Association and speaking with practicing lawyers during visits to the Duval County courthouse. Additionally, we are assembling a robust externship program and opportunities to participate in clinical programs. The admissions process includes submitting a completed application with your LSAT score, transcripts, resume, a personal statement, and two letters of recommendation. We review each application holistically, so please tell us about yourself, your experiences and accomplishments, and why you are interested in law school in your personal statement and resume. We are looking for applicants who will find success in law school and be a valuable addition to the legal community. Apply to the JU College of Law to be a part of this new and exciting journey!
How to Apply
We are currently accepting applications for our Fall 2024 term. The priority deadline to submit your application is May 1. Applications submitted after this date will be reviewed on the basis of space in the cohort.
Completed JU application
Law School Admission Test (LSAT) scores

All applicants are required to take the Law School Admissions Test (LSAT) to be considered for admission. LSAT scores are valid for five years. In the event that you take the LSAT more than one time, we will review your application using the highest LSAT score submitted. For more information, please refer to LSAC.

Official transcripts for all colleges and universities attended

Transcripts are required for every college and university attended, even if credit was not awarded from an institution.
Applications can be reviewed based on unofficial transcript copies. Official transcripts will be required to register for classes.

Resume or Curriculum Vitae

Applicants are required to submit a current professional resume or curriculum vitae, including education details, outstanding achievements, legal experience, volunteer and extracurricular activities, military service, and work history.

Personal statement

The personal statement provides an opportunity to allow us to get to know each applicant in more detail. Applicants can discuss a variety of topics in the personal statement, including why the applicant is interested in law school, overcoming a personal challenge, or the person who has most impacted the applicant.

Character and fitness evaluation

In addition to a bar examination, there are character, fitness, and other qualifications for admission to the bar in every U.S. jurisdiction. Applicants are encouraged to determine the requirements for any jurisdiction in which they intend to seek admission by contacting the jurisdiction. Addresses for all relevant agencies are available through the National Conference of Bar Examiners. The necessary questions will be included in the JU application.

Two letters of recommendation

Applicants are required to submit two (2) letters of recommendation. We will review up to four (4) recommendation letters.
Recommenders should speak to the applicant's qualifications, academic history and performance, civic involvement, work experience, and any other characteristics that would support admission.
Letters of recommendation can be submitted by academic, professional, or personal references.

The following are optional additions to your application:

LSAT writing scores
GRE scores (LSAT scores still required)
Addendum

Any information not presented through the required documents may be submitted through a separate addendum to the application. The addendum may include detailed information regarding variations in academic performance, character and fitness issues, and personal obstacles, and any other information needed to complete the applicant's profile.
Have questions regarding the application process? Please explore our Frequently Asked Questions.
Admissions Information
Non-Discrimination
Jacksonville University values diversity, equity, and inclusion and strives to create a welcoming community where all stakeholders feel valued and a sense of belonging. We believe in lifelong learning and preparing globally minded citizens for the real world. We recruit students, faculty, staff, and leaders from all over the globe and respect differences in ability, age, appearance, athletic and student organization involvement, ethnicity, faith, gender, gender expression, immigration status, language, military/veteran status, nationality, political ideology, race, religion, talent, sex, sexuality, socio-economic status, and other personal identities and experiences.
Jacksonville University is an equal opportunity institution and prohibits discrimination. We consider each stakeholder to be a key player in Jacksonville University's civic responsibility and commitment to this work.
Accreditation
Consistent with accreditation protocol dictated by the American Bar Association (ABA), the Jacksonville University College of Law began the accreditation process in the spring of 2023. Our goal and highest priority is to achieve provisional accreditation by the time our first class of students graduates. The College of Law is not currently approved by the American Bar Association (Council of the American Bar Association Section of Legal Education and Admissions to the Bar, 321 North Clark Street, Chicago, IL 60654, 312-988-6738) and makes no representation to any applicant that it will receive approval from the Council before the graduation of any matriculating student.
Jacksonville University
General Counsel
2800 University Blvd N, Jacksonville, FL 32211
904-256-7549
Financial Information
Jacksonville University's Juris Doctor program has an estimated annual tuition cost of $36,000 (based on a $1,200/per credit hour rate) and $380 in annual fees. During the application process, there is also a one-time $150 document fee. All Juris Doctor applicants will be considered for competitive merit scholarships. No additional application is needed for merit scholarship consideration.
If you would like to learn more about financial aid options, you can do so here.
Estimated Annual Cost of Attendance:
Tuition

(based on 30 credits)

$36,000

Living Expense

$17,730

Personal Expense

$1,125

Transportation

$2,950

Wellness Fee

$380

Books

$2,000

Total Cost of Attendance

$60,080
Note there is a one-time documentation fee is due upon enrollment in the first year and that additional costs for parking may vary.
Transfer Student Admission
Beginning in the 2023-2024 academic year, the College will welcome transfer applications from applicants with superior academic records in law study will be considered. Transfer applicants will be accepted only to the extent that vacancies exist in the second-year class. The previous law study must have been undertaken at a law school which is an ABA accredited institution.
Candidates for transfer admission must submit the following documents, following the general admissions deadlines:
Application for admission

Resume

Personal statement explaining the reason for transfer

LSAT test scores

Transcripts from undergraduate and graduate institutions, including the current law program

Letter of good standing from the Dean of current law program
For more information, please refer to our Transfer Policies in the College of Law Student Handbook.
Foreign-Education Applicants
Applicants who are applying to Jacksonville University with college/university credits that were received outside of the United States will need to complete a course-by-course foreign credential evaluation. The college/university transcript will not be reviewed without this evaluation completed and an official copy must be sent by the organization that made it.
Some recommended services are listed below:
Explore the College of Law
Want to Learn More?
Join Us For a Virtual Information Session
Attendees will have the opportunity to meet with an admissions counselor from the College of Law to learn more about the Juris Doctor program and its admissions process.
Thursday, December 14, 2023 at 6:00 p.m.
Still Need to Take an LSAT Exam?
LSAT scores are required for admission into the College of Law. Sign up for an upcoming date today!
Request for Information
Loading...
Contact Information College of Law Admissions
VyStar Tower, 18th Floor 76 South Laura St. Jacksonville, Fla. 32202
Phone: (904) 256-7169
Email: mdavenp@ju.edu
Quick Links