Jacksonville UniversityGrad2Grad Programs
Achieve your goalsYour Education, Your Way
Earn both your bachelor's and your master's in just 4 or 5 years with Jacksonville University's Grad2Grad program! This program allows current JU students to earn up to 12 graduate credit hours applied to both their undergraduate and graduate degrees. With the flexibility to create a schedule that works for you, Grad2Grad students can save time & money by streamlining their education. Receive priority for graduate assistantship consideration, and have access to unique internship opportunities, career advising, and more.
Grad2Grad not only helps you plan for the future by giving you the security of knowing where you will earn both degrees from day one but helps you set yourself apart in a competitive workforce.
Accelerate Your PathAndrew Twiford's Story
At Jacksonville University, Grad2Grad students are able to earn their bachelor's and master's degrees in as little as four years. This opportunity allows JU Grad2Grad students the ability to plan for their future, by earning both degrees simultaneously. Learn more about Grad2Grad opportunities at JU from student Andrew Twiford.
Accelerate your Path at Jacksonville University- The College Tour
At JU, students can choose a path that fits their ambitious goals. The university offers several accelerated programs where students can earn an advanced degree faster than ever. Let's head over to Jacksonville University's Davis College of Business and Technology to meet Andrew. He has already earned a bachelor's in aviation management and flight operations, and now he's working on his MBA. The floor is all yours, Andrew.
Thanks, Alex. What's going on future dolphins? Are you looking for a personalized collegiate experience in an area thriving with opportunities? That's exactly why I was drawn to Jacksonville
University. I didn't want to be crammed into a room with a sea of students. I wanted direct access to my professors, and I wanted flexibility that fit my life. At JU, I enjoy keeping myself busy whether in sports, music, or academics. But I needed a course schedule to fit around my many interests. With over 35 programs in graduate and professional studies, I can take advantage of the full-time and part-time course options. This allows me to do all the things I love while staying on top of my coursework and graduating at my own pace. As a pilot and student-athlete, I'm always traveling. Hybrid courses have allowed me to attend classes on the go and even re-watch lectures. If you're looking for a fast track, Jacksonville University offers accelerated customizable paths to
a graduate degree with our Grad-to-Grad program. You can earn your bachelor's and master's degrees in as little as four years, saving time and money. As a JU grad student, you'll also become a creator of knowledge and a community problem solver through hands-on research opportunities. The work of our grad students is informing public education and policies, working to address food deserts, and helping communities withstand the effects of climate change. You can become a world changer before you even graduate. As a JU dolphin, I am honored to be connected with a tight-knit community of scholars, researchers, and professionals. Every program here has helped me reach my full potential. JU has made me a better businessman, aviator, athlete, and leader; and we hope to see you here soon. Back to you, Alex.
Wonderful job Andrew. You certainly are a very busy guy. I love that JU helps you juggle it all. Andrew, best of luck my man.
Customize your educationChoose Your Path
Work closely with an Academic Advisor to customize a path best suited for your academic goals. The Grad2Grad program allows students to earn up to twelve graduate credit hours while completing their undergraduate degree. With the flexibility to attend classes on campus, live-stream, or by recorded session, Grad2Grad students can choose a path that best suits their academic goals.
Your Future Starts NowSave Time & Money
Grad2Grad Students have the unique opportunity to streamline their academic goals. Qualifying students can enroll in up to four classes, with twelve credit hours counting towards their graduate degrees. In just four or five years, students can earn two degrees, reducing the cost of their graduate tuition by up to 25%.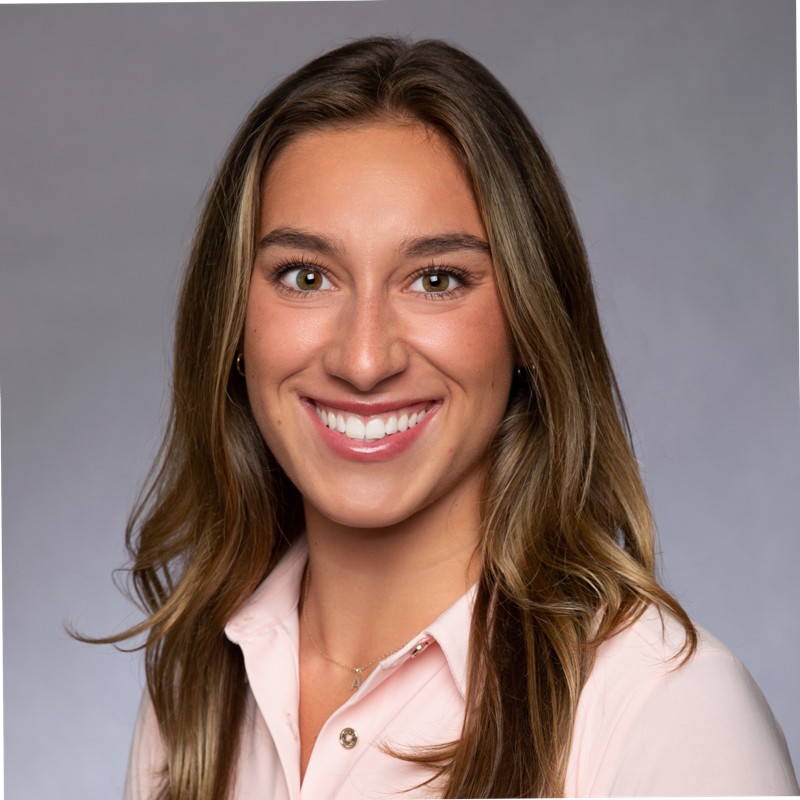 "The Grad2Grad program at Jacksonville University has allowed me to advance my knowledge during my senior year of undergrad. The ability to take four graduate classes before graduating helped me gain knowledge about the corporate world and what goes into running a business. I took what I learned and was able to apply it directly to a business internship. The skills I gained in this program gave me a step up in a competitive workforce."
How to ApplyAdmissions Requirements
Must be a current JU student
3.0 GPA on a scale of 4.0

Students with a 3.0 GPA or higher can apply during their sophomore and junior years; highly-achieving freshmen are invited to apply early

One-page Statement of Intent
Resume/ Curriculum Vitae
Curriculum Review with a student advisor
Faculty Interview
Contact InformationGraduate & Professional Studies
Schedule an appointment
Schedule an appointment with an Admissions Counselor, or email graduateadmissions@ju.edu to learn more about the Grad to Grad programs.
Contact Information Graduate & Professional Studies

Jacksonville University
2800 University Blvd N
Jacksonville, FL 32211
Phone: (904) 256-7000
Email: graduateadmissions@ju.edu
Quick Links