Earn your master's degreeMarine Science Graduate Programs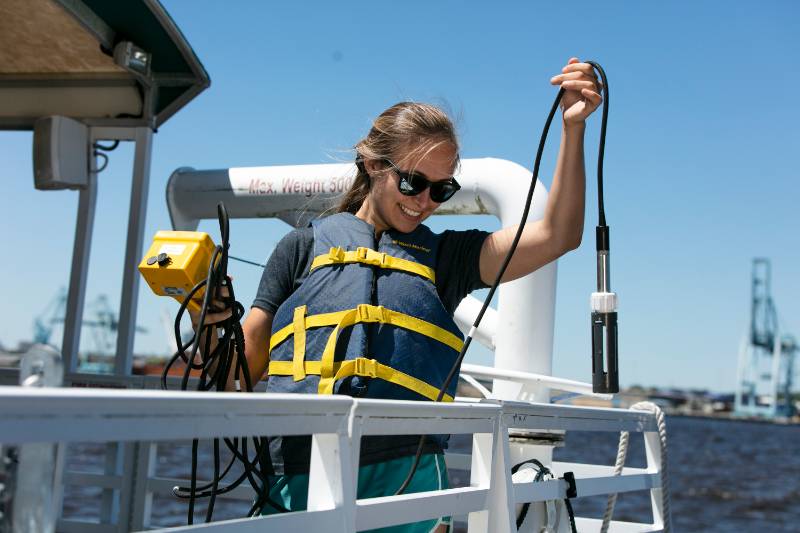 Program Options
J​acksonville University's Master of Arts in Marine Science (MA in MSC), Master of Science in Marine Science (MS in MSC), and dual degree Master of Arts in Marine Science and Master of Public Policy degree programs are designed to provide graduates with the specific knowledge and skills necessary to be successful in a variety of marine-related positions in industry, government and education, or for entry into doctoral marine science programs.
Our Partnership with OCEARCHExperiential Learning
Jacksonville University and OCEARCH have a cooperative partnership to foster and promote unique opportunities for student-centered learning and meaningful scientific research. This partnership is grounded in the shared values of both OCEARCH and JU, as well as a shared emphasis on scientific inquiry, collaborative research, experiential learning, innovation and sustainability.
At its very core, this partnership's purpose is to offer JU students unprecedented opportunities and foster experiential learning. Not only do students benefit from this collaboration at a classroom level, but they are also be at the forefront of high-caliber research as together JU and OCEARCH educate tomorrow's leaders. The one-of-a-kind learning experiences this partnership yields further expands the depth of JU's already nationally recognized marine sciences program and MSRI. The partnership also allows the University to expand the number and variety of opportunities for students majoring in other disciplines, such as sustainability, environmental sciences, engineering, aviation, communications, and film.
Request Information
Loading...