Master of ScienceOrganizational Leadership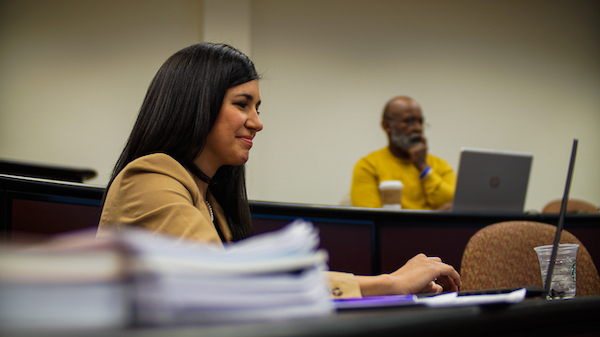 Why Choose Our Program?
The Master of Science in Organizational Leadership (MSOL) degree blends business, communication, and social sciences, with an emphasis on management and leadership. Our MSOL program is an alternative to the traditional Master of Business Administration (MBA), with a key difference — Organizational leadership foregoes some of the intense quantitative studies of economics and finance in favor of human resources and leadership theory. The MSOL degree has been called "the business degree for non-business majors," as it is well-suited to skilled professionals who want to develop their management knowledge and abilities.
Our program:
Is 30 credit hours
Begins every 8 weeks
Is offered on full-time or part-time tracks
Offers FLEX classes
Virtual Information Session
Attendees will have the opportunity to meet with faculty and an admissions counselor to ask questions. Unable to attend this event? You can request to view a recording of a past event, available to you at any time that works for your schedule.
Tuesday, March 14, 2023
12:00 p.m.
Register Now
About Our Program
Foundation Course
This course is required for candidates who do not have two semesters of undergraduate economics. A student may elect to test out of the foundation courses. See a graduate academic advisor to schedule exam(s).
ECON 509* - Essentials of Economics
MSOL Program Courses
ACCT 509** - Essentials of Accounting
DSIM 509** - Essentials of Quantitative Methods
FIN 509** - Essentials of Finance
DSIM 518 - Competing Through Innovation & Information
DSIM 577 - Managing Production and Service Operations
MGT 545 - Global Corporate Strategy and Policy
MGT 548 - Leading People and Organizations
MGT 566 - The Legal & Ethical Environment of
MGT 610 - Strategic Human Resource Management
MGT 630 - Teamwork and Organizational Change
* May substitute two semesters of undergraduate Economics.
** May take higher-level discipline course as a substitute.
Student Outcomes
Students earning this degree go on to earn job titles such as Human Resources Manager or Executive Director. Graduates of this degree field report their job satisfaction as high, with the average salary of this degree being $72,311 per year, reported by Payscale.
AdmissionsHow to Apply
Completed JU Application
Unofficial Transcripts for Degree Most Recently Conferred (Undergraduate-Bachelor's or Graduate)
Students with a GPA under 3.0 will be considered based on a holistic individual assessment that may require extra documentation.
Designed to fit your passions and lifestyleStudent Resources and Other Options
In addition to the Master of Science in Organizational Leadership, we also offer other graduate business degree programs.
The Davis College of Business & Technology also offers multiple scholarships and financial aid opportunities, including graduate assistantships.
Request for Information
Loading...
Contact Information Davis College of Business & Technology
Phone: (904) 256-7196
Email: graduateadmissions@ju.edu
Quick Links