Master of Business Administration
Virtual Open House: Business Graduate Degrees
Want to learn more about Jacksonville University's business graduate degrees? Join us for an online information session Thursday, September 26, 2019 at 6:30 p.m. to meet with an admissions counselor and a JU Davis College of Business advisor to learn more about our program options. During the session, we will provide you with an application fee waiver code.
MBA Programs are not readily comparable. It is critical that you "Dare to Compare," as we say. Here are some important factors to consider:
Accreditation: Investing in an MBA program that is not AACSB-accredited is risky. Only the top business schools in the world have earned such a distinction, and we are one of them.
Cost: Weigh cost against the variety and number of courses offered, networking and support services provided, and one-on-one time with faculty. It is what you learn, not spend, that counts most.
Program Flexibility: Our MBA programs are designed in 8-week long course modules that allow you to move at your own pace.
Knowledge Content: We continuously update our program content and assess how well it meets the critical learning goals that companies value. Our MBA programs have ranked in the best MBA programs list by CEO magazine.
Leadership Focus: Business expertise is great, but it will be the leadership competencies that you develop that differentiate you and prepare you to move up in​ an organization.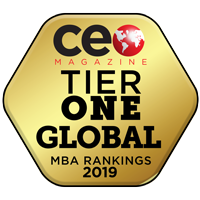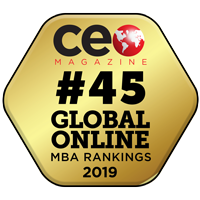 Full-Time MBA
Designed for recent graduates and career-changing adults
On-campus, daytime courses twice per week
Flexible schedule that allows for internships or part-time work while enrolled
Full-time, 12-month program, beginning each spring and fall
Part-Time MBA (Flex)
Designed for working professionals
On-campus, evening courses once per week
Some courses offered in hybrid format (in-class meetings and online assignments)
Classes begin every 8 weeks
Online MBA
Designed for working professionals
Fully online program
Progress at your own pace
Classes begin every 8 weeks
Additional Graduate Options
Master of Science in Organizational Leadership
Graduate business degree with a focus on leadership
2+ years of progressive work experience preferred
Offered in both online and campus-based formats
Progress at your own pace
Entry term every 8 weeks
Executive MBA in Leadership Development
Designed for mid-management to senior leaders (10+ years of professional experience)
19-month cohort-based program that meets one weekend per month
Hotel accommodations and airport transportation available
International business trip, meals, and books included in tuition
Entry term each fall