Intersecting Health Information Technology, Data, and Healthcare ManagementMaster of Science in Health Informatics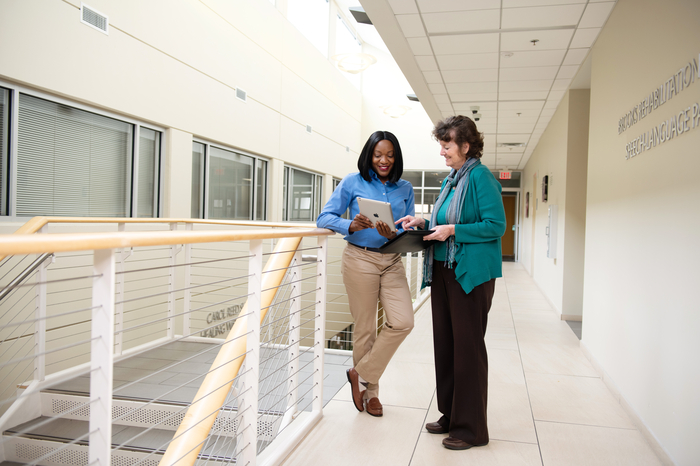 Why Choose Our Program?
Are you bold enough to launch a career in one of the fastest-growing fields? Understand the dynamic relationship between people, information technology, healthcare services, and the healthcare system. Gain the knowledge and skills necessary to leverage information technology to improve healthcare delivery and outcomes. Our degree:
is offered in both an online and cohort format
is only 11 courses and can be completed in one year or with our part-time pathways
includes the real-world experience of an internship or work project
helps you pursue professional certification options after completing the MSHI program
VIRTUAL INFORMATION SESSION
Attendees will have the opportunity to meet the program director and advisor to ask questions about our curriculum and admissions process.
Wednesday, December 9, 2020
12 p.m. EST
REGISTER NOW
Are you looking for a promotion or to start your next career? Career Possibilities
HIM Director
Chief Medical Information Officer
Clinical Analyst
Health Data/Information Resource Manager
Health Information System Application Designer
Chief Information Officer
IT Consultant
Interprofessional Health Informaticist
Master of Science in Health InformaticsCurriculum
To obtain a Master of Science in Health Informatics, each student must complete 30 credit hours of graduate level coursework, in addition to one three credit hour capstone option for a total of 33 credit hours.
MSHI 500: Advanced Health Informatics I (3)
MSHI 501: Advanced Coding and Classification (3)
MSHI 503: Advanced CyberSecurity (3)
MSHI 504: Advanced Systems Analysis (3)
MSHI 505: Advanced Health Informatics II (3)
MSHI 506: Advanced HealthCare Database Management (3)
MSHI 524: Epidemiology and Evidence-Based Health Informatics (3)
MSHI 525: Key Standards in the Health Care Industry (3)
MSHI 526: Legal and Social Issues in Health Informatics (3)
MSHI 528: Leadership in the Health Professionals (3)
Finally, students must choose one of the options below to satisfy the capstone requirement. Students must complete a minimum of three (3) credit hours of capstone to satisfy the degree requirements.
MSHI 527: Research Work Project Experience (3), or
MSHI: 590 Internship (3)
Students who do not have a medical background will be required to take a two-credit hour MSHI 201 Medical Terminology and Healthcare Essential prior to completing their third course in the program. Students who do not have evidence of completing an undergraduate course in statistics will be required to take MATH 205 Elementary Statistics prior to completing their third course in the program.
AdmissionsHow to Apply
Admission into the MSHI program within the School of Applied Health Sciences (SAHS) is selective and limited to those students who have demonstrated potential for successfully completing the program. Applications are reviewed on a rolling basis. Applicants must submit the following documents to be considered for admission;
Complete online application.
Baccalaureate degree in any discipline from a regionally accredited institution. Official transcripts from the Baccalaureate degree granting college or university; unofficial transcripts from all other colleges and/or universities attended. Applicants with a cumulative undergraduate grade point average (GPA) with a 3.0, or higher, on a 4.0 scale will be fully admitted.
Applicants with a cumulative undergraduate grade point average (GPA) with less than 3.0 on a 4.0 scale will be considered for conditional admission.

The GRE for this graduate program has been temporary waived for students with a GPA above 3.0.

Professional Resume.
Personal statement, 1-2 pages in length.
Unencumbered Background Check for students who select internship option.
TOEFL if the applicant's primary language is not English. Full details available in the university catalog.
Letters of recommendation may be requested.
Request for Information
Loading...