Master of Science inExercise Science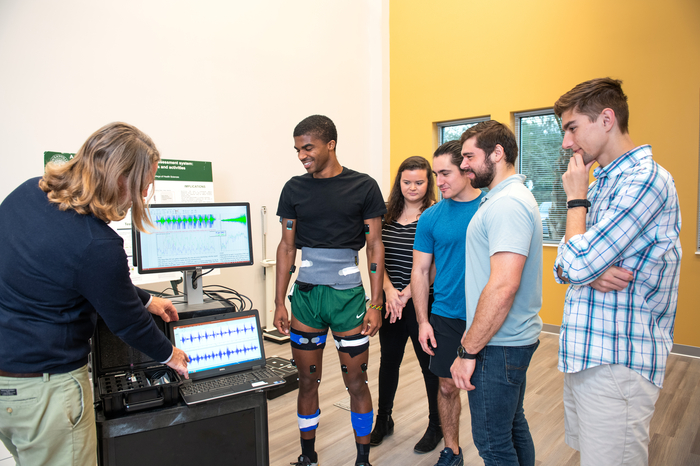 Why Choose Our Program?
Our Master of Science in Exercise Science is a degree program that provides advanced training in exercise physiology, biomechanics, nutrition, strength and conditioning, fitness assessment and prescription, and more. What makes Jacksonville University's MS in Exercise Science unique:
Ability to work closely with expert faculty

Focus on experiential learning and hands-on training

Access to state-of-the-art equipment in our three laboratories

Opportunity to complete the program in one of four ways, such as the thesis option or Grad2Grad option

Preparation for certification exams such as the

National Strength and Conditioning Association's Certified Strength & Conditioning Specialist (CSCS), American College of Sports Medicine - Exercise Physiologist (ACSM-EP) license
Start Your Application
Virtual information session
Request to watch a previous virtual information session. These sessions will allow you to learn more about our program, hear from faculty and understand the admissions process.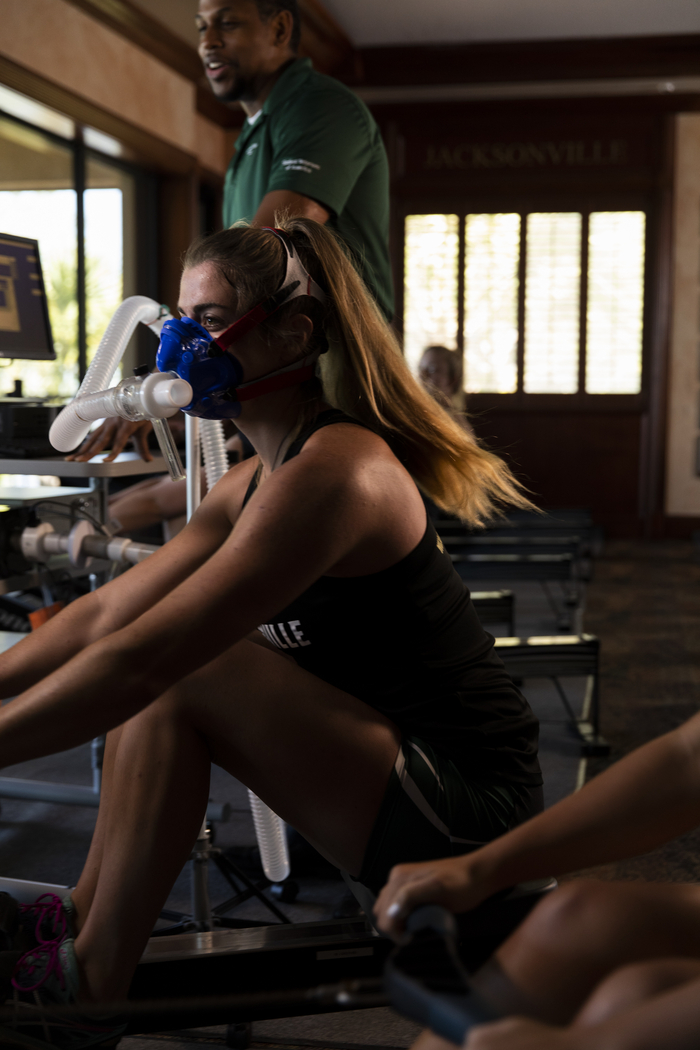 Focused On Experiential LearningMore About Our Program
Our program is designed to provide hands-on training using state-of-art equipment in our three laboratories. Students will have the opportunity to use equipment such as, but not limited to:
VICON motion-analysis cameras

Strideway Gait Mat

Neurocom Force Plate

BODPOD and InBody

Anatomage tables

Parvo Metabolic Cart and Track Master Treadmill

Polar heart rate monitors

Monark LC7TT electronic laboratory bike

Weight training circuit room
Our courses help prepare students to take two of the top certifications for exercise science - National Strength and Conditioning Association's Certified Strength & Conditioning Specialist (CSCS), American College of Sports Medicine - Exercise Physiologist (ACSM-EP) license.
Enrollment Options
Standard Option
The standard option of completing the MS in Exercise Science allows students to complete the program in within two years. Each course is offered at least once per year. Some classes are cross-listed with the undergraduate program are often offered in both the fall and spring semester.
Accelerated option
Each graduate course for the Exercise Science graduate program is offered once per year, allowing students the ability to complete their master's in one year. The accelerated option requires taking 12 credits in both the fall and spring semesters, as well as 6 credits in the summer - which will be offered online.
Grad2Grad Option
The Grad2Grad Master of Science in Exercise Science program option allows undergraduate students to apply for the graduate degree program prior their junior year. Accepted students will take up to 12 credits of graduate courses during their final year of their undergraduate program, and then finish their masters in year five of study.
Thesis Option
The thesis option for this program allows the opportunity for students to develop and complete a thesis project with an Exercise Science faculty advisor. If the faculty advisor agrees to chair the thesis, a committee of two internal and one external faculty is formed. The student will enroll in 6 credits of thesis over two semesters to develop the thesis, which will be defended before the committee. The final thesis is prepared for submission to a peer-reviewed scientific journal.
Dive Into Your Future
The Master of Science in Exercise Science program is an excellent option for students who wish to continue their education and pursue options such as:
Obtaining a Ph.D. in Exercise Science, or a related field

Continue their education in medical school

Earn another professional health graduate degree to work in careers as Physician Assistants, Physical Therapists, Occupational Therapists, Athletic Trainers, Chiropractors, etc.
This program is designed for students who seek advanced careers within the realms of fitness and wellness, coaching and sport performance, strength and conditioning, clinical fitness assessment and exercise prescription, and public health.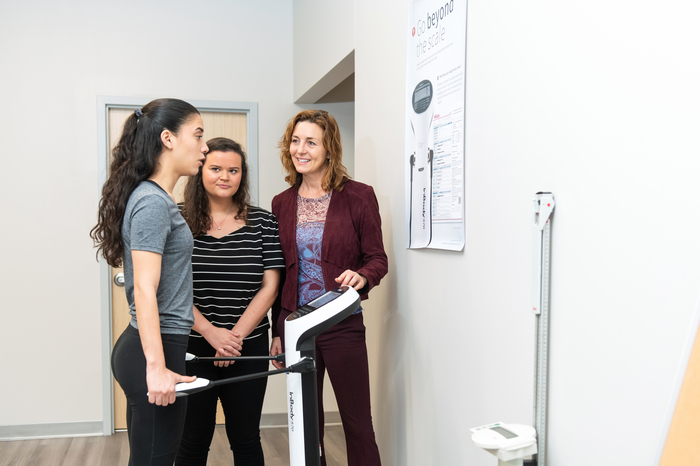 How To ApplyAdmissions & Eligibility Requirements
Completed JU application

Undergraduate degree in Kinesiology, Exercise Science, or Movement Science preferred

If your major is in an unrelated field, you will need previous kinesiological, exercise science, or movement science experience or you'll need to enroll in an Anatomy and Physiology/Exercise Physiology-related course prior to beginning the MS in Exercise Science program or concurrently during the first semester of the program

Official Transcripts

One-page Statement of Intent

3.0 GPA on a scale of 4.0 preferred

Under 3.0 GPA potential additional requests:

GRE scores

2 Letters of Reference
Curriculum
All students of the MS in Exercise Science are required to complete the following coursework:
ES 505 - Advanced Human Anatomy

ES 527 - Nutrition for Physical Activity & Health

ES 530 - Measurement and Evaluation

ES 538 - Advanced Exercise Physiology

ES 542 - Advanced Statistics for Exercise Science

ES 550 - Resistance Training: Principles & Practice

ES 560 - Fitness Assessment and Exercise Prescription for Special Populations

ES 585 - Biomechanics of Human Movement
In addition to the core curriculum, students will also be required to choose one of the following experiential learning courses:
ES 599WSR - Human Performance Project

ES 587 - Independent Study

ES 590 - Internship in Exercise Science
Students can also choose three additional elective credits, including from the group above:
ES 506 - Journal Seminar

ES 528 - Nutrition for Optimal Athletic Performance

ES 529 - Ergogenic Aids
Request For Information
Loading...
Contact Information Graduate & Professional Studies
School of Applied Health Sciences
Jacksonville University
2800 University Blvd N
Jacksonville, FL 32211
Phone: (904) 256-7000
Email: graduateadmissions@ju.edu
Quick Links