Academic planning and helpStudent Success Center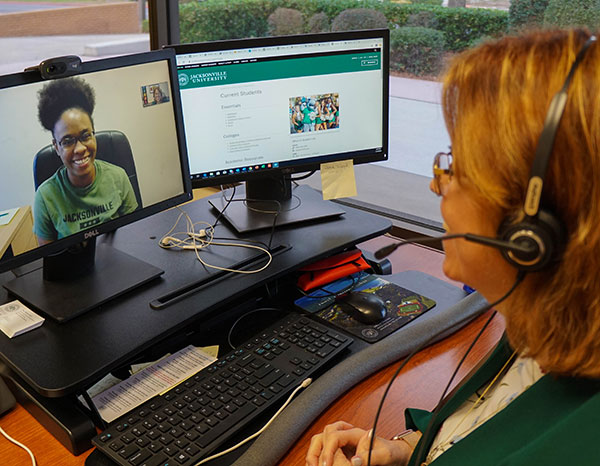 What we doAll your resources, all in one place.
The Student Success Center at Jacksonville University connects students with experiences to achieve their academic and professional goals. We provide students with a seamless blend of academic planning, career exploration, and resume enhancement, including hands-on learning through internships, study abroad, service learning, and research.
Learn more about the areas that make up the Student Success Center, or take advantage of some of our other services:
Our students are ready for youHire a Dolphin
We believe in equipping our students to lead and innovate in the industries that shape our world today and the industries that will be developed tomorrow. By combining a powerfully versatile liberal arts core with practical, hands-on experience applying in-demand skills, Jacksonville University graduates students who are ready to lead your company into the future.
Connect with us.
Located on the first floor in the Howard Administration Building, we are ready to assist students by:
Phone support at (904) 256-7090, Monday through Friday from 8:30 a.m. to 5:00 p.m.
Video chat appointments through Starfish
Visit us in person Monday through Friday from 8:30 a.m. to 5:00 p.m. (Note: Hours may vary based on holiday and campus operations.)
Instant Message/Live Chat on Microsoft Teams and Skype for Business (free to JU students through my.ju.edu)
Contact Information Student Success Center
Howard Administration Building
Jacksonville University
2800 University Blvd N
Jacksonville, FL 32211
Phone: (904) 256-7090