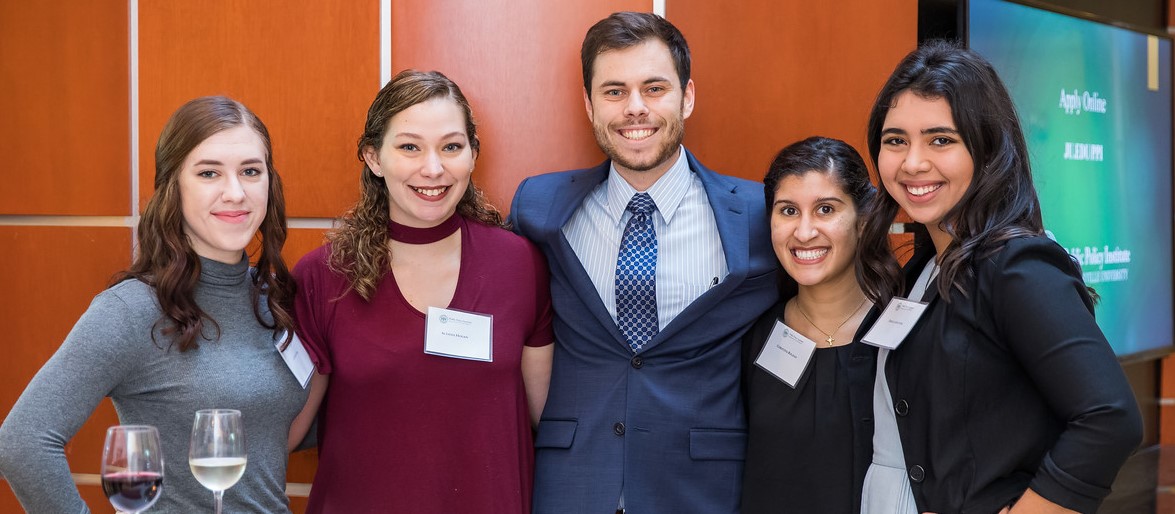 Minor in Public Policy
Public policy is any action or inaction adopted by government to address a community concern or problem. It touches all aspects of our lives. Recognizing the need for greater understanding of public policy and its impact, the Jacksonville University Public Policy Institute offers a minor in Public Policy for undergraduates.
Complementary to any undergraduate major, the minor in Public Policy prepares students for career paths in public, private and non-profit sectors, and for graduate studies. The minor in Public Policy is designed to provide students with a set of quantitative and qualitative skills to enhance citizenship, critical thinking, community service, and stewardship.
Contact Academic Advising to learn more about adding a minor.
Curriculum
A public policy minor consists of two required courses and three elective courses (15 credits total). Required courses provide students with substantive knowledge and analytical skills, while elective coursework allows students to dive deeper into specific areas of policy practice. Courses include the following:
Required Courses (6 credits)
POL 310 – Public Policy (3 credits)
POL 420 – Methods of Social Research (3 credits)
Elective Courses (9 credits)
ECON 381 – Economic Policy Analysis (3 credits)
KIN 324/CSD 324 – Ethics & Policy in the Health Sciences (3 credits)
NUR 452WI – Nursing Leadership and Health Care Policy (3 credits)
POL 303 – Political Parties and Politics (3 credits)
POL 309 – Courts and the Constitution in American Politics (3 credits)
POL 312 – Public Administration (3 credits)
POL 314 – National Security Policy (3 credits)
POL 401 – Political Theory (3 credits)
POL 403 – American Foreign Policy (3 credits)
POL 425 – Public Opinion & Survey Research Methods (3 credits)
NOTE: Credit received for POL 420 (3 credit hours) and one other approved minor in Public Policy course (3 credit hours) may count toward the student's declared major and the Public Policy minor. For all other courses, credit may be applied to only the major OR the Public Policy minor.