Contact Us

Location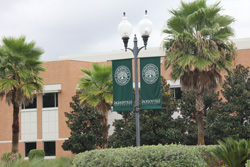 Located on the first floor of the Davis College of Business building at Jacksonville University.
Stop by or reach us by phone or email.
Mailing Address
Jacksonville University
Public Policy Institute
2800 University Blvd. N
Jacksonville, Florida 32211
Follow Us
Key Contacts
Elizabeth Feustel, JD, MPP
MPP Program Manager
Elizabeth Feustel currently serves as the Program Manager for the Master of Public Policy at Jacksonville University. In this capacity, Elizabeth is responsible for the administration of the Academic and Public Policy Programs conducted by JU's Public Policy Institute. Elizabeth is also the Pre-Law Advisor and Faculty Sponsor for the Pre-Law Society for the University. Beginning in January 2019, Elizabeth will teach undergraduate Public Policy courses.
Fowler Martens
Administrative Associate
Fowler Martens is the first point of contact for visitors to the Institute and the best resource for questions and inquiries. She has a B.A. in Psychology from Washington and Lee University.
Richard A. Mullaney, Esq.
Director
Rick Mullaney is the Founding Director of the Public Policy Institute at Jacksonville University. In addition to giving strategic direction and vision to the Institute, regularly appearing on local media for policy commentary, and hosting the Policy Matters radio show, Mr. Mullaney teaches PPOL 513: Law, Policy, and Politics, a core requirement for Master in Public Policy students. He is a graduate of the University of Florida with a B.A. in Political Science and law degree from the Levin College of Law. Read his biography.