What is a SWO?
Surface Warfare is the community within the Navy that involves the use of the surface fleet's ships for the missions of forward naval presence, sea control, and projection of power ashore. Surface Warfare Officers (SWO's) are the men and women who, as junior officers only a year out of college, lead the sailors within the many specialized divisions of a ship's crew. Many of these young officers aspire to command their own ship. SWOs are stationed from Norfolk, Virginia, to Yokosuka, Japan. The Navy has six major homeports for its surface fleet and will try to give you as much choice as possible as to where you will be stationed and what kind of ship you will serve on, should you be designated a SWO.
The surface fleet consists of many different types of ships, each contributing in their own unique ways to the success of the Navy as a whole. The abbreviation for each subtype of ship within each main type is in parentheses.
Cruisers (CG): Protect the fleet from airborne threats by using their advanced AEGIS radars and anti-air missile systems, and also have the capability of striking targets ashore with their deck guns and long-range Tomahawk cruise missiles.
Destroyers (DDGs): Protect the fleet from surface and submarine threats; many also have AEGIS, as well as the capability to use their deck guns and Tomahawk cruise missiles to strike targets ashore.
Frigates (FFG): Small, tough convoy escort ships that provide maritime interdiction operations and anti-submarine protection.
Aircraft Carriers (CVNs): Home to over seventy aircraft, ranging from F/A-18 strike fighters, EA-6B radar-jammers, E-2C early-warning/command and control aircraft, and the mighty SH60F, SH60R, and HH60H Seahawk Helicopters.
Amphibious Ships (LHA/LHD/LPD/LSD): Carry up to 2,000 Marines, and their equipment, vehicles, and supplies. The Amphibious Assault subtype, or LHA's and LHD's, double as small aircraft carriers that are home to various kinds of helicopters and the Harrier vertical take-off and landing jet fighter. The LHA's, LHD's, and LSD's all carry modern, high-speed Landing Craft, Air-Cushion (LCAC) to ferry Marines and their gear ashore. Minesweepers (MCM) - detect and clear naval mines from areas in which other ships soon will be operating.
Patrol Craft (PC): Small, speedy ships that patrol coastlines as well as insert and support SEAL special operations forces ashore.
Auxiliary Ships (AE/AO/AOE/AS/ARS): Keep the fleet supplied with fuel, ammunition, food, and other crucial stores needed on long-term forward deployments.
What Will Be My Role as a SWO?
As a junior SWO, you will command a division of sailors aboard one of the above types of ships. This division is responsible for a certain component of your ship, such a specific electronic, weapon, or engineering system. Immediately after graduating from NROTC, you will report to your first ship as a division officer. You will also learn how to "drive" your ship as a "Conning Officer" and then learn to "fight" your ship as the "Combat Information Center Watch Officer," stand watch as the "Officer of the Deck" for your ship, and finally control your ship's engineering plant as the "Engineering Officer of the Watch.
Surface Warfare Officer School
After learning the basics of shipboard life and attaining your "Officer of the Deck" qualification, you will complete a month-long training course at the Surface Warfare Officers School Command (SWOSCOM) Newport, Rhode Island. There you will be assigned a "wardroom" of other junior officers with diverse ship and billet assignments. By participating in seminars, exercises, and simulators you will learn from each other's experiences and broaden your SWO knowledge. Upon returning to your ship, you will be ready to complete your SWO qualifications and earn your Surface Warfare Officer Pin. Surface Warfare officers are assigned 45 months of initial sea duty to an afloat command split into a 27 month and an 18 month tour. During the spring semester of their senior year, Midshipmen will have the opportunity to select one ship throughout the fleet for their initial division officer tour. Upon completion of his or her first tour, a Surface Warfare qualified officer will then choose and transfer to another ship for their second tour.
SWO Nuclear Power Training
Some SWOs choose to take on additional responsibility and train to be nuclear engineers on aircraft carriers. During their senior year of college, candidates for Surface Warfare Nuclear Propulsion Training must first go to Washington, D.C. and be personally interviewed by Admiral Donald, the Director of the Naval Nuclear Propulsion. If accepted into the program, they will follow a similar path to all other SWO's, except that their second sea tour will be a 24 month division officer tour aboard a nuclear powered aircraft carrier. During the first tour aboard a conventional surface ship, they earn their Surface Warfare Qualification. After the initial sea tour, they attend the six month Naval Nuclear Power School in Charleston, SC. Nuclear Power School is an academic environment where students are instructed in math, physics, chemistry and theory of reactor plant design and operation. After Nuclear Power School, they receive hands-on experience for six months at the controls of an actual nuclear reactor at one of the two Nuclear Power Training Units (also known as Prototypes). Upon completion of Prototype, they go on to the 24 month division officer's tour in the engineering plant of a nuclear-powered aircraft carrier.
Assignments
After the Division Officer tours, SWO's roll to shore duty, usually lasting two to three years, in-between their sea tours. For example, after your division officer tours you might have a staff job at the Pentagon or a Navy command, or serve as an instructor at SWOS, the Naval Academy, or a NROTC unit. If you perform well in your sea tours, you can expect to be promoted in your following sea tours and command a ship's department. In other words, you will command all of the divisions that fall under a particular category, such as engineering, combat systems, or operations. You will serve two department head tours of 18 months each and then roll to shore duty again. This tour lasts thirty-six months. This shore tour is on a major command's staff or at a military postgraduate school, you will serve as a ship's Executive Officer for 18 months you will have a change to Fleet-Up as the commanding officer of the ship for 18 months, three years. You will then achieve the goal of all career SWOs: captain of your own ship!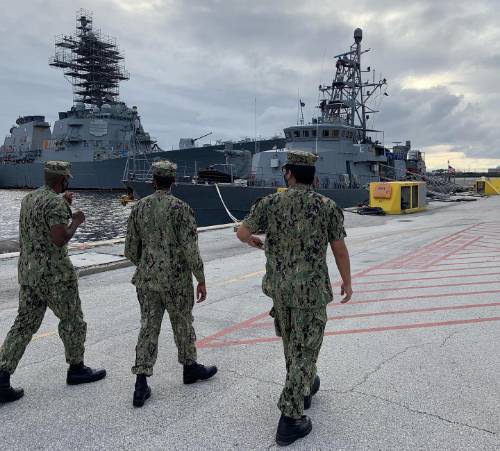 Commitment
Your initial commitment after graduation from NROTC as a SWO is four years. Nuclear SWOs, due to their extra training requirements, incur a five year commitment after commissioning or a 24 month CVN tour, whichever is longer. Acceptance of promotion to lieutenant commander or above incurs an additional service obligation for every promotion accepted.
Helpful Links