NROTC Preparatory Program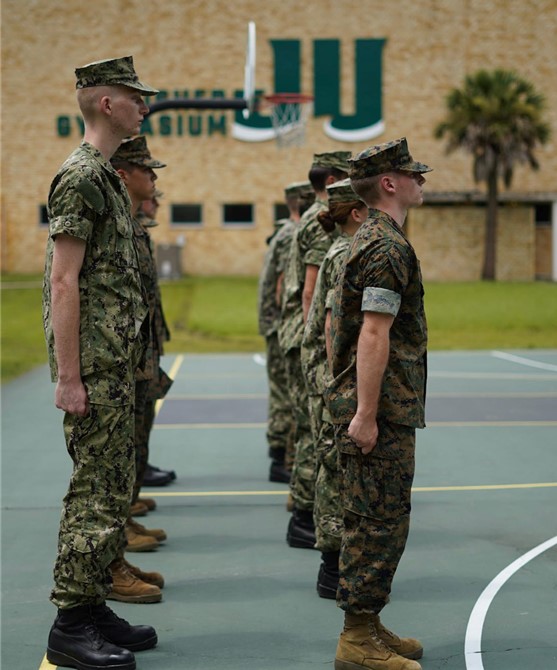 The NROTC Preparatory Program (NPP) provides high school seniors (both JROTC and non-JROTC affiliated students) the opportunity to earn a commission in the United States Navy. Jacksonville University, in partnership with the NROTC, provides a one-year curriculum of academics and military training focused on preparing students for success in the NROTC program.
For selected applicants who successfully complete the preparatory year, the U.S. Navy reserves a follow on four-year NROTC scholarship. During the preparatory year, Jacksonville University will cover tuition and fees as well as room and board. Individuals accepted into the NPP must meet and consistently maintain the below criteria in order to be offered a follow-on NROTC scholarship to Jacksonville University.
Requirements:
Before starting, successfully complete a Department of Defense (DOD) medical examination and NROTC indoctrination training
Pursue a STEM major (Tier 1 or Tier 2; 13 majors available)
Maintain greater than a 2.8 GPA, enrolling in a minimum of 12 college credits per semester
Pass the Navy Physical Fitness Assessment once a semester with a score of "Good Low" or better
Maintain good standing within the NROTC Unit
Reside in Jacksonville University provided housing
Applicant Qualifications:
We are seeking individuals who have demonstrated leadership, integrity, and character. Demonstrations of future Navy leadership potential include but are not limited to the following:
Leadership and participation in a variety of school, extracurricular, community or similar activities, particularly those with a charitable or public service purpose;
Receipt of civic or similar awards;
A history of a drive to succeed by excelling in school, sports, overcoming personal adversity, or the presence of other compelling factors, indicating that the student has a desire to succeed and the ability to surpass obstacles; and
Being regarded as a role model by the teachers and peers at their high school.

Not all the above factors need to be present. The intent is to provide additional opportunities to all who, for any of the above or similar reasons, demonstrate the potential for future success as a naval officer.
The NROTC Preparatory Program leverages programs such as Naval Junior Reserve Officer Training Corps programs to assist universities in identifying high-quality applicants. However, NJROTC participation is not a prerequisite.
For any questions regarding Jacksonville University NPP, please contact us at nrotcrecruiter@ju.edu or 904-256-7488.