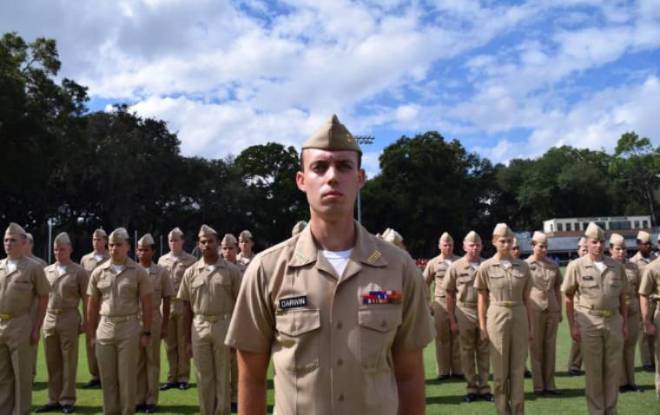 The Naval Reserve Officers Training Corps (NROTC) Program at Jacksonville University is designed to educate and train qualified young men and women for service as commissioned officers in the Navy or Marine Corps. NROTC prepares mature young men and women morally, mentally, and physically for leadership and management positions in an increasingly technical military. In addition, participation in the naval science program instills in students the highest ideals of duty, honor and loyalty.
There are two ways to participate in the NROTC program, the Scholarship Program and the College Program. Under both the Scholarship and College Program, students are expected to attend naval science classes and drill periods. College Program students may apply for scholarship status after demonstrating successful performance in the NROTC program. Uniforms are provided for all students. The Scholarship Program also pays for full tuition, fees, books, and other related educational costs including a subsistence allowance of $250-$400 per month based on class standing.
Financial Aid
Jacksonville University offers Room and Board Scholarships and College Program Room and Board Scholarships or cash stipends (married students only) to eligible NROTC midshipman. Speak with the Financial Aid office to learn more about these opportunities.
Seaman-To-Admiral 21 officer candidates are eligible for the JUMP In program provided by Jacksonville University. This matching funds program provides additional assistance for Officer Candidates who are pursuing a degree at Jacksonville University.