Commanding Officer (CO)
CAPT Jeremy R. "J.R." Hill, USN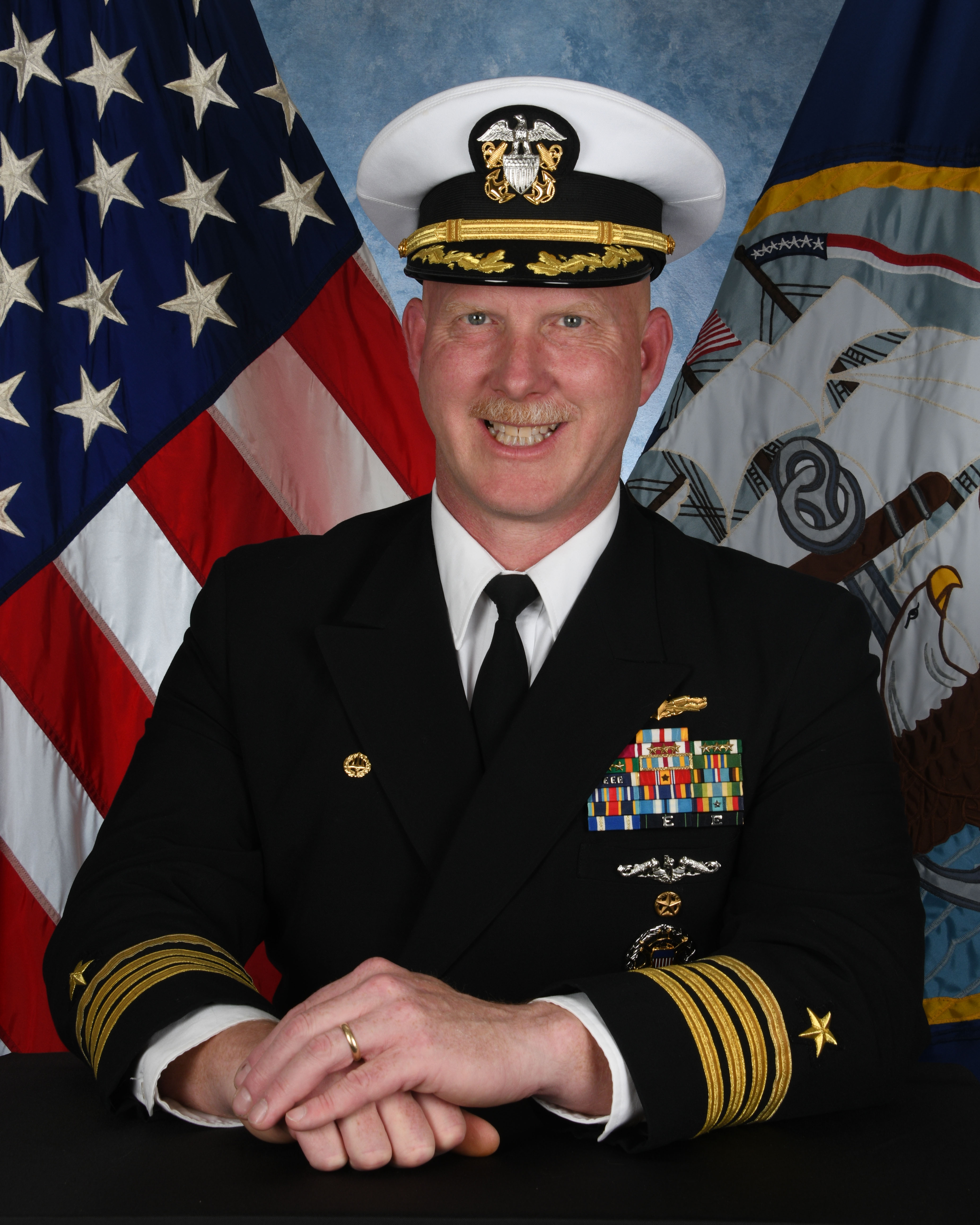 CAPT Jeremy Hill is from Star Prairie, Wisconsin. He graduated from the United States Naval Academy and received his commission in 1995.
His sea tours include USS SCOTT (DDG 995), USS CARR (FFG 52), USS DEYO (DD 989), USS CORMORANT (MHC 57), USS BLUE RIDGE (LCC 19), and USS TAYLOR (FFG 50). CAPT Hill completed his command tours of USS TAYLOR in November 2012 and USS PORTLAND (LPD 27) in September 2018.
His shore assignments include U.S. Naval War College, Chief of Naval Operation's Strategic Studies Group XXIII, Deputy Seabasing Branch in the Office of the Chief of Naval Operations, Assessment Division N81, Executive Assistant to Commander, U.S. SIXTH Fleet, Chief, Requirements Management Branch on the Joint Staff, Force Structure, Resources, and Assessment Directorate, J-8, Joint Capabilities Division and the Amphibious Warfare Branch Head in the Office of the Chief of Naval Operations, Expeditionary Warfare OPNAV N95. CAPT Hill recently completed his tour as the Executive Assistant to the Deputy Chief of Naval Operations, Fleet Readiness and Logistics, OPNAV N4.
He completed a Master of Arts in National Security and Strategic Studies from the Naval War College. Additionally, he completed a Masters of Systems Analysis and an Executive Masters of Business Administration from Naval Post Graduate School.
CAPT Hill's personal awards and decorations include: the Defense Superior Service Medal, Legion of Merit (w/1 star), Meritorious Service Medal (w/3 stars), Navy Commendation Medal (w/3 stars), the Navy and Marine Corps Achievement Medal (w/2 stars), and various service awards.
Executive Officer (XO)
CDR David Cordova, USN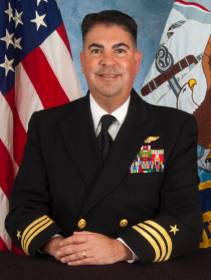 Commander David Cordova, a native of Belen, New Mexico, enlisted in the U.S. Navy completing Basic training at Recruit Training Command San Diego, California as an Airman Recruit in 1990. During his enlisted service, he served as both an Aviation Machinists Mate Naval Aircrewman and Hospital Corpsman holding an NEC as an Aviation Physiology Instructor. Selected for the Enlisted Commissioning Program in 1999, he earned a Bachelor degree in Human Physiology and Kinesiology and commissioned through the Naval Reserve Officer Training Corps (NROTC) at the University of Colorado in 2001. He is also a 2009 graduate of the University of South Carolina where he earned a Master of Business Administration (MBA) degree in International Finance.
Commander Cordova was designated a Naval Flight Officer after earning his Wings of Gold in 2003. His operational flying tours include Patrol Squadron 8 (VP-8) "Fighting Tigers" based out of Naval Air Station Brunswick, Maine. While at VP-8 serving as a Combat Aircrew Tactical Coordinator and Mission Commander, he completed three Arabian Gulf, Horn of Africa and Western Pacific deployments in support of the Global War on Terror and Operation Unified Assistance participating in Indonesian tsunami humanitarian and disaster relief efforts. His Operational Department Head tour was with the "Tridents" of Patrol Squadron 26 (VP-26) based out of Jacksonville, Florida. While in VP-26 he served as the Administrative Officer, Tactics Officer, Officer-In-Charge Detachment Misawa, Japan and Maintenance Officer completing two deployments to both the U.S. 5th and 7th Fleet AOR's in support of Operations Iraqi Freedom and Inherent Resolve.
Additional operational tours include; Fleet Logistics Support Squadron Fifty (VRC-50) "Foo Dogs" during his enlisted service based out of Naval Air Station Cubi Point, Philippines and operated from Kadena, Japan and Anderson Air Force Base, Guam. During this tour, he competed three Western Pacific and Arabian Gulf Deployments in support of Operations Desert Shield and Desert Storm; Catapult and Arresting Gear Officer "Shooter" aboard USS Carl Vinson (CVN 70) home ported out of San Diego, California where he served as Air Department Fuels Division Officer, Catapult and Arresting Gear Officer and the "TOP CAT" where he completed two more deployments to the U.S. 5th and 7th Fleet AORs supporting Operations Enduring Freedom and New Dawn; USS Harry S Truman (CVN 75) as the ships Safety Officer, home ported out of Norfolk, Virginia, where he deployed to the U.S. 5th and 6th Fleet AORs supporting Dynamic Force Employment tasking and Operation Freedom Sentinel.
Commander Cordova also served overseas with Commander Task Force Fifty Seven (CTF-57) in Manama, Bahrain as the Current Operations Officer and Tactical Operations Center Officer-In-Charge, responsible for all Joint and Allied Maritime Patrol and Reconnaissance Aircraft flight missions and coordinated tasking directly supporting Theater and Fleet Commanders during Operations Inherent Resolve and Decisive Shield. His other shore assignments include; Aviation Survival Training Center, Naval Air Station Barbers Point, Hawaii where he served as an Aviation Physiology and Water Survival Instructor; the University of South Carolina, NROTC Unit as a Naval Science Instructor and Air Warfare Officer; Naval Air Station Jacksonville, Florida as the Air Operations Officer where he managed all airfield operations, oversaw a $92 million dollar runway re-construction project, served as the Emergency Operations Center Director and Aviation Safety Officer. In August 2021, he reported to the Jacksonville University NROTC Unit as the Executive Officer.
Commander Cordova has operated in every geographic combatant command region, logged more than 3,500 flight hours, holds several shipboard and aircraft qualifications and instructed at university and military institutions. His personal decorations include the Meritorious Service Medal (2), Navy Commendation Medal (4), Navy Achievement Medal (3) and various other unit and service awards.
Marine Officer Instructor (MOI)
Capt Joseph Butterfield, USMC
Telephone number

(904) 256-7489

Email address

MOI@ju.edu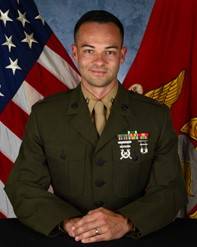 Captain Butterfield is from Gulfport, Mississippi. He entered the Marine Corps in May 2009 as a Marine reservist and attended recruit training at Marine Corps Recruit Depot Parris Island. He was commissioned in 2013 through the Marine Corps Platoon Leaders Class after receiving his Bachelor of Arts in History from Mississippi State University.
After graduating from The Basic School he served as a tactics instructor at Officer Candidate School while awaiting orders to the Public Affairs Qualification Course at the Defense Information School. Upon graduation he reported for duty in November 2015 to III Marine Expeditionary Force, Okinawa, Japan.
During his time with III MEF he served as the Director of Public Affairs for 1st Marine Aircraft Wing and 3d Marine Logistics Group. He participated in numerous exercises and exchange programs in Thailand, Nepal, Japan, Philippines, and other locations throughout the Indo-Pacific region.
Capt. Butterfield deployed to Manila, Philippines from Jan – June 2018 where he served as the Public Affairs liaison for all Department of Defense activities within the U.S. Embassy in the Philippines.
Capt. Butterfield's previous assignment was Communication Strategy and Operations Officer with Headquarters Marine Corps, Communication Directorate. During his time at HQMC he served as the Communication Strategy advisor for the Deputy Commandants for Installation & Logistics, Plans, Policies, and Operations, and Aviation.
Capt. Butterfield currently serves as the Marine Officer Instructor for Naval Reserve Officer Training Corps Unit, Jacksonville University.
He holds a BA in History (magna cum laude) from Mississippi State University, and a graduate degree (with distinction) in Strategic Communication from Liberty University. He holds two additional Military Occupational Specialties - 0510, Basic Information Operations Staff Officer and 4505 - Communication Strategy and Operations Planner.
His personal awards include Navy Commendation Medal, Navy and Marine Corps Achievement Medal, and the Military Outstanding Volunteer Service Medal.
Junior/Senior Advisor
Telephone numbe
LT Jorge Vega, USN
Sophomore Advisor
LT Paul Whalen, USN
Freshman Advisor
LT Samantha Brown, USN
AMOI
MSgt Dean Williams, USMC
Supply & Logistics
LSC(SW/AW) Camilo J. Valle, USN
Admin Office
Jacksonville University NROTC
2800 University Blvd N
Jacksonville, FL 32211

Telephone number

(904) 256-7480

Fax number

(904) 256-7499 (Fax)