Dr. Frances Bartlett Kinne has dedicated more than five decades of service to Jacksonville University and the community with her time, teaching, talent and treasure. In 1979 she became Florida's first female university president, creating what is now the Davis College of Business and helping start the School of Nursing. JU's Kinne University Center, Kinne Auditorium at Mayo Clinic Jacksonville and Kinne Alumni Center at Drake University bear her name because of her charitable endeavors. In addition to fundraising, she has also drawn world-famous celebrities and public figures to Jacksonville, including President Ford, Bob Hope, Jack Benny and Charlton Heston.
Fran Kinne began her Jacksonville University career in 1958 as a humanities professor, became founding dean of JU's College of Fine Arts in 1961, and served in that capacity until being named JU's president in 1979, becoming the first female president of a college or university in Florida. With Kinne as president, JU established what is now the Davis College of Business, the School of Nursing, and the Aviation program.
Kinne was JU's president for 10 years and chancellor from 1989 to 1994, and served as chancellor emeritus since 1994.
In addition to her leadership, Dr. Kinne's hand of generosity is legendary: JU's student center (Frances Bartlett Kinne University Center) bears the Kinne name due to her charitable endeavors, as do the Frances Bartlett Kinne Auditorium at Mayo Clinic Jacksonville; the North Wing of the Bertha Bartlett Public Library; Kinne Garden at Wilma's Little People School at Jacksonville University; and Frances Bartlett Kinne Alumni & Development Center at Drake University.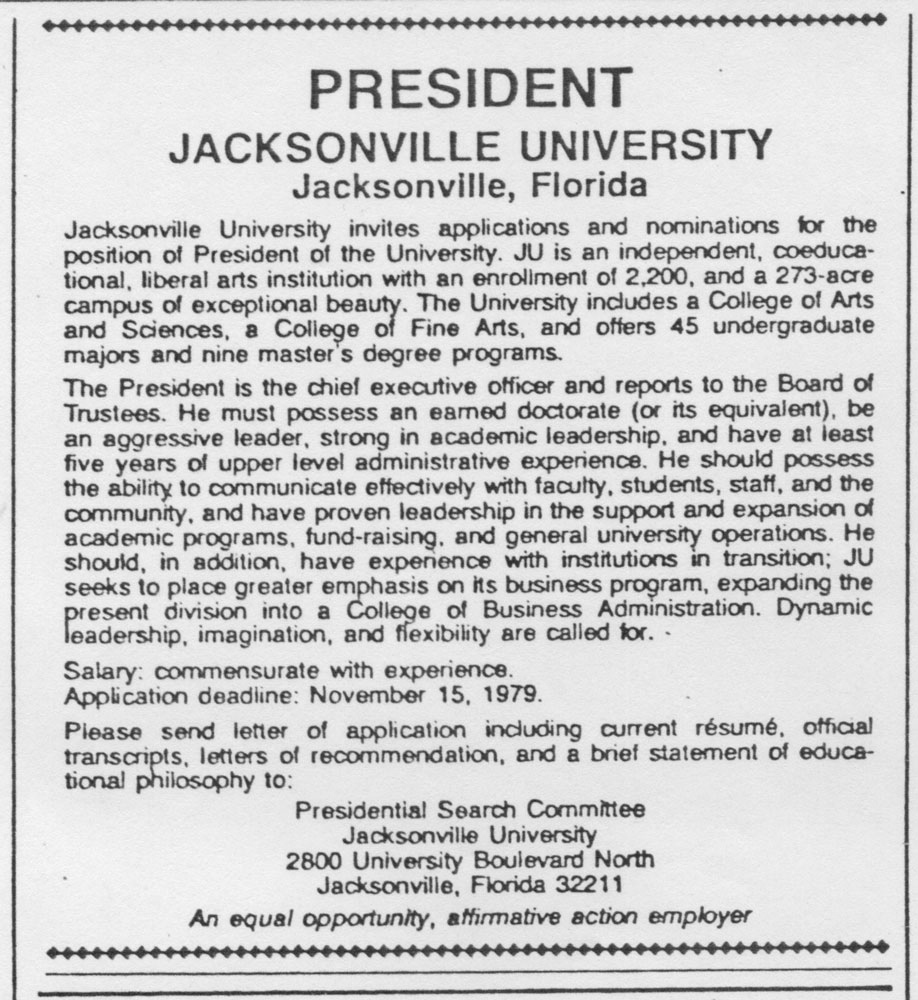 A Story City, Iowa, native whose childhood centered on art, music and education, Kinne Is the daughter of the late Charles Bartlett, Story City's newspaper publisher; and Bertha Bartlett, who founded and ran the town library. her first husband was U.S. Army Col. Harry Kinne; and her second husband was U.S. Army Col. Worthington Bordley Jr.
Kinne received undergraduate and graduate degrees from Drake University and a tri-major doctorate (philosophy, music and English literature) from the University of Frankfurt (Germany), and she was later awarded with five honorary doctorate degrees.
As a young adult, Kinne worked as a public school music teacher; a choral and instrumental conductor; Veterans Administration recreation director; professor at Tsuda College in Tokyo, Japan; and music consultant for Gen. Douglas MacArthur's staff in Tokyo. During Ward War II, Kinne chose to be a U.S. Army hostess over the Women's Army Corps because of her less-than-stellar eyesight, and her wartime assignment had her in charge of providing entertainment for as 70,000 GIs.
Her knack for drawing celebrities such as boxers Joe Louis and Sugar Ray Robinson to meet U.S. military personnel carried over to her career at Jacksonville University, to which she was able to lure dozens of world-famous entertainers and other celebrities and public figures including Gerald Ford, Bob Hope, Jack Benny, Charlton Heston and Boston Pops Orchestra conductor Arthur Fiedler. She also enticed George Steinbrenner to bring his New York Yankees baseball team to play in an exhibition game against the JU squad to raise funds for the university.
Known as "a friend of the famous," Kinne received a Christmas card with a handwritten note from Ford a week before Ford died. Kinne first got to know Ford when his son, Jack Ford, was a student at JU in the early 1970s when Kinne was chairwoman of the arts and music department.
"He was so dear and one of those rare individuals in that type of position who still wrote personal notes to old friends," Kinne said in a 2006 Florida Times-Union interview.
Kinne was closer with Hope, often visiting him at his Palm Springs home.
"When you're around Fran Kinne – things happen ..." Hope once said.
Kinne was the first female president of the Downtown Rotary Club; winner of first Jacksonville EVE Award; the first female member of the River Club; a Florida Women's Hall of Fame inductee; and she was listed on 24 Who's Who lists, including Who's Who in the World.
Kinne often said that she deliberately decided as a young adult to heed her parents' counsel and follow Albert Einstein's advice: "There are only two ways to live your life. One is as though nothing is a miracle. The other is as though everything is a miracle."