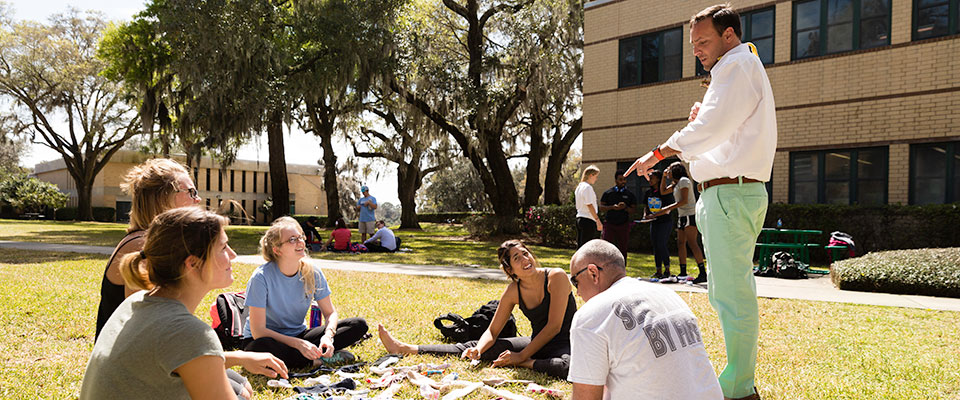 Undergraduate Admissions
Important: Special Holiday Hours in Admissions
Jacksonville University will be closed from December 15 – January 1, but the Office of Admissions will be open for special hours during that time:
Monday, December 17 – Wednesday, December 19
10:00 a.m. – 2:00 p.m.
Thursday, December 27 – Friday, December 28
10:00 a.m. – 2:00 p.m.
Campus tours will be offered at 11:00 a.m. on each of those dates (December 17 – 19, 27 – 28). Tours will begin at the Office of Admissions in the Howard Administration Building. If you'd like to join us for a campus tour, please register online.
You can also take a self-guided walking or driving tour if you'll be stopping by campus at a time when we're not in the office. Printed tour guides are available at the main gate, or you can check the tours out online.
Admissions will resume regular office hours on Wednesday, January 2.
If you have any challenges registering for a holiday campus tour, please contact Michelle Laguens at mlaguen@ju.edu. This email address will be monitored over the holidays.
​​​At Jacksonville University, our focus is on you - the student.​
What are you looking for in a university?
At Jacksonville, you'll find a university that offers more than 100 majors, minors, and pre-professional programs in our four colleges of Arts & Sciences, Business, Fine Arts, and Health Sciences. You'll find a rigorous Honors Program, study abroad opportunities, 19 NCAA Division I and intramural teams, and hands-on learning experiences inside and outside of the classroom.
We believe in the importance of hands-on learning.
You'll also be successful when you receive your diploma. Students are required to complete one of the following by graduation: study abroad, undergraduate research, service learning project, or internship. This guarantees you will have experience in your field of study before entering the job market.
Our recipe for value:
1 part core liberal arts infused with professional programs
1 part experiential opportunities & cross-disciplinary learning
1 part comprehensive career mentoring
The Undertow
Are you interested in what it is like to be a JU student? If you are, this is the vlog to check out. Like an undertow, this vlog is focused on the undercurrent (or culture) at Jacksonville University. JU Film Student Mike Csorba shows you what #JUstAnotherDay on campus looks like. Tune in each week to see what Mike is up to next.
Request a transcript of this video
Learn More
In the links on this page, you'll find information on visiting our campus, how to apply, and more. Good luck with your college search. Let us know how we can help.​
---
Follow Jacksonville University