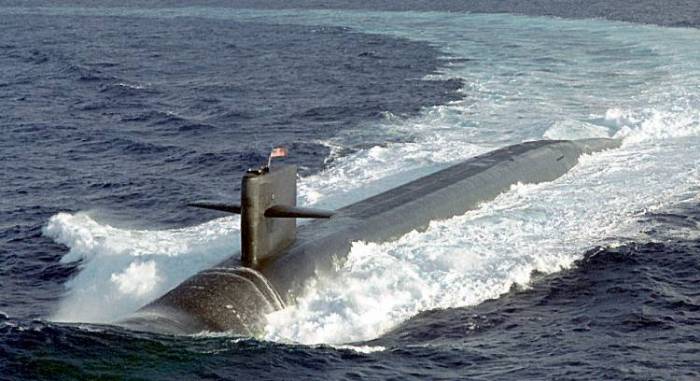 Imagine being in your early to mid-twenties and assuming control of a $1.5 billion nuclear-powered submarine and submerging it beneath the waves. This is a reality for the Submarine Officers in charge of all that goes into driving, powering, arming and operating the Navy's Fleet of attack, ballistic missile and guided missile submarines. Midshipmen who select Submarine Warfare can look forward to a challenging career as a member of an elite, technically advanced, multi-mission community. If you have the educational background, the ambition and the mind-set to be part of one of the most tight-knit groups within America's Navy, think about the exciting and demanding career of a Nuclear Submarine Officer.
The Role of a Submarine Junior Officer
Whether on a covert, classified mission or a typical day of operation, as a Submarine Officer you'll gain valuable lifelong experiences, advanced nuclear training and high-level responsibility from day one. You may be put in charge of any of the following duties:
Operating a nuclear reactor and nuclear propulsion system
Maintaining onboard weapons systems
Managing atmospheric control and fire control systems
Driving the vessel and charting its position
Operating communications and intelligence equipment
Training and Advancement
Upon graduation from college, newly commissioned Officers move on to receive the advanced training that is at the core of Navy Nuclear Propulsion. This includes an academic curriculum that is recognized as one of the most difficult in the world – rivaling top-notch nuclear programs at universities such as Harvard and MIT. And experientially, the hands-on application of what is learned – in settings at sea and ashore – is in a class by itself.
Naval Nuclear Power School (NNPS)
Through Naval Nuclear Power Training Command (NNPTC), Officers will attend Nuke Power School in Charleston, South Carolina. This 24-week graduate-level course of intensive study covers a variety of science and technology-based subjects from ordinary and partial differential equations to thermodynamics and reactor dynamics. NNPS provides the foundation of knowledge necessary for a theoretical understanding of nuclear propulsion.
Nuclear Power Training Unit (NPTU)
Often referred to as Prototype, this 26-week phase of the learning process involves hands-on training at one of two NPTUs – in either Charleston, South Carolina, or Ballston Spa, New York – where there are several reactor prototypes in operation. Here, Officers apply the concepts learned at Nuke Power School – studying systems and components of a nuclear propulsion plant and working with all the associated systems of a full-scale operating plant. The training culminates with qualification as Engineering Officer of the Watch.
Submarine Officer Basic Course (SOBC)
During this roughly two month course that takes place in New London, Connecticut. Officers learn about submarine operations, including safety, damage control, seamanship and the responsibilities of leading an advanced submarine crew as a Division Officer, before reporting to an assigned submarine. Officers may receive additional advanced training through the strategic weapons system course at Trident Training Facilities in either Kings Bay, Georgia, or Bangor, Washington.
Your initial commitment after graduation from NROTC as a Submarine Officer is five years. A $15,000 Accession Bonus is awarded upon selection for the nuclear program with an additional $2,000 after successful completion of Prototype training.
First Sea Tour
Next comes an assignment as a Division Officer on a submarine, managing a team of highly trained Enlisted Submariners. Here, Officers are working toward a personal submarine qualification program that culminates in being designated as "Qualified in Submarines" – earning the right to wear the coveted Gold Dolphins insignia and take on all the responsibilities that go with it. This is a three-year tour alternating between deployments, patrols, days in port, maintenance, local operations and leave.
Shore Assignment
After the first sea tour comes a shore assignment lasting approximately two years. In this role, Officers fill positions anywhere from Nuclear Power School to Prototype to Submarine School. Others may be selected to serve on high-level staffs, commands and strategic projects, or they may elect to work in recruitment positions or further their education at Naval Postgraduate School (NPS). The ultimate goal for many: to one day command their own submarine at sea.