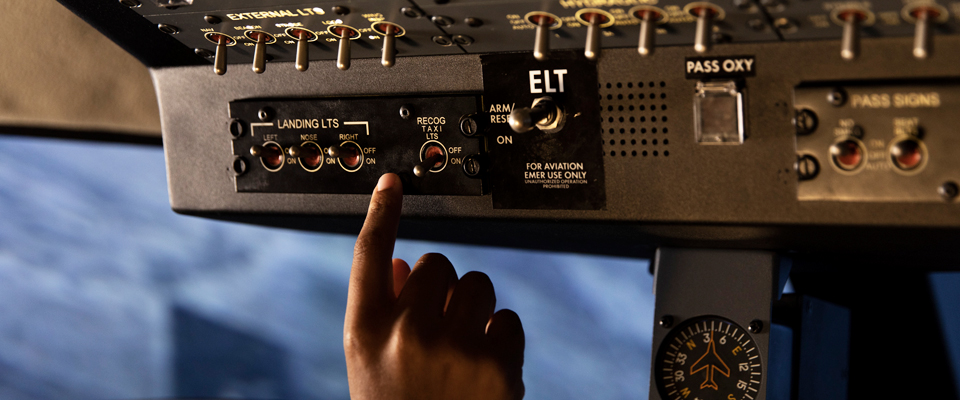 Training Devices
Simulators are used during most flight courses. Lessons will vary between simulator flights and flights in the aircraft; however, the majority will be done in the actual aircraft. They are beneficial by cutting out taxiing time and other ground operations. They are useful for learning procedures and sharpening maneuvers.
Advanced Level 5 Bombardier Canadair Regional Jet (CRJ) 700 Flight Training Device (FTD)
The FAA Level 5 CRJ-700 FTD, pictured above and housed at Jacksonville University is used for advanced systems, crew resource management, and jet transition courses. It is comprised of a full mock-up flight deck and 120 degree wrap-around screen. It includes an instructor station where changes to weather, time-of-day, and system malfunctions can be manipulated during training sessions. The School of Aviation​ is also using the simulator for several research projects and grant proposals. The simulator can also be contracted out for airline and professional aviation use for interview preparation, airline interviews, refresher courses or recurrent training. The center also uses the simulator for local fear-of-flying courses, professional team-building exercises, and aviation introduction sessions.
​Redbird TD2
The Redbird TD2 takes the advanced flight training tools found on our large simulators and puts them in a desktop device. The Redbird TD2 represents a generic single-engine piston aircraft. Ours are equipped with the G1000 glass configuration. With the TD2, the students can enhance their initial systems training and practice to hone their flight skills.
Frasca Reconfigurable Training Device (RTD)
The RTD is a feature rich Advanced Aviation Training Device (AATD). The RTD can be reconfigured to convert to different aircraft models including the Cessna 172, Piper Seminole. Its durable design and easy maintenance makes the RTD a reliable training tool.