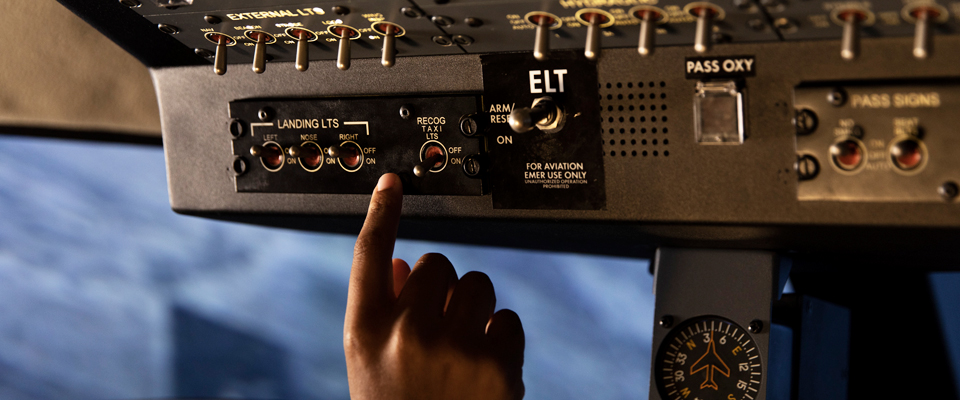 Training Devices
Simulators are used during most flight courses. Lessons will vary between simulator flights and flights in the aircraft; however, the majority will be done in the actual aircraft. They are beneficial by cutting out taxiing time and other ground operations. They are useful for learning procedures and sharpening maneuvers.
Advanced Level 5 Bombardier Canadair Regional Jet (CRJ) 700 Flight Training Device (FTD)
The FAA Level 5 CRJ-700 FTD, pictured above and housed at Jacksonville University is used for advanced systems, crew resource management, and jet transition courses. It is comprised of a full mock-up flight deck and 120 degree wrap-around screen. It includes an instructor station where changes to weather, time-of-day, and system malfunctions can be manipulated during training sessions. The School of Aviation​ is also using the simulator for several research projects and grant proposals. The simulator can also be contracted out for airline and professional aviation use for interview preparation, airline interviews, refresher courses or recurrent training. The center also uses the simulator for local fear-of-flying courses, professional team-building exercises, and aviation introduction sessions.
​Aerosim-Mechtronix Advanced Aircraft Training Device (AATD)
The AATD us a level 3 stationary flight training device equipped with the necessary flight controls to simulate flight around the three axis of an airplane. It features engine​ instruments and controls necessary for operating a Technically Advanced, single engine Airplane (TAA). The avionics are identical and the cockpit configuration is similar to the Cirrus SR-20. All of the required equipment for VFR and IFR flight as per 14 CFR 91.205 (b) and (d) is provided or simulated.
Aerosim Advanced System Trainer (AST)
The AST is Computer Based Training (CBT) program that emulates various configurations of Cirrus aircraft avionics packages. The software provides step-by-step guided lessons integrated with sim​ulation to create a fully interactive training environment. It is ideal to familiarize new students to the avionics suite in the Cirrus aircraft. The AST is available to students free of charge during all hours of operations.​