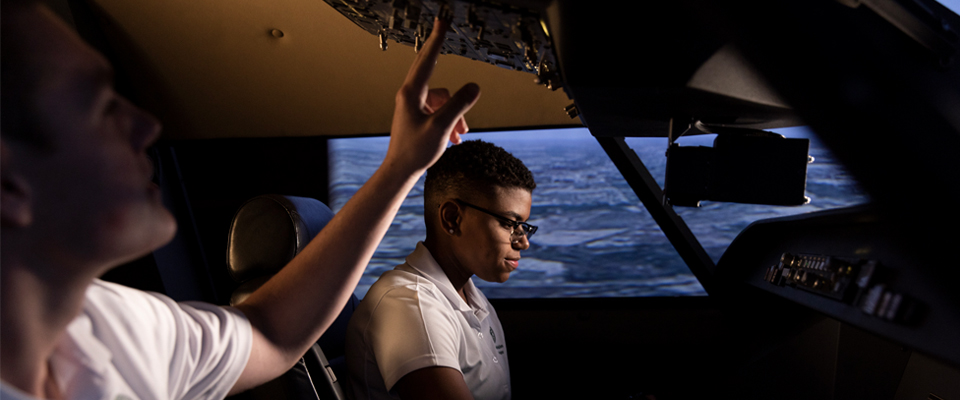 School of Aviation
Related Links
Contact
Jacksonville University
2800 University Blvd N
Jacksonville, FL 32211
​​​​​​​​​​​​​​The School of Aviation​, located in the Davis College of Business, has been educating and training future professional pilots and aviation executives for more than 30 years.
Our Av​​​​​iation Management and Aviation Management & Flight Operations degree programs are accredited by the Aviation Accreditation Board International (AABI).
Jacksonville University graduates can qualify for a Restricted-Airline Transport Pilot (R-ATP) certificate with 1,000 flight hours.
In 2008, Jacksonville University won the 2008 Loening Trophy awarded annually at National NIFA SAFECON to the best all-around collegiate aviation program in the nation.
Winner of the 2011 Air Race Classic, the national all-women transcontinental air race.
JU is one of 36 universities in the nation selected by the Federal Aviation Administration to educate future air traffic controllers under the Collegiate Training Initiative (CTI).
Our students also benefit from a one-of-a-kind partnership with L3 Airline Academy, offering airline-oriented flight training and a direct career path to the airlines.
All of this while obtaining transferable business skills, a powerful credential that will help you succeed in your career of choice in aviation.
School of Aviation FAQs
Contact Us
We are eager to send you more information regarding our Aviation program and the specific aviation track that interests you. If you would like such information or have any questions pertaining to the program, please feel free to contact us by phone or email
The School of Aviation:
Alix Melchionna (Associate Director): 904-256-7434 • aviation@ju.edu
Office of Admissions: 904-256-7000 • admiss@ju.edu

If you would like to attend an Aviation info session/ JU campus tour and you have not already scheduled one you can go to https://apply.ju.edu/portal/campustours and schedule your visit.
**If you are interested in an Aviation info session within 24 hours, please contact the School of Aviation directly at 904-256-7434 or by email at amelchi1@ju.edu **
Incoming Student Orientation Information and Flight Program Policies
JU Partners with Delta Air Lines to Launch Aviator Careers
 In line with its mission to prepare students for life-long success, achievement and leadership, Jacksonville University today announced a partnership with Delta Air Lines to mentor and develop the most talented students in JU's premier School of Aviation through the …