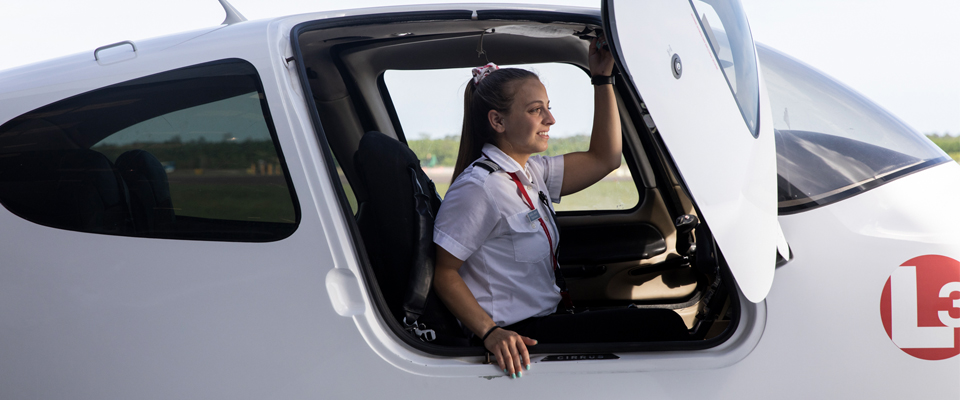 Aviation Management and Flight Ops
The mission of the Jacksonville University School of Aviation's Aviation Management and Flight Operations major is to produce professional aviators possessing the leadership and professional skills necessary to sustain safety and profitability in global aviation. The School of Aviation​ achieves this mission with a world-class, business based curriculum that prepares students to thrive professionally and financially as the global aviation industry evolves.
Achieve your dreams of becoming a professional pilot! Our Aviation Management and Flight Operations degree includes airline-oriented flight training coupled with an invaluable business degree, defining you as a leader in the cockpit and aviation industry. We have career tracks for Commercial Pilot, Commercial Pilot (International), Military-Marine, and Military-Navy. Both military tracks are designed for participation in the NROTC program at JU and lead to a com​miss​ion into the United States Marines or Navy.
Flight training is conducted in Aerosim Flight Academy's state-of-the art training aircraft, the Cirrus SR-20. Complemented by full-time maintenance and dispatch teams, the fleet also includes the Piper Seminole, Piper Arrow, and Cessna 172. Based at Jacksonville Executive at Craig Airport, only minutes away from JU's campus, students train in Florida's sunny skies year-round under the newly developed FAA Industry Training Standards.
At Jacksonville University, we understand a simple rule in the aviation industry: Time is money. Our goal is to help you earn your pilot certifications, business degree, and flight time faster! Within the first few weeks of your arrival at JU, expect to take to the sky and begin your flight training without delay. The School of Aviation and L3 Airline Academy also offer flight and ground classes year-round, giving you the flexibility consolidate your training.
In September 2016, The JU School of Aviation received our Letter of Authorization for Institutional Authority, allowing our school to issue certifying statements to our Aviation Management and Flight Operations (AVO) graduates qualifying them for the Restricted Privileges ATP at 1000 hours of total flight time if they have completed 60 credit hours of approved courses.
Program Educational Objectives
Professional Competency: Graduates will possess the requisite knowledge and skills necessary to make an immediate positive impact for their employer as well as act with the highest standards of professionalism evidenced by their ethical character and integrity.
Regulatory Compliance: Graduates will be able to assess the role and impact of regulatory compliance in the conduct of global aviation commerce.
Triple Bottom Line: Graduates will be able to apply the knowledge that sustained profitability in global aviation commerce results from the involvement of innovative and engaged people who develop optimal use of resources.
Critical Thinking: Graduates will demonstrate the planning, decision making, workload management, and communication skills necessary to engage in effective critical thinking