Director's Message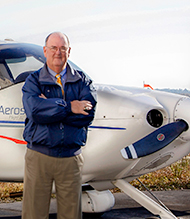 Welcome to the School of Aviation. For the past ​35 years, Jacksonville University has been providing superbly educated and trained leaders to the Aviation industry. As part of the Davis College of Business & Technology, our unique approach combines world class Flight Training with a solid business based liberal arts education.
Our two majors, Aviation Management and Flight Operations (AVO) and Aviation Management (AVM) have prepared our students for successful careers as Pilots, Airline Managers, Airport Managers, and Air Traffic Controllers. In 2008, Jacksonville University won the 2008 Loening Trophy awarded annually at National Intercollegiate Flying Association's SAFECON to the best all-around collegiate aviation program in the nation. Additionally JU is one of only 36 universities nationwide selected by the Federal Aviation Administration (FAA) to educate future air traffic controllers under the Collegiate Training Initiative (CTI).
Jacksonville University's beautiful campus, located on the banks of the St John's River is only moments away from Jacksonville Executive at Craig Airport, the home to our partner, L3 Airline Academy's Jacksonville Operations Center. Students are lead through a structured, airline style course of instruction using modern aircraft and fully certified through the FAA's Part 141.
JU Aviation students participate in the wide array of student life activities. These include 17 NCAA and 3 club sports including Basketball, baseball, Lacrosse, Sailing and Sporting Clays, Skeet and Trap.
JU's nationally recognized Flight Team affords our students the opportunity to compete against some of the most prestigious Aviation programs in the country. Our students also benefit from membership in Alpha Eta Rho (AHP), Women in Aviation International (WAI),Organization of Black Aerospace Professionals (OBAP) and the Aviation Ambassadors.
Please explore our website and learn about our program. Call or write us for more information. Remember that your first day at JU is the beginning of a high paying, personally rewarding career in the Aviation Industry.
If you have any questions, pl​ease don't hesitate to contact me at (904) 256-7894 or mtuohy@ju.edu.
Capt. Matt Tuohy
Director​
School of Aviation​