Student Organizations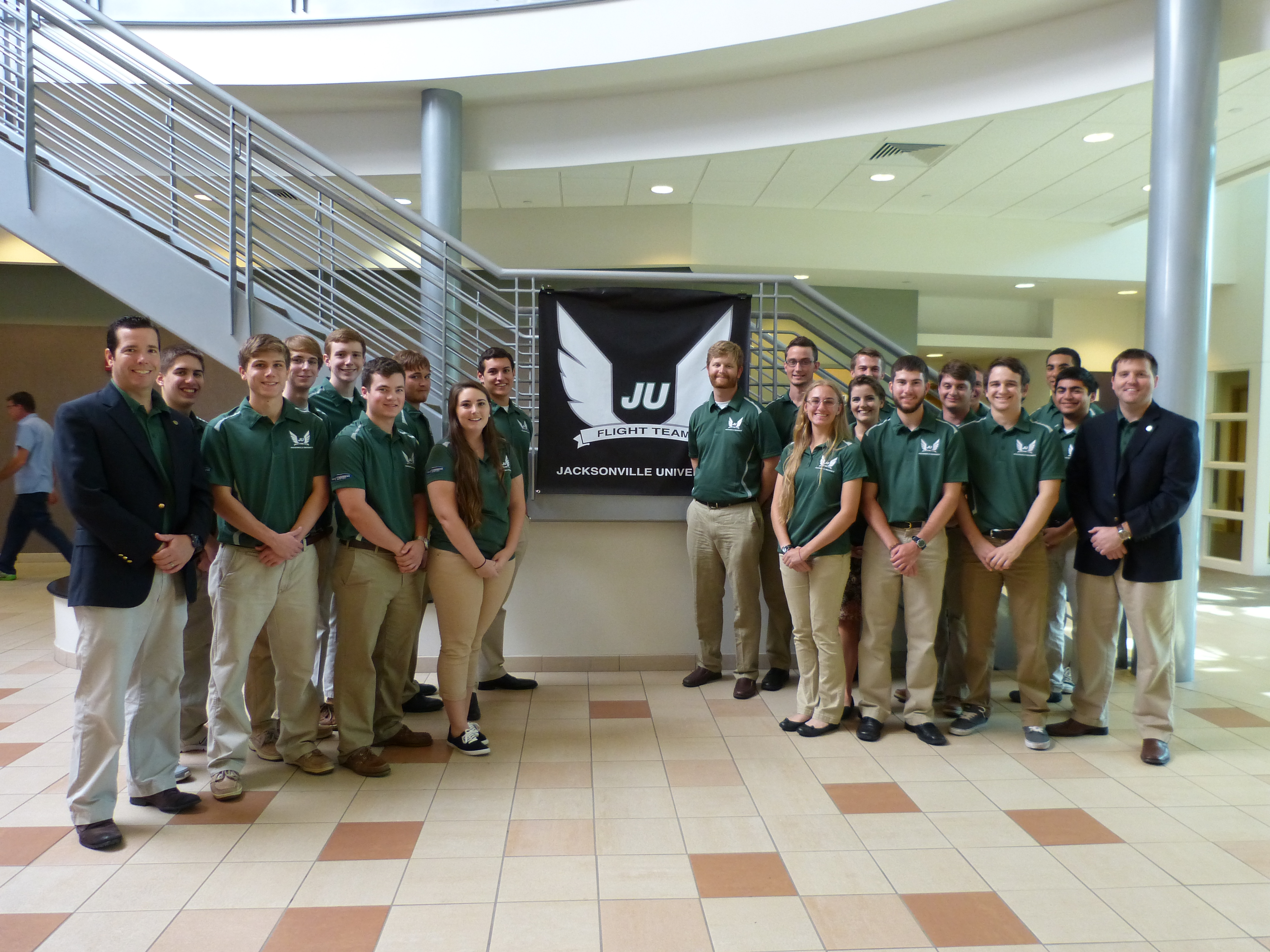 Develop teamwork and leadership skills and make life-time friends in our aviation student organizations including: Aeronautical Honors Society, Alpha Eta Rho, American Association of Airport Executives, Aviation Ambassadors, JU Flight Team, Teaching Assistants, and Women in Aviation International.
Aeronautical Honors Society, Alpha Omicron Alpha (AOA)

Alpha Omicron Alpha is an Aeronautical Honor Society that was established in 1998. The formation of AOA was the first of its kind being the only honor society for college students pursuing a professional pilot career. The name of the organization, Alpha Omicron Alpha is taken from our motto, "Always in the sky, excel." The organization's function is to promote excellence, leadership, and safety in aviation. The purpose of AOA is to define leaders in aviation and to promote safety. The society gives its members greater opportunities in a highly competitive industry. An organization such as AOA is a chance for networking among leading aviation companies, thus helping members strive in the direction of their respective aviation goals.
Alpha Eta Rho
Alpha Eta Rho is an international professional college aviation fraternity. It is open to men and women. JU has about 140 active members and alumni. Activities for this year include: campout to Ginne Springs, JAX air show, FAA Wings Seminar, trip to JAX center control, trip to the Florida Air National Guard, and skydiving. Alpha Eta Rho at JU is a bridge between the college and the professional aviation environment.
American Association of Airport Executives (AAAE)
AAAE has a chapter at Jacksonville University for students in aviation management and/or flight operations. This club will help to familiarize students with the business portion of the aviation industry. It offers ideas for successfully managing airports, presents benefits to individuals and airports, and provides information on aviation industry issues. AAAE will prepare you to be an efficient and productive manager.
Aviation Ambassadors
Outgoing Aviation students who are familiar with the flight school have the opportunity to become an ambassador. Their main task is to give tours to prospective students. These ambassadors earn points for each tour and are awards free flight time accordingly. Each ambassador is a competent student who proudly represents JU's flight program.
Flight Team
Our Flight Team belongs to Region IX of the National Intercollegiate Flying Association (NIFA). Meet once a week with other students who love flying just as much as you do. Choose one or a few of the many events to participate in during regional competitions and hopefully even national competitions. The events range from best short-field landing, best maneuvers in a simulator, or even written knowledge tests and most proficient flight planning skills. During the 2007 National competition Jacksonville University finished 10th in the nation, and in 2008 JU won the most prestigious award of the competition, the Loening Trophy!
Teaching Assistants
Advanced students who are preparing to become flight instructors can be hired as Teaching Assistants through the u​niversity's Work Study Program. TAs provide a great free assistance to other students enrolled in ground and flight courses and in doing so sharpen teaching skills necessary to become effective flight instructors.
Women in Aviation International (WAI)
Women in Aviation is not just for women. It is open, and strongly encouraged that, men join as well to help support women who are in aviation. A main goal of this club is to participate in many different community service opportunities. Through this they will gain recognition and work towards attending the annual Women in Aviation conference as well as participating in an annual air race across the United States.