Top 40
About the Top 40
Our goal in recognizing our best and brightest is to assist them in achieving their career objectives and be recognized by the North Florida Business Community. That is why we worked closely with Advantage Magazine to help our students:
Get the career opportunity or job they desire
Find support and funding to start a business
Makes a contribution to a not-for-profit
Mentor younger or less experienced scholars
Make the sale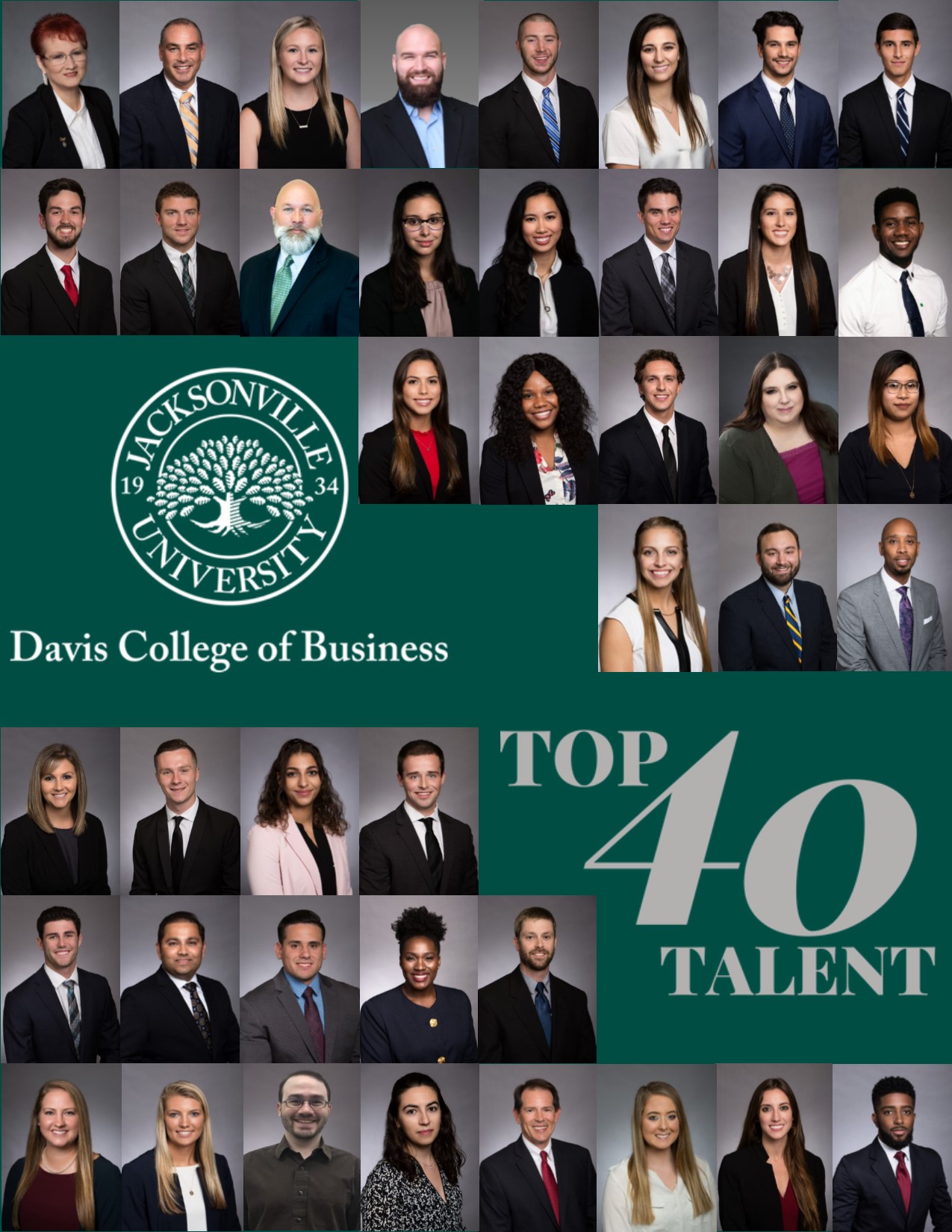 Students who earned Top 40 recognition are great communicators and collaborators; risk takers; able to understand and solve complex problems, source and make good decisions using real time data; and work in diverse teams. Our faculty, staff, friends, and alumni are working hard to provide the best environment to ensure that we deliver for our students. What are our dreams for this year's top 40 recipients?
Challenging and rewarding professional experiences
The thrill of being part of an entrepreneurial culture
Starting the journey to becoming thought leaders in their organization, industry, or community
Experience unique opportunities in Florida and beyond
JU Davis faculty are the most important part of delivering on our promise of excellence and opportunity. Many of our faculty are thought leaders in their discipline.
We are pleased to welcome our 2018 best and brightest, all of whom are nearing a graduation milestone here at JU in the Davis College of Business. They will undoubtedly be the leaders of tomorrow, perhaps in your organization. Some will continue on their current career path, but others are looking for an employer or organization where they can make a great impact.
Congratulations to all of our students who were named the top talent of Jacksonville University Davis College of Business.
Meet the Top 40
David Abraham
Mohammed Aljifri
Benjamin Bennett
Iris Benson
Madison Boyer
Kelly Brassington
Austin Bratton
Jessica Cimijotti
Micah Cowan
Joshua Danilson
Efua Tawiah Egya-Mensah
Andrea Foschi
Caelyn Gessler
Devon Goodroe
Zahria Green
Bryan Hill
Karlie Hill
Grace Houser
Carlin Kelly
Tyler Johnson
Anthony Lamantea
Jimmy Lovelace
Jennifer Madrid
Joshua Ordu
Hilary Ouedraogo
Marquis Price
Serena- Gabrielle Quinata
Minerva Retana
Simone Ridgell
Juan Rodriguez
Amanda Sanfilippo
Joseph Savoia
Moses Simmons
Ryan Springer
Mercedes St. George
Jocelyn Thomas
Trenton Thompson
Roderick Thornton
Noah Torres
Andrew Twiford
Fallon Walsh
Tristan Ward