Embedded Actors
Welcome
Welcome to the Jacksonville University Brooks Rehabilitation College of Healthcare Sciences (BRCHS) Embedded Actor (EA) program website. Embedded Actors have been used to improve learner outcomes in healthcare simulation for decades. We hope that you'll find the information provided informative and exciting as you learn about our EA program and BRCHS.
We are all impacted at some point during our lives by healthcare professionals, often during our most difficult circumstances. The knowledge, training, and clinical skill of these healthcare professionals is essential to our health and well-being. Also of great importance is the way in which the healthcare professionals interact on a human-level with us and our families. Within BRCHS, learners are able to interact with the EAs in a safe positive environment, practicing both clinical and inter-personal skills. The outcome is a clinician who is competent to provide quality health care in a compassionate, relatable manner.
Embedded Actor Program
The Jacksonville University Brooks Rehabilitation College of Healthcare Sciences Embedded Actor (EA) Program enhances the evidence-based experiential clinical skills training in Healthcare Sciences and University-wide interdisciplinary undergraduate and graduate programs. The EA Program reinforces Jacksonville University's commitment to preparing students to become healthcare professionals who provide outstanding, compassionate care to a diverse population of individuals.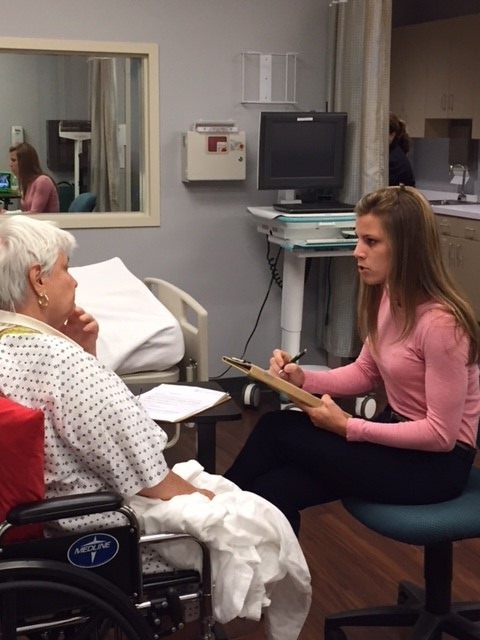 The EA Program provides healthcare students the opportunity to interact with specially trained actors who portray patients in simulation scenarios focused upon communication skills, history taking, physical assessment, illness management, preventative care, patient education, prioritization of care and critical thinking. Embedded Actors (EAs) provide a real world dimension to the healthcare students' clinical training. Student awareness is heightened when EAs are interwoven into simulation scenarios that represent real life situations. Realism directly strengthens patient-caregiver interpersonal communication skills and promotes the incorporation of culturally focused interactions which result in the provision of quality patient-centered care.
EAs are trained to provide consistency within the simulation experience using pre-set parameters that facilitate the students learning of course objectives. Additionally, verbal and written feedback from the EAs encourages the student to self-examine and independently problem solve to enhance and refine their clinical skills. The use of EAs is a proven method to assist students to build hands-on clinical and communication skills in their practice.
Download the Embedded Actor Brochure