CSD Research Lab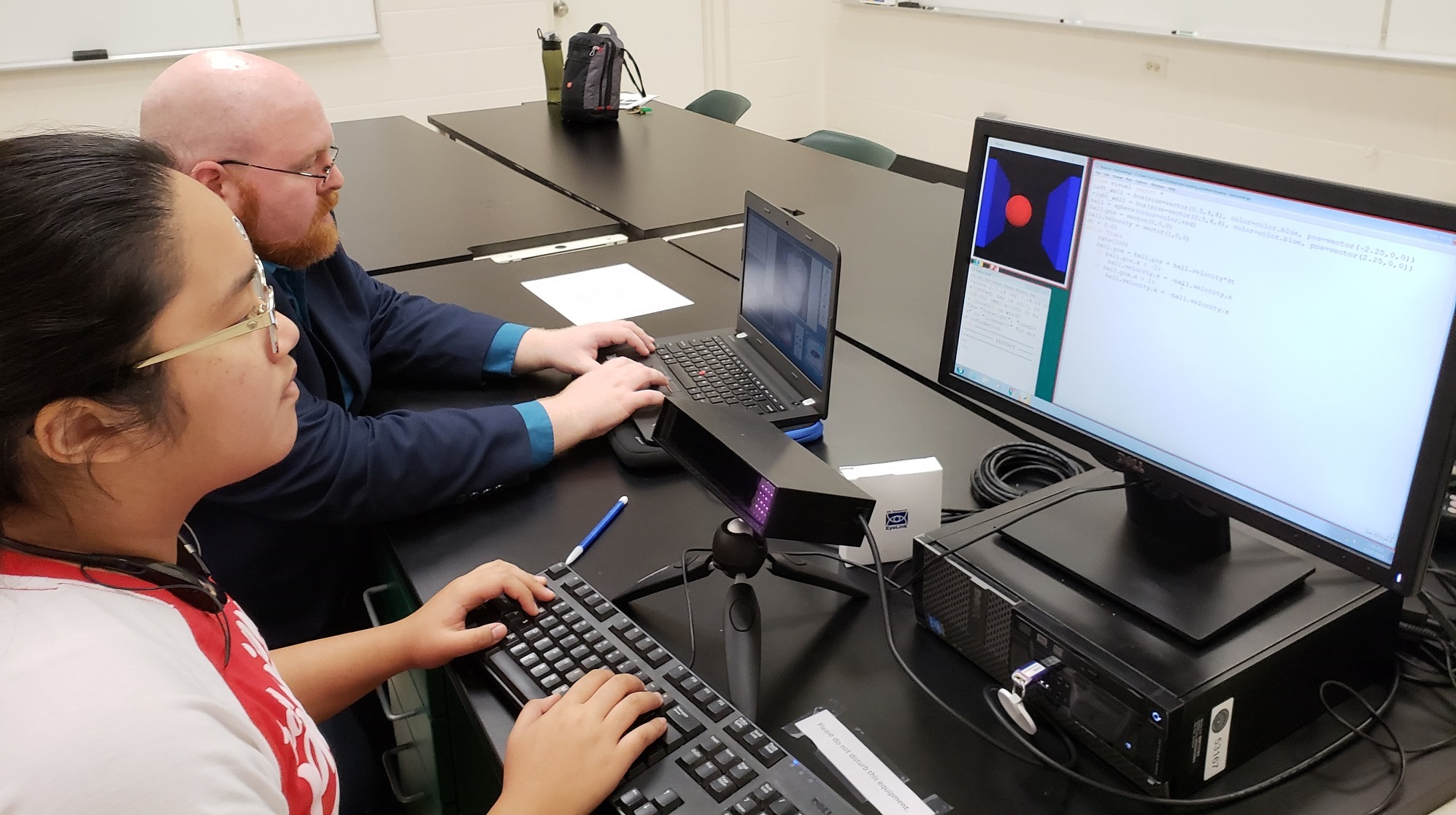 OUR MISSION
The Speech-Language Pathology Lab was established in 2015 as home for clinically relevant research within our field. Our mission is to support faculty research and foster both clinical and research skills in students. The SLPL seeks to contribute to the growing body of literature in all aspects of the field of communication sciences. As such, the equipment and materials housed in the SLPL are used for student training in assessment as well as for research projects.
CURRENT EQUIPMENT
Eyelink Portable Duo eye-tracking system
This system is used to record real-time eye movement and pupil dilation across several visual tasks including reading, picture naming, and visual search.
Computerized speech lab
The Computerized Speech Lab is used to capture and acoustically analyze voice signals including frequency (pitch) and intensity (loudness).


Endoscope
The department has a flexible endoscope paired with a Storz system for visualizing the larynx. We also have a Jedmed system with both flexible and rigid endoscopes for visualizing the vocal folds during speech and swallowing. For student training on passing and using these devices, we also have a life-size manikin.


Spirometer
A spirometer is an apparatus for measuring air inhaled and exhaled by the lungs before and after treatment. Inhalation and exhalation may be adversely affected by certain respiratory diseases, such as SARS-COVID19, or improved with respiratory strength training exercises.

Pneumotachograph
The pneumotachograph is designed for pulmonary function testing, including cough airflow measures, such as force and speed. The system can be used along with stimulating cough by administration of nebulized water or noxious stimuli (e.g., capsaicin) to stimulate specific laryngotracheal cough receptors during inhalation.

Audiometer
We utilize a MAACO portable screening audiometer for student training in performing hearing screenings.
Areas of Research
Swallowing and Airway Protection
Dr. Amy Fullerton's research focus is on airway protection specifically as it relates to sensory response behaviors to exogenous stimuli, namely cough and swallow. Dr. Fullerton's research includes evaluating cough and swallow in head and neck cancer survivors post-laryngectomy and post-radiation, including the effects of surgical dilation on swallow and effects of the opioid epidemic on head and neck cancer survivors.
Upper Airway and Voice
Dr. Judith Wingate's research interests include occupational voice problems, singing voice, and clinical outcomes in voice therapy. Her most recent work focuses on the use of therapeutic singing to enhance speech, voice, swallowing, and cough for patients with Parkinson's disease.

Social Communication
Dr. Kristen Izaryk's area of research interest is children's social communication, which is defined as difficulty using language appropriately in social interaction. What is considered to be 'appropriate' is dynamic and depends on who is communicating, what the topic of conversation is, and where the interaction is taking place. Because social communication is so dynamic and complex, it has consistently been a challenging area for speech-language pathologists to assess. Dr. Izaryk's current project is mixed methods research that explores how speech-language pathologists approach the assessment of social communication disorders.
FLUENCY
Dr. Robin Edge's primary disorder area of research interest is in fluency disorders, specifically related to quality of life and the measurement of stuttering by speech-language pathologists.
AUGMENTATIVE AND ALTERNATIVE COMMUNICATION (AAC)
Through the Will Taylor AAC Lab, funded by Gigi and Doug Taylor in honor of their son Will, Dr. Edge is studying how prepared speech-language pathologists are to work with clients who use an AAC device.
APHASIA AND COGNITION
Dr. Daniel Furnas' research interests include cognition and language processing in healthy adults as well as people with aphasia and dementia. This includes identifying how attention, working memory, and executive functions affect communication in healthy aging and clinical populations as well as the use of pictures and visual supports in aphasia to improve reading comprehension.