Simulation Training and Applied Research (STAR Center)
Simulation Training & Applied Research (STAR) Center
The Jacksonville University, Keigwin School of Nursing, Brooks Rehabilitation College of Healthcare Sciences STAR Center is dedicated to providing a student-centered, positive learning environment where theoretical knowledge can be applied through practical skills, and clinical reasoning and judgement can be cultivated. The Clinical Skills and Simulation Laboratories promote safe and quality patient care, inter-disciplinary collaboration, and effective communication through experiential learning and goal directed training. With over 3,000 square feet of simulated clinical environment, the labs are staffed by a team of clinical experts who are dedicated and passionate about equipping students with the knowledge, skills, and attitudes they need to build a competent and confident professional identity.
 
The STAR Center works collaboratively with faculty to introduce students to the expectations of the practice environment and the roles and responsibilities of healthcare professionals over multiple health science disciplines including: undergraduate nursing & graduate nursing. The center oversees the healthcare sciences standardized patient (SP) program and the labs are home to over twenty low, mid, and high fidelity patient simulators that span from the neonate to geriatric models. A variety of innovative engaged learning techniques are used to optimize student outcomes including: demonstration, return demonstration, role play, simulation, standardized objective clinical evaluations, and unfolding case studies.
Mission Statement
The Simulation Training and Applied Research (STAR) Center and Skills Lab at the Jacksonville University Brooks Rehabilitation College of Healthcare Sciences Keigwin School of Nursing provides learners with invaluable experiential learning that complements our interdisciplinary course curriculum. The STAR Center and Skills Lab provides a safe and conducive learning environment for students. This includes the incorporation of communication skills, teamwork, clinical assessment, and skills proficiency. We provide the opportunity for our students to develop critical thinking, clinical judgment, and diagnostic reasoning for our culturally diverse and medically complex community. The focus of the STAR & Skills Lab is to provide a safe space for our students to improve upon quality and patient centered care.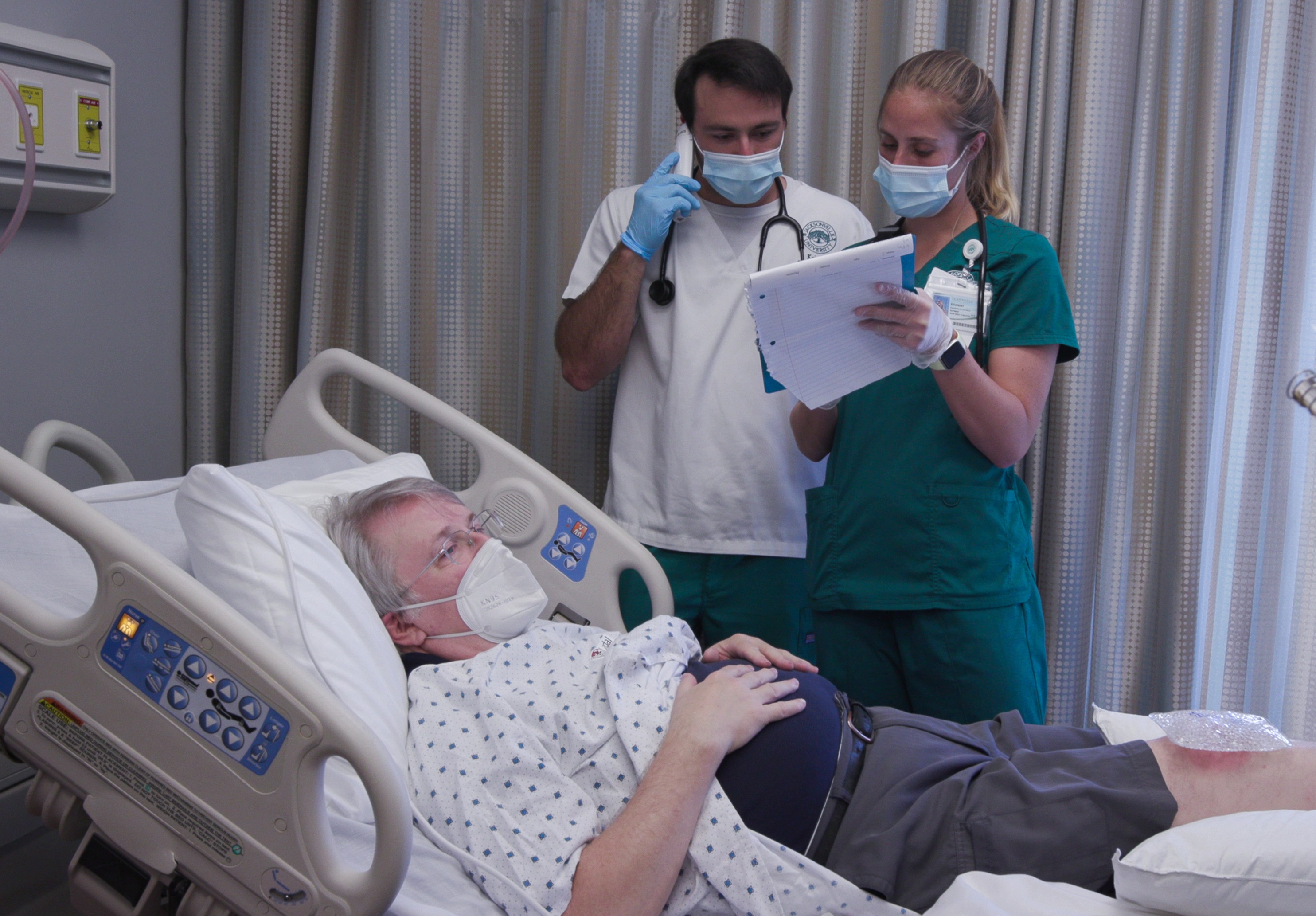 Standardized Patient Request Form
Standardized Patient Cue Card Template
The STAR Center replicates diverse patient care environments to include:
 
Primary Care Office
Acute Care
Critical Care
Geriatric Care
Kinesiology Wellness Care
Labor and Delivery
Mother Baby
Nursery Care
Pediatric Care
Psychiatric Care
Rehabilitation Care
Respiratory Care
Speech Language Pathology Diagnosis and Care
Telehealth Home Care
Public Health Care

This STAR Center promotes evidence-based skills competency for the following:
Physical Assessment
Vital Sign Monitoring
Wound Care
Principles of Sterility
IV/Phlebotomy
Mobility
Central Dressing changes
Tracheostomy Care
Nasogastric tube (NG tube) feeding
Foley Catheter Insertion
Bladder Irrigation
Airway Management
Ventilator Management
Central and Arterial Line Placement
Suture Techniques
Lumbar Puncture
Vascular Ultrasound
Thoracentesis
Paracentesis
Chest Tubes
Pelvic Exams
GlideScope
The latest technology for student success include:
Workstations on Wheels
Bar Code Medication Administration (BCMA)
Electronic Health Record Documentation
Video Assisted Simulation Debriefing Feedback System
Video Recorded Competency Assessments