GOLD Phins
What does it mean to be a GOLD Phin?
If you graduated from Jacksonville University within the last ten years, you are a GOLD (Graduates Of the Last Decade) Phin!
Being a GOLD Phin means that you have unique opportunities to connect with JU, building personal and professional connections, skills, and relationships.
Other benefits of being a GOLD Phin include: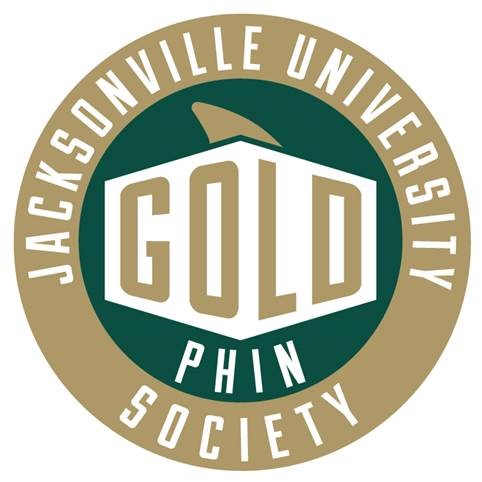 You can serve in a community leadership position by joining the GOLD Phin Committee. Members of the GOLD Phin Committee plan and lead key GOLD Phin events throughout the year, including Homecoming. Past events have included Trivia Night, a Jacksonville Icemen game, and a networking brunch at Top Golf that raised over $1,000 for scholarships for JU students.
Apply to join the GOLD Phin Committee
According to our GOLD Phin Committee, these are the top 5 reasons to get involved with GOLD Phins:
Professional networking with recent JU grads in the Jacksonville business community.
Connecting and building personal friendships with alumni that you might not have known while in school.
Professional development: We partner with our Career Management to provide professional headshots, resume review, and other career planning and development opportunities.
Service & Philanthropy: Give back, use your voice and make a difference for current Dolphins and the Jacksonville community through philanthropic events and a Day of Giving.
Support your alma mater. Almost all of us received some type of aid while attending JU, so now we pay it forward to future Dolphins.
GOLD Phin Society
GOLD Phins have the opportunity to be recognized for staying connected and giving back to their University by joining the GOLD Phin Society. This giving circle requires GOLD Phins to give either their class year per month (i.e. $20.20) OR $250+ per year. (Graduates who choose to increase their monthly gift to $42 per month by their tenth year will be upgraded into Order of the Dolphin.)
You make a difference in the life of someone else with a gift to JU of any amount.
You will support:
Women's educational opportunities
First generation American college students
Environmental cleanup and campus sustainability
Veteran's programs
So much more...
GOLD Phin Society members also receive free admission to all GOLD Phin Network events in Jacksonville!
Contact Chelsea Shackelford at (904) 256-7202 or cshacke@ju.edu for more information.

Questions? Learn more about giving to Jacksonville University.