Engage: Making Waves and Building Bridges
Picture this, January 2001, New Orleans artist Dana C. Tupa arrives at Jacksonville University after a nine hour drive from the Crescent City. The time was 4:45pm. It was a Monday. Professor Tupa was to be the new visiting artist for ceramics. Met in Phillips Fine Arts by then Dean Terry Netter, the conversation went something like this – Welcomes in order, introductions to then glass Professor Caroline Madden, and some light Q&A. "Can you teach sculpture?," Madden asks. "Sure," Professor Tupa says, thinking the question was an inquiry toward clay sculpting. "Great!," Madden says, "because your class starts in an hour and you're teaching plaster mold making for glass slumping. I'll take you over and we can unload the plaster from my car…"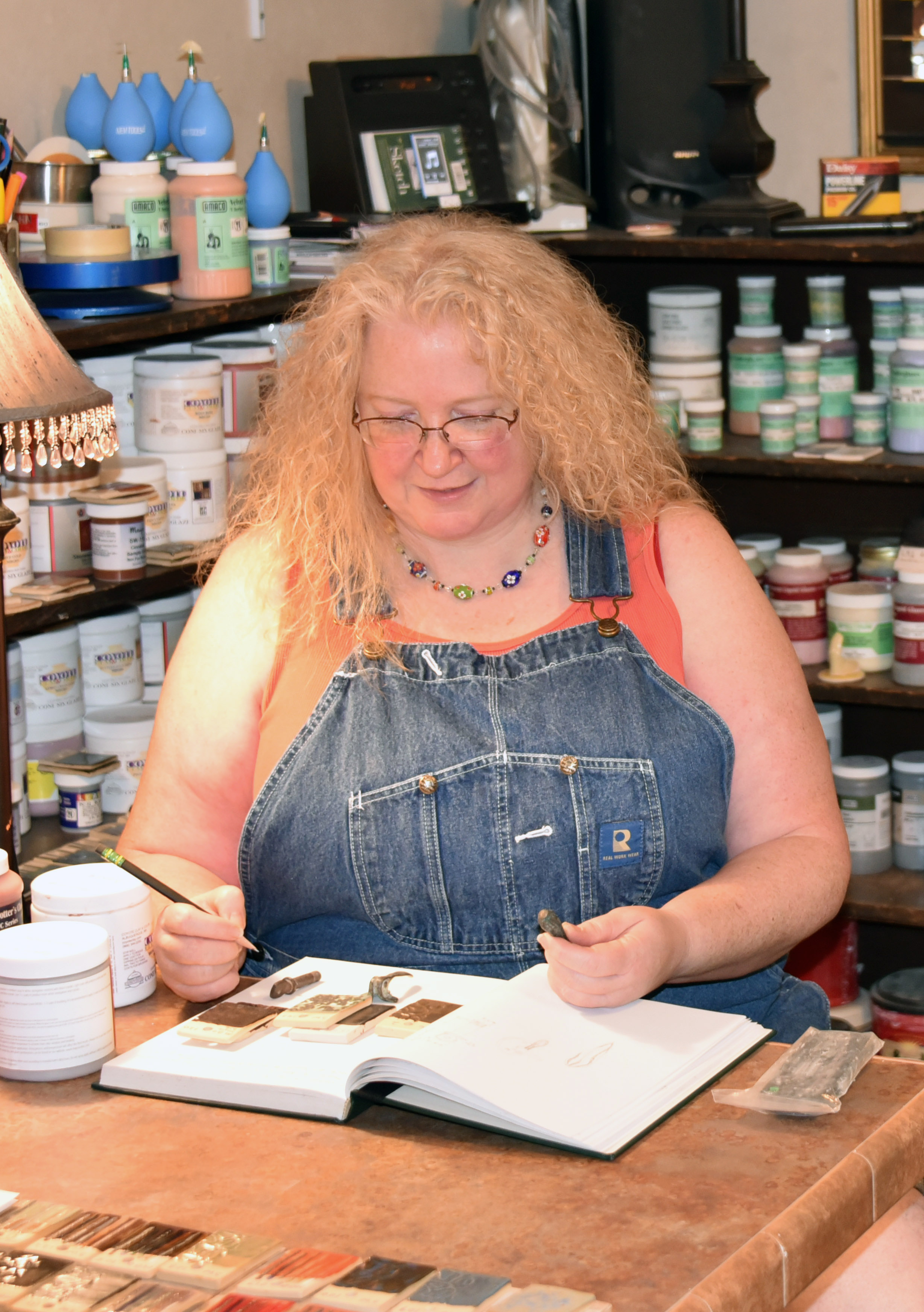 Professor Tupa had two choices, jump in or run. Now a Professor of Art and Visual Arts Chair, one can surmise her decision. Despite the three and a half gallons of plaster that ended up on the sculpture room floor her first night, Professor Tupa's drive to be better than the current best has steadily grown the Jacksonville University ceramic experience to become one of the most engaged and collaborative curriculums in northeast Florida. It is investigatory, energetic, and professionally centered. Students partake in marketing, design, fabrication, the business of studio, public engagement, and most importantly, in improving skills.
Professor Tupa is a walk-the-walk style professor and leader. As teacher and mentor, she believes the classroom is a place of equals where students can become better than their current best. No matter the format or level of a class, education is an amalgamation of insights both on the part of the student and that of the facilitator. Since that first class in 2001, Professor Tupa has bridged both experience and reflection, generating over 60 experiential partnerships outside her classroom, this is more than three annually. Early projects included Marine Sciences ichthyology students, nature studies in Reid as clay printing, edible sculpture cakes at the Kinne Center, photographic printing on clay tiles, collaborative cross-media art installations, art sales, collaborative performances, and similar displays in downtown JAX.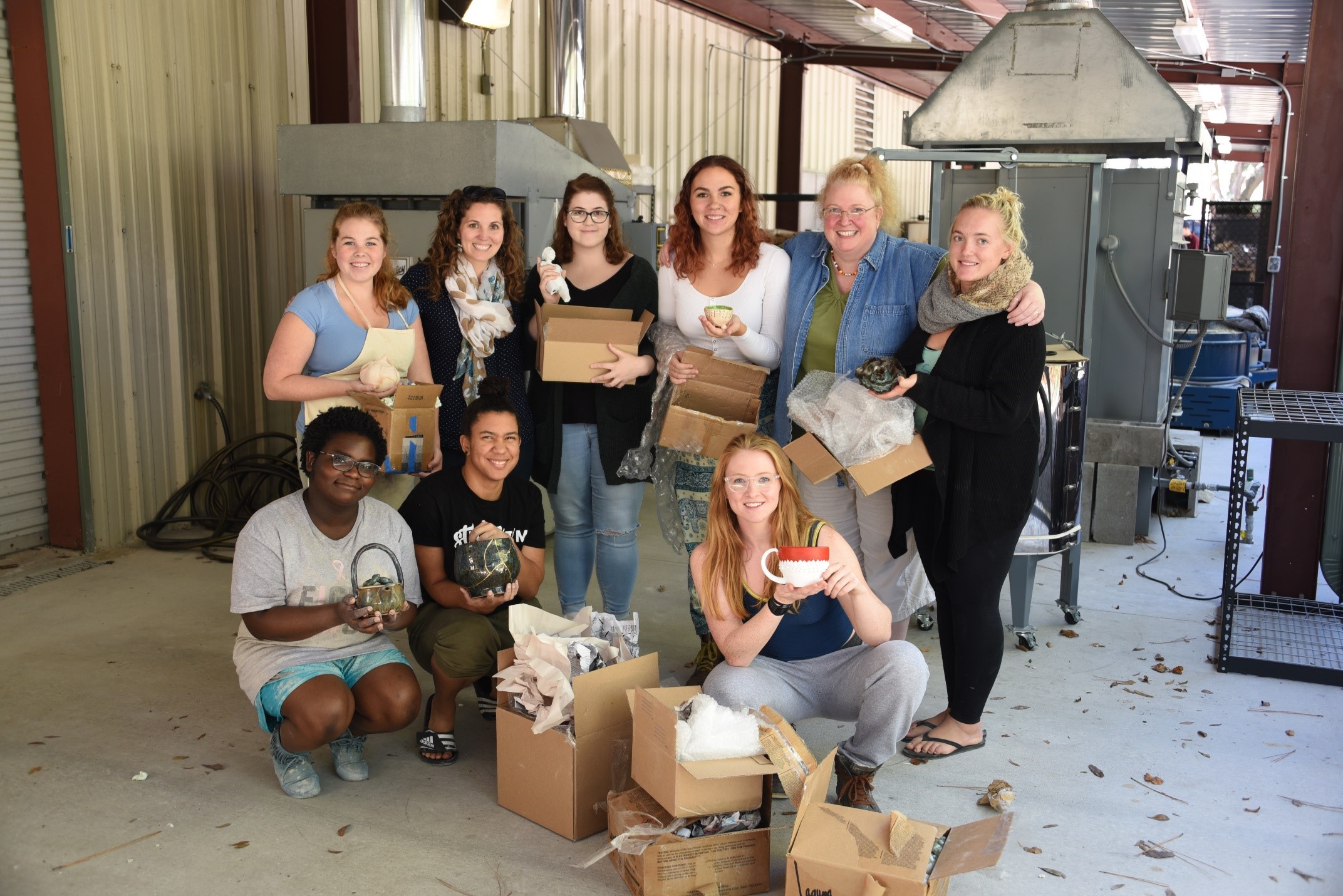 With the arrival of Professor Tiffany Leach to the ceramic program in 2011, double energy meant double opportunities. Working together, they added kiln firing collaboratives, national student exhibitions, public art projects, corporate partnership, peer university exchange workshops, studio artist visits, ceramic conference attendance, field trips, artwork commissions, and product sales to the mix. Professor Tupa believes these experiential projects are as much a part of the student experience as is time in the clay studio.
The latest buzz in ceramics was an eleven-month partnership across two states that combined professional with pedagogical. In a student exchange with Jacksonville State University in Alabama (JSU), JU students learned from JSU students and vice versa where they participated in a 14-hour wood kiln firing at JU and a visiting artist workshop and exhibition at JSU. Creating a participatory learning environment and knowing how to balance skill sets are how educators connect and inspire students.
Professor Tupa teaches students that what we do now creates connections to what might cross future paths. Details are important in everything we do. To be better than one's current best, every learner must continually identify internal stirrings and form them into a definitive voice. We need only let go of status and think from outside ourselves to become better than our current best. This is Professor Tupa's mantra.