Thinking Bigger Faculty Spotlight, November 2019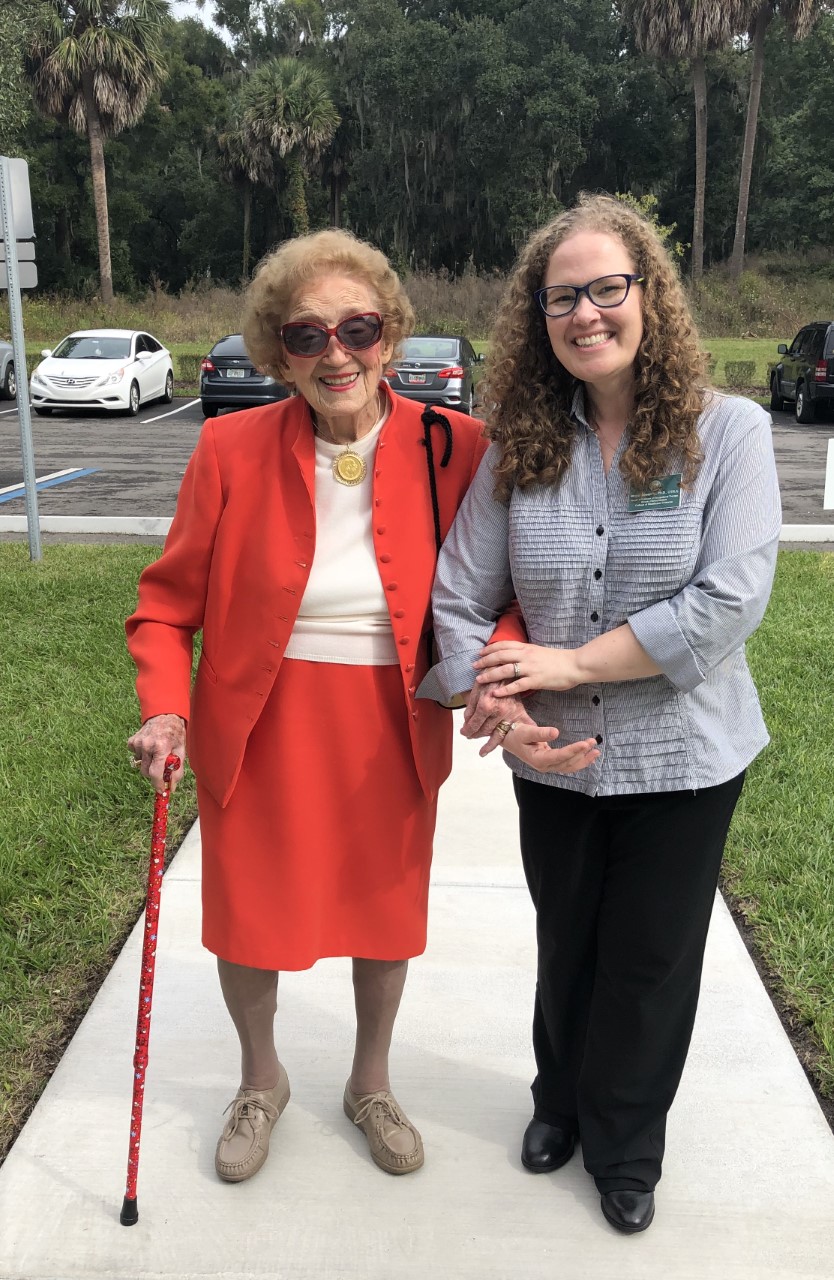 Dr. Bewernitz continues to transform our community, shape our students, and inspire our University to think bigger.
Dr. Megan Bewernitz, Assistant Professor of Occupational Therapy, has been making an impact at Jacksonville University since 2017, teaching courses in geriatric theory, rehabilitation, and research among other occupational therapy topics. Collaborating with several departments and faculty across campus, Dr. Bewernitz is involved in our Dance for Life Program, a program for people with Parkinson's disease led by Professor Cari Coble-Freiberger, our Healthy Campus Committee designed to promote health and wellness at Jacksonville University led by Associate Professor of Kinesiology Dr. Carena Winters, our Music Therapy Committee led by Associate Professor of Voice Kimberly Beasley, and our Instructional Resources Committee led by Assistant Professor of Finance Dr. Daphne Wang.
Off-campus and in the local community, Dr. Bewernitz continues to make her mark. She regularly works with the Center for Health Equity and Community Engagement Research at Mayo Clinic researching and assessing community needs in Jacksonville and the Newtown area. Dr. Bewernitz also serves as a board member for Tobacco-Free Jacksonville, as well as an Accessibility Advisor to the Board of the Timucuan Parks Foundation. In her advocacy for people with disabilities, Dr. Bewernitz has been collaborating with the local City of Jacksonville Department of Parks and Recreation on establishing occupational therapy and community focused fieldwork experiences. Dr. Bewernitz has repeatedly shown that service is the mind-set of world changers.
Likewise, Dr. Bewernitz has often brought the classroom to the community and believes that hands-on learning equips students with a more profound education. As an example, Dr. Bewernitz's evidence-based practice class was tasked with answering clinical questions from local occupational therapists by examining peer-reviewed literature in the summer of 2019. This experience will continue with the next Doctor of Occupational Therapy (OTD) cohort in the summer of 2020. Through student interaction with local occupational therapists and community leaders, her students are learning by doing and gaining the skills and work ethic needed to compete in today's job market. Dr. Bewernitz continues to transform our community, shape our students, and inspire our University to think bigger.
Fast Facts about Dr. Bewernitz
Dr. Bewernitz is a founding faculty member of the Doctor of Occupational Therapy Program.
Recently presented "Participants' Perceptions of a Community-Based Dance Program" at the 2019 Gerontological Society of America Annual Conference.
Dr. Bewernitz has a graduate certificate in Gerontology and has spent the majority of her career, both clinical and academic, focusing on the needs of older adults.
In 2019, Dr. Bewernitz is completing a qualitative analysis of feedback from of participants from participants in the Brooks Adaptive Sports and Recreation Program along with Dr. Sandra Brown (Occupational Therapy) and Dr. LaTonya Summers (Mental Health Counseling),