Making a Positive Difference in Healthcare Faculty Spotlight, January 2019
Authors: Kathleen Kavanagh, DMH, MSN, Ed, RN, Director of the STAR center and Assistant Professor of Nursing; Ginger Grayson, BSN, RN Simulation Assistant & Standardized Patient Coordinator
Have you ever left an appointment with a healthcare professional and wondered if he/she had really heard you? Have you ever wished that you had more input on your treatment plan?
Healthcare professionals train for years to master the clinical skills needed to diagnose and treat their patients appropriately. Patients are supposed to be involved in decision making for their own care. Yet even the most competent clinician can leave their patient feeling unheard, undervalued, and frustrated with the healthcare system.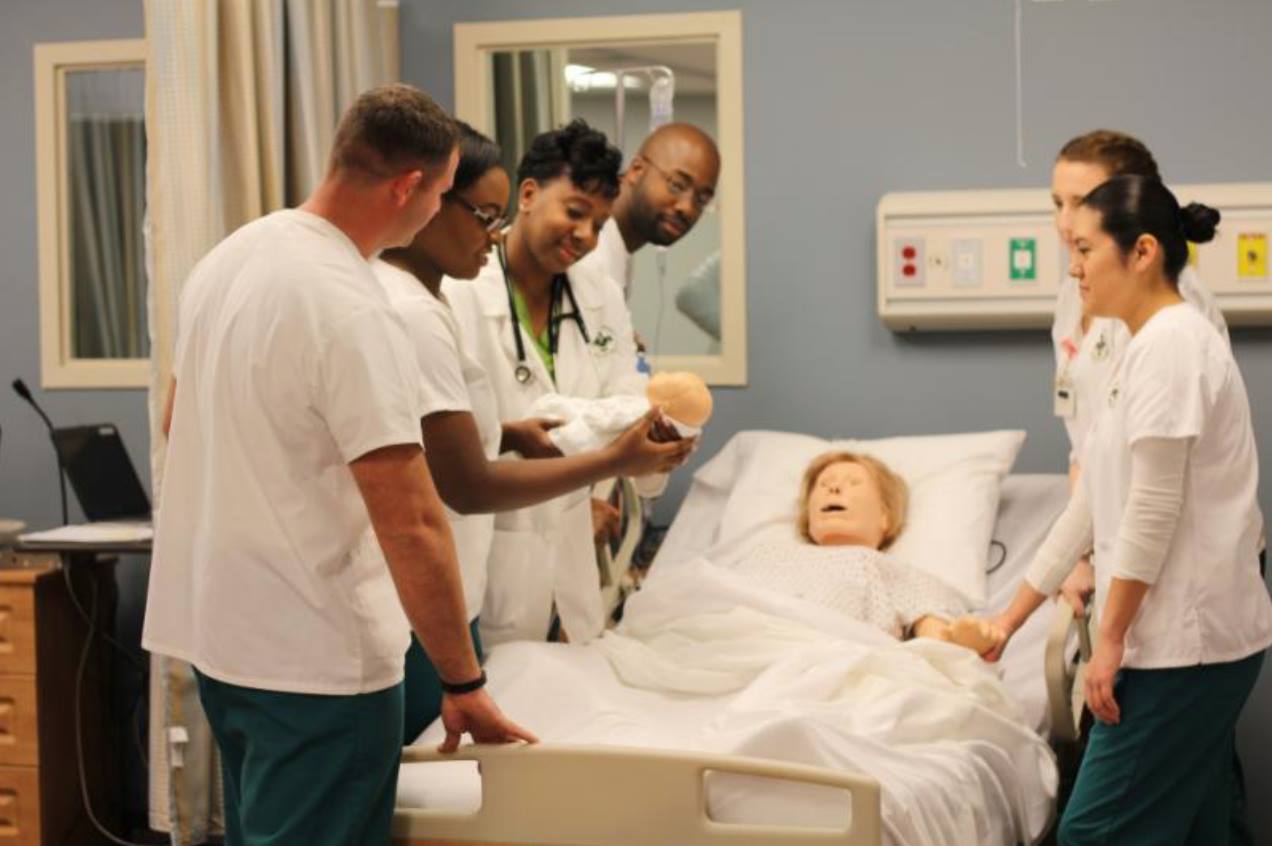 For example, imagine yourself sitting in a medical office and it is 25 minutes past your scheduled appointment time. You begin to feel increasingly anxious that you have been waiting so long. Your name is announced as the door finally opens. A brief introduction to the healthcare professional (HCP) occurs as you follow the person to the medical examination room. As the door closes, you are directed to sit on the cold examination table as the HCP applies a blood pressure (BP) cuff while barely making eye contact with you. The BP cuff tightens and releases on your arm. The HCP states, "188/82." You state disbelief since your blood pressure is always in the low range. Suddenly your wrist is lifted into the air and pressure is applied under your right thumb. A distant, focused look appears on the HCP's face and a soft mumble of "96" is barely audible. You are then asked the reason you are seeking care that day. With a darting glance of eye contact between the two of you, the HCP rapidly begins to type while maintaining a fixed gaze upon the computer asking you more questions. The initial intake of information is complete and the HCP gets up to the leave room, reassuring you that the physician will be in shortly. You sit alone on the hard examination table for another 20 minutes pondering about your experience. Anxiously, you begin to wonder if the HCP accurately obtained your vital signs and documented all you had to say. Have you ever experienced a situation similar to this? Even worse, have you ever experienced or know of a person that has experienced a medical error? The best way to prevent errors and provide quality care is through training of HCPs.
One of the most difficult skills to learn in the prevention of medical errors is how to listen and communicate effectively with patients, families, and other healthcare professionals. So how does the Jacksonville University Simulation Training and Applied Research (STAR) Center teach HCPs to be effective interpersonal communicators? Our team hires and trains standardized patients (SPs). SPs are individuals who portray the physical, psychological and/or emotional aspects of a disease process or act in roles such as family members. SPs are interwoven into simulation scenarios that represent real life situations, increase critical thinking, and interpersonal communication skills.
The excitement of the Brooks Rehabilitation College of Healthcare Science (BRCHS) Simulation Training and Applied Research (STAR) Center grand opening on September 4, 2014 quickly spread. The STAR Center resembles a hospital emergency room setting that reflects real-life situations in a non-threatening environment. Students are able to apply the knowledge they learn in a classroom setting as they practice providing complex medical care on simulators (manikins) and live standardized patients. Baptist Health System and St. Vincent's Healthcare recognized the necessity of the training and began partnerships with JU to train their graduate nurse residents throughout the year. The Jacksonville University STAR Center continues to invest in and be part of the solution to ensure patients receive excellent care from our graduates and community HCPs. Stop by for a tour and see for yourself!

STAR Center team (left to right): Japhetia "Fettie" Blackwell, MSN, RN; Ginger Grayson, BSN, RN; Aimee Neeley, BSN, RN, OCN; Barbara Tucker, BA; Kathleen Kavanagh, DMH, MSN, Ed RN