Exploring the World's Issues at Jacksonville University's Philosophy Slams Faculty Spotlight, November 2018
Author: Dr. Scott Kimbrough, Professor of Philosophy and Division Chair of Humanities
Should the voting age be lowered? Can an omniscient God respect your privacy? What is the nature of time? We are asking these questions this semester at JU's philosophy slams.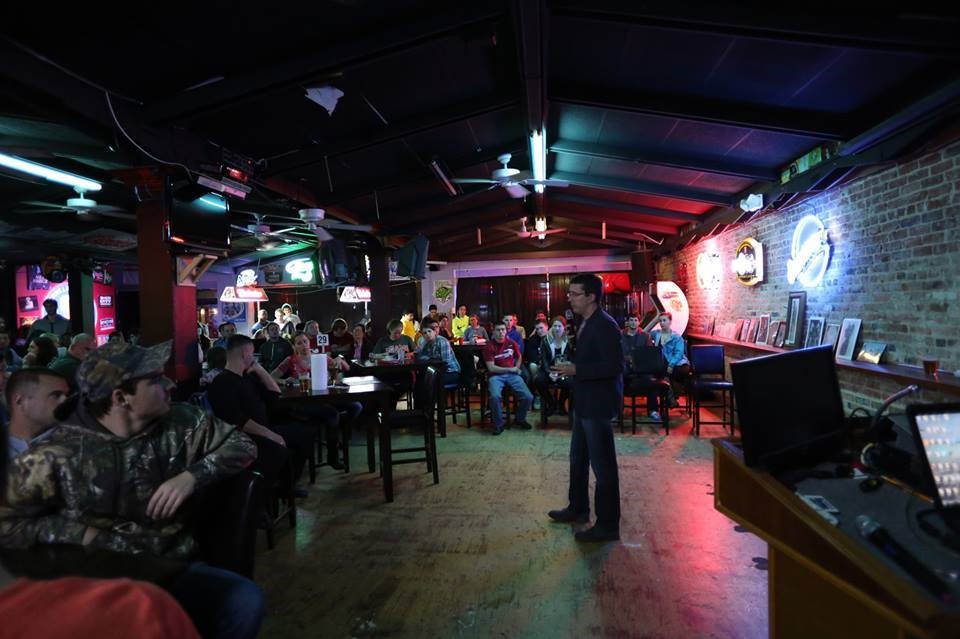 For over ten years now, the slams have brought together students, faculty, and community members to engage in spirited debate about controversial questions. The format of the slams encourages participation from the audience. To distinguish the events from a formal lecture or class, the slams have always been set in a bar. Originally held at a series of venues off campus, the slams moved to the JU River House several years ago once the campus pub became available. In this informal setting, the facilitator sets up an issue with a ten to fifteen-minute presentation. The floor then opens for questions, comments, and debate from the crowd. Audience members often end up debating each other. At the September slam this year, which considered the question whether the voting age should be lowered, the audience was so carried away that the facilitator happily observed, "They don't need me."
The slams provide a venue for students to learn from each other, and to explore diverse points of view. Annalyce Papo-Ramsey, a junior biology major and philosophy minor, summed up the experience this way: "The philosophy slams have brought out the curiosity in myself both spiritually and physically. In a physical manner, I feel as though I have the ability to have a voice and confidently express my opinions, but spiritually my mentality has truly opened and broadened to all aspects of life."
Sponsored by the JU philosophy department, the slams draw on JU faculty as well as speakers from other universities and the community. Speakers from across the university have participated, including professors from the departments of philosophy, economics, English, communication, music, math, marketing, management, physics, visual arts, sociology, and biology. We have welcomed visitors from the University of Florida, Florida State, the University of North Florida, Stetson, Flagler, and more. In September, we welcomed Christopher Phillips, the author of the Socrates Café and a traveling Socratic philosopher who facilitates discussions across the United States.
Everyone is welcome at the philosophy slams. To find out about future events, watch for posters on campus or check out the Facebook page Jacksonville Philosophy Slams.