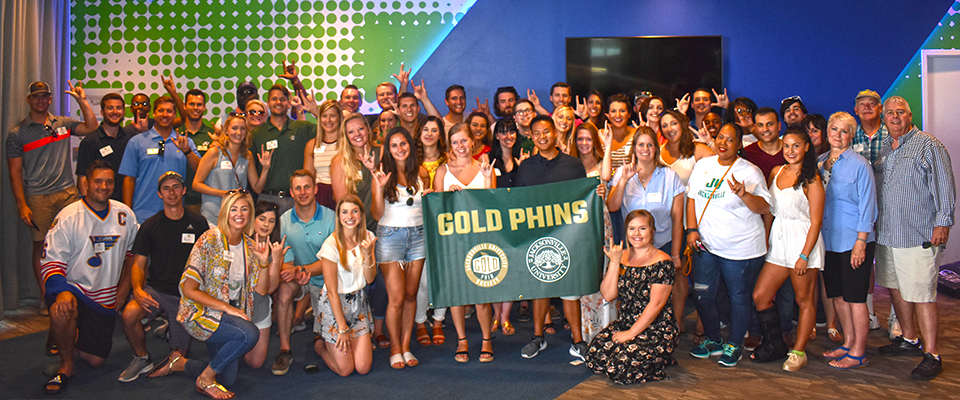 GOLD Phin Alumni Network Graduates Of the Last Decade
Jacksonville University alumni who have graduated within the last ten years are part of the GOLD (Graduates Of the Last Decade) Phin Alumni Network. The GOLD Phin Alumni Network focuses on providing unique opportunities for recent grads to connect with their alma mater, build personal connections with fellow alumni, and expand their professional network within their community.
Get Involved
According to the GOLD Phin Committee, these are the top five reasons to get involved with the GOLD Phin Alumni Network:
Professional Networking:

Network

with recent JU grads in the Jacksonville business community.
Connection & Friendship: Connect and build personal friendships with alumni that you might not have known while in school.
Career Development: The GOLD Phin Alumni Network partners with the JU Career Resource Center to provide professional portraits, resume review, and career planning and development opportunities to recent grads.
Service & Philanthropy: GOLD Phins give back and make a difference for current Dolphins and the Jacksonville community through philanthropic events and an Annual Giving Challenge.
Dolphins for Life: GOLD Phins value supporting their alma mater as ambassadors of the University for life.
You can serve in a community leadership position by applying to join the GOLD Phin Committee.
Check out the article about the GOLD Phin Alumni Network in the last issue of WAVE Magazine
Upcoming Events
Alumni Career Couch
Date

March 11 from 6-7:30 p.m.

Location

Virtual

Dat
Join the Student Alumni Association (SAA) and Career Management at Jacksonville University for a career networking panel. The Student Alumni Association is excited to bring GOLD Phin Alumni Network members together to talk all things career and professional networking with students and alumni.
Register for Alumni Career Couch
GOLD Phin Tequila & Trivia
Date

March 30 from 6:30-7:30 p.m.

Location

Virtual

Dat
Do you think you know Jacksonville University? Join the GOLD Phin Committee and Alexis Hunt, Certified Specialist of Spirits, for an exploratory tequila tasting event with some Jacksonville trivia. Test your taste buds and your Dolphin knowledge - you can compete alone, or gather your friends (virtually) and play as a team!
GOLD Phin Mulligans & Mimosas
Date

May 16 from 11 a.m. - 1 p.m.

Location

TopGolf Jacksonville

Dat
Join the GOLD Phin Network for our third annual Mulligans & Mimosas event at TopGolf. Your ticket includes a breakfast taco buffet, one mimosa, access to Topgolf, a round of miniature golf, and a $5 donation to the JU Scholarship Fund in memory of founding GOLD Phin Committee member Stephen Flynn '11.
Register for Mulligans & Mimosas
Past Events
GOLD Phin Committee
Members of the GOLD Phin Committee plan and lead key GOLD Phin events throughout the year (including a Homecoming event), provide valuable feedback to University leadership and the Alumni Office, and serve as ambassadors for their alma mater.
Apply to Join the GOLD Phin Committee
GOLD Phin Society
GOLD Phins have the opportunity to be recognized for staying connected and giving back to their University by joining the GOLD Phin Society. This giving circle requires GOLD Phins to give either their class year per month (i.e. $20.20) OR $250+ per year. (Graduates who choose to increase their monthly gift to $42 per month by their tenth year will be upgraded into Order of the Dolphin.) Members also receive free admission to all GOLD Phin Network events in Jacksonville!
Connect with the GOLD Phin Alumni Network
GOLD Phin Traditions
Senior Stroll
On the afternoon before undergraduate Commencement, the chair of the GOLD Phin Committee offers an official toast to the graduating class welcoming them into the GOLD Phin Alumni Network.
License Plate
As an alum, there is no better way to show your Dolphin pride than with a JU license plate. Get a free license plate by filing for reimbursement!
Scott Amos Recent Alumnus of Distinction Award
The Scott Amos Recent Alumnus of Distinction Award is bestowed upon a GOLD Phin who represents what it means to be an exceptional Dolphin. Named after JU's Randall Scott Amos '01/'02, who passed away on October 28, 2006, this award recognizes recent graduates who truly make a difference in their community, their profession, and at JU.
Global Toast
GOLD Phins from Dolphin Clubs around the United States always know the best local spots for happy hour! Every year we call upon GOLD Phins to plan toast parties to celebrate JU's birthday during Global Toast!
With questions or to get involved, contact Chelsea Shackelford at cshacke@ju.edu or (904) 256-7202.