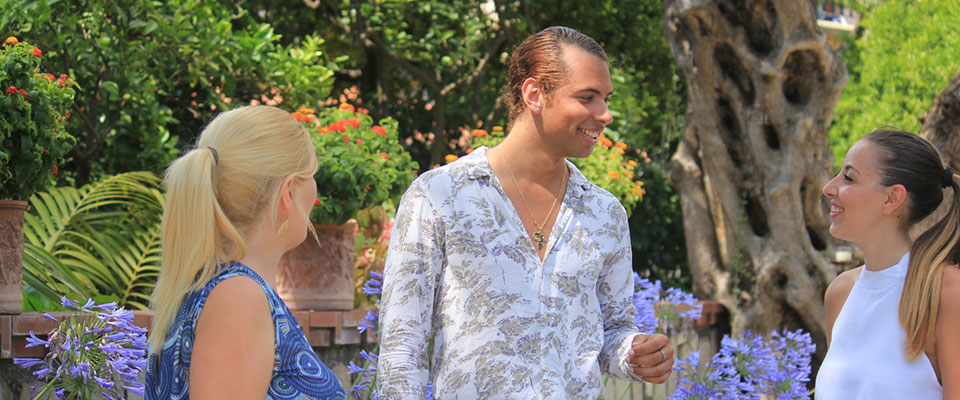 Intern in Sorrento
About the Program
Jacksonville University is proud to offer Summer International Internships in Sorrento. This culturally rich program is designed to engage your intellect, and cultivate professional experience, while interning in Italy and the European Union. This internship program is designed for undergraduate students working to complete upper-level credits in their major field of study. International internships provide you with skills necessary to successfully participate and compete in the knowledge based global marketplace.
Partnering with the Sant'Anna Institute, on the majestic cliffs of Sorrento, Italy, this program is offered exclusively during Summer I 2024. The 5-week, 3-credit program is available May 26 - June 29, 2024.
The program includes internship placement, on site meetings, and assistance from support staff while living and working in Sorrento, Italy. Students intern in their major field of study while cultivating professional skills in an International environment.
The International Internship Program provides a deep cultural and professional experience. Immersed in the culture, you will live like a local as you enhance your career skills while expanding your world view. As an intern, you will gain valuable professional experience, an in-depth understanding of another culture and develop a global network of contacts. The experience will strengthen your resume and provide you with an opportunity to gain proficiency in a foreign language. Program placement is limited and can be competitive. International internships require a formal application process, letters of recommendation, a review of transcripts, and a Skype interview with the intern director prior to acceptance. Students considering this option are encouraged to complete their application early.
This program is specifically designed for rising juniors and seniors with a minimum 3.0 GPA working to complete internship credit in their major. Candidates should have completed their core major courses and be academically, intellectually, and socially prepared to intern in their field of study. All interns are placed with local business and organizations that speak English.
How
to Apply
Apply by emailing Study Abroad & Away: abroad@ju.edu
Submit $350 non-refundable deposit by clicking here.
Application Deadline: February 1, 2024
Course Credit
390: International Internship (3 credits)
Price & Inclusions
5-week, 3-credit Internship: $5,250

Italian Government Intern Processing Fee: $500

Program Travel Fee: $750
Executive Director
Dr. Annmarie Kent-Willette
Executive Director, Global Teaching and Learning
Professor, Communication
Summer Session I
5 Weeks

May 26 - June 29, 2024

Sorrento, Italy
Contact Us
JU Study Abroad & Away