Transportation Logistics
Public Transportation: Jacksonville Transportation Authority (JTA)
The Jacksonville Transportation Authority (JTA) services the Northeast Florida region and has various routes throughout the city. Line #19 – Arlington has the closest stops for students to hop on and transfer to other lines, depending on their destination.

JTA offers a College Student Annual Pass Program wherein local students attending an accredited college or university can ride any JTA fixed route bus or First Coast Flyer route free of charge once your enrollment is confirmed. You must use an email address associated with a local accredited college or university.

We recommend you plan your trip ahead using the JTA Plan Your Trip tool if using their services. Students can review their Fares/Passes here.
Greyhound Bus & Amtrak Train
When visiting other countries in the U.S., students have the option of traveling by plane, train, or bus. The Greyhound Bus is currently the main bus line in America, and often services smaller towns which are not accessible by train.

In comparison, trains are usually faster, more comfortable, and about the same price as buses. However, the passenger train system is limited in the U.S., and depending on the destination may require usage of bus and train. Amtrak is aware of this complication, and when planning a trip to a destination in which you must take the bus for a limited distance Amtrak will schedule and include this in your reservation.

For more information about times and routes visit their websites linked above.
Greyhound Bus Station
1111 W Forsyth St.
Jacksonville, FL 32204
+1 (904) 356-9976
Amtrak Station
3570 Clifford Lane
Jacksonville, FL 32209
+1 (800) 872-7245
Buying a Car
As an international student you will have the ability to purchase a car from a car dealership or a private individual who has advertised a car for sale. In any case you should have with you a U.S. American acquaintance that is both knowledgeable about cars and skeptical by nature. Such person could help you evaluate both the condition of the car and the claims made by the person who is trying to sell it. These evaluations are essential because buying a car, especially a used one, can be very difficult to understand. When you buy a car, the "Certificate of Ownership" or "Certificate of Title" must be transferred from previous owner to the current car buyer.
All cars in the State of Florida must be registered. If you buy a car, you must register it and obtain a license plate for the car. Information about this process is available on the Florida Highway Safety and Motor Vehicles website.
The law requires automobile insurance. Check with the Division of Motor Vehicles regarding minimum insurance requirements and contact automobile insurance agency regarding differences in insurance costs and coverage in order to make the most informed decision.
Insurance
You can choose from a variety of insurance companies, some of which have agents in the Jacksonville area. We recommend students ask a friend or visit an online search engine for auto insurance companies that provide service to drivers in the NE Florida region.
The cost for the insurance is called the "premium". The amount that you must pay yourself if you get into an accident is called the "deductible." If you want insurance coverage for damage to your car, you will need to purchase "collision" coverage as well.
If you have a bad driving record or are a new driver, your premium will be higher.
JU Parking Permit
Students who choose to purchase a vehicle must register it with Campus Safety & Security and pick up a permit tag for their vehicle. The permit is free and required.

To register your vehicle:
Log in to your MyJU Portal.
Go to the "Student" tab and expand the "Campus Safety" drop down.
Click on "Online Vehicle Registration" and complete the form.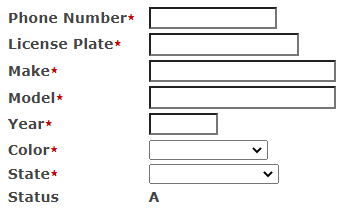 Make = Subaru, Toyota, Ford, etc.