J-1 Exchange Students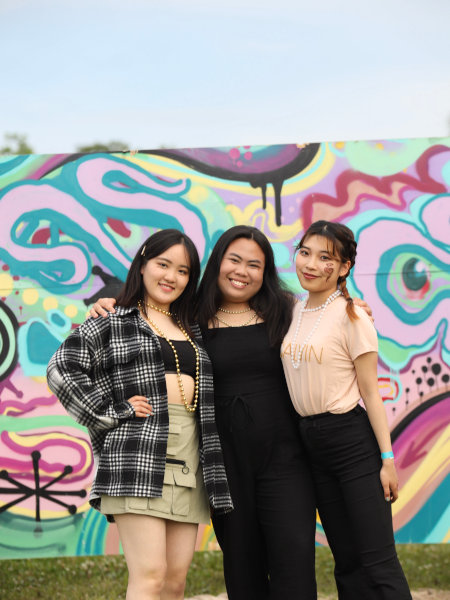 International Exchange
At Jacksonville University, we currently have a variety of wonderful University partners.
If you currently attend any of the following universities, know that we offer exchange programs where you can attend Jacksonville University for up to two semesters.
University of Mannheim in Mannheim, Germany
Waseda University in Tokyo, Japan
If you are a current Jacksonville University student, and are interested in studying abroad, please refer to the Study Abroad and Away office.
---
J-1 Student Visa & Arrival Information
SEVIS Fee
A SEVIS I-901 fee payment is required for J-1 students and the receipt must be included with all J-1 visa applications. Students should also be prepared to present the SEVIS I-901 fee payment receipt at the U.S. port of entry. Students with a country of citizenship or country of birth of Cameroon, Ghana, Kenya, Nigeria or Gambia must pay by money order, Western Union Quick Pay or certified check drawn from a U.S. bank. All other students also have the option to make a credit card payment.
Applying For A Visa
Students are encouraged to apply for their visa as soon as they receive the DS-2019 issued by Jacksonville University to provide time for visa processing. U.S. Embassies or Consulates are able to issue J-1 entry visas up to 120 days before the program start date listed in item #3 on your DS-2019.
In most countries, student visa applicants must appear in person for the visa interview. However, each U.S. embassy or consulate sets its own interview policies and procedures. Students should consult their specific embassy website or call for application instructions.
In general, the following documents are required for the J-1 visa application:
Online Non-immigrant Visa Application (DS-160) confirmation page.
Visa application fee payment receipt - check the U.S. embassy or consulate website for specific instructions.
Form DS-2019 issued by Jacksonville University.
Valid passport - must be valid at least 6 months into the future.
Financial evidence - proof of funds for estimated cost of duration of study.
SEVIS I-901 fee payment receipt.
Jacksonville University admission letter.
One photograph - see the U.S. Department of State website for photo requirements.
All applicants should be prepared to provide additional information, such as transcripts or diplomas from previously attended institutions, or documents which demonstrate that the applicant intends to return home after his/her studies, etc. Dependents will receive their own DS-2019 with their own SEVIS ID number to apply for the J-2 visa. Dependents are not required to pay the SEVIS fee and it is the J-1 student who signs all DS-2019.
IMPORTANT: No assurances regarding the issuance of visas can be given in advance. Therefore final travel plans or the purchase of non-refundable tickets should not be made until a visa has been issued. After the visa is issued, check to make sure the J-1 visa sticker in your passport is accurate and that your original DS-2019 has been returned to you as you will need to have it in hand when entering the U.S.
Citizens of Canada and Bermuda do not need to apply for a J-1 visa, but are required to have the DS-2019 and pay the SEVIS I-901 fee before entering the U.S. to study.
Entering The United States
When preparing for your arrival to the U.S., you should plan your travel according to information provided by the International Affairs Office at Jacksonville University. According to immigration regulations, J-1 student visa holders can enter the U.S. up to 30 days prior to the program report date on the DS-2019 (item #3).
Students transferring into Jacksonville University in J-1 status from another institution or changing their degree level at Jacksonville University can stay in the U.S. or travel between programs, and may enter the U.S. more than 30 days before the new program start date.
When you travel, make sure to have the following documents in your carry-on bag:
Valid passport with valid J-1 visa sticker.
The original DS-2019 issued by JU.
SEVIS I-901 fee payment receipt.
Financial documents.
Admissions letter.
At the U.S. port of entry, you will be required to present your passport and DS-2019 to the immigration officer who will stamp your passport. In most cases, the officer notes "D/S" ("Duration of Status") on your passport page. This means that you are allowed to stay in the U.S. for the length of time indicated on your DS-2019 (item #3), as long as you maintain full-time enrollment and valid J-1 status. Be sure that your passport is properly stamped before exiting the inspection area.
Do not enter the U.S. in visitor status (B1/B2, WT, or WB). This status does not permit full-time study in the U.S.
After your arrival, print out your Admission (I-94) number and keep a copy of all travel documents (I-94 information, J-1 visa, and DS-2019) for your personal records. Make sure your I-94 print out contains the correct information: visa status J-1, admit until D/S.
If you need any clarification on this process or need further assistance, please contact the J-1 Responsible Officer, Rob Berwick at rberwic@ju.edu or +1 (904) 256-7092.
J-1 Student Responsibilities
Duration of status (D/S) means the International student is "in status" throughout the academic program, is pursuing a full time course of study, and making satisfactory academic progress. It also means assuming other responsibilities taken when signing the visa application. International students are responsible for:
Providing copies of their passport, visa, I-94, and DS-2019 to the ISS Office upon arrival.
Reporting all changes of address and phone number to the ISS Office.
Keeping the passport valid six months into the future.
Requesting an Extension of Stay in the United States before permission expires (you need to apply up to 30 days in advance).
Maintaining full-time enrollment for Fall and Spring semesters of the academic year (12 hours undergraduate and six hours graduate).
To follow international student employment eligibility regulations.
Obtain appropriate permission for on-campus or off-campus employment including credit or non-credit Academic Training in advance.
Assuring all documents are in order two weeks before leaving the United States; re-entry documents must be executed every time the student leaves the United States.
Completing Internal Revenue Service Form 1040 NR and/or 8843 every year whether or not money, including scholarships and/or interest on checking and/or savings accounts, was earned in the United States.
Registration is scheduled prior to the beginning of each term on dates specified in the academic calendar. At the time of registration, each student must pay in full the total charges for the semester or session to validate his or her registration. Charges include: Residence Hall, Meal Plan, Health Insurance, Student Support Fee, and special fees; i.e., laboratory, music, flight, etc. Failure to pay all fees will consider you to be out of status, and force you to return home.
The preceding list is not all-inclusive.
J-1 Frequently Asked Questions
I am an international Exchange student. How do I apply to Jacksonville University?
International undergraduate or graduate non-degree exchange students who have been nominated by their home institution to apply to Jacksonville University should complete the online application for international students.
How do I get a J-1 visa to study in the United States?
Students who wish to enter the United States as an International exchange student, they need to obtain a student visa before entering the country. To obtain a J-1 visa, students must first qualify for a DS-2019 certificate from a United States college or university. There are three steps to qualifying for a DS-2019 from Jacksonville University. Students will first need to be nominated by their home institution, accepted to Jacksonville University based on the Partners' agreements. Students must then provide documentation that they are able to pay for their expenses while studying in the United States.
When will my DS-2019 be mailed?
Once you choose to accept Jacksonville University's offer of admission and your financial documentation is deemed to be sufficient, you will be mailed a DS-2019 certificate of eligibility.
What type of financial documentation can be provided for the purposes of the DS-2019?
For the purposes of the DS-2019, Jacksonville University requires that students provide original documentation showing that they can finance the expenses during the duration of stay. For example: student support fee, room & board, living expenses, transportation and health insurance. A confidential financial statement can be provided to Jacksonville University for this purpose. An original bank letter that is stamped and signed by a bank official will also be acceptable. Statements of credit, non-liquid assets, and estimates are unacceptable. If the applicant plans to finance his or her education through a sponsor or a non-parent, statement of support will be required.
I have my DS-2019. How do I get my visa?
Learn more about this process.
After you have received your DS-2019, your next step is to register in SEVIS (Student and Exchange Visitor Information System) and pay the SEVIS fee. You can do this by visiting www.fmjfee.com. Please be sure to print your receipt of payment. You should then complete the government form DS-160 by going to https://ceac.state.gov/genniv/. Pay your application fee and make an appointment for a visa interview at the nearest U.S. Embassy or Consulate in your home country. Bring your DS-2019 and financial documentation with you to your appointment along with a passport that will be valid for at least six months beyond your intended period of stay in the U.S. During your visa interview, the consular officer at the U.S. embassy or consulate will determine if you are qualified for the type of visa for which you are applying.
Will I be able to work in the United States?
International exchange students on a J-1 visa can work a maximum of 20 hours on campus as part of the University Work Study program. Employment is not guaranteed.
International exchange students may also qualify for academic training. Please see Advisor for more information.