Life Sciences Museum and Herbarium
​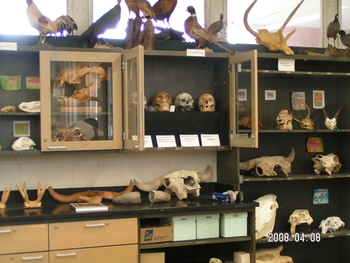 Jacksonville University's Life Sciences Museum houses an impressive collection of unique specimens; some fossils date to 400 million years ago. Included in the collection are sharks teeth, various mammal skulls (fossil and extant species), African mammal skins and horns collected in the 1920's, as well as extant species of fish, amphibians, reptiles, birds, and mammals.
Dr. Cliff Jeremiah has donated fossil specimens and time working with students setting up exhibits and preparing specimens. The Pace family donated an African Mammal Collection of skins, horns and antlers. Bob and Beverly Davis donated 184 individual bird mounts to the collection. Maggie Wheldon donated a shell collection that represents a lifetime collecting effort. White Oak Plantation donated skulls of Grevy's Zebra, Gerenuk, Maned Wolf, and Cheetah. A collection of Sherman's Fox Squirrel study skins from White Oak Plantation reside in the collection and were road kill specimens collected for JU by the late Pat Rider of White Oak Plantation and were prepared by Dr. Ken Hoover and JU students. Jean Tinsman has donated a collection of naturalists' art and African specimens to the museum. This collection was originally assembled by her late aunt.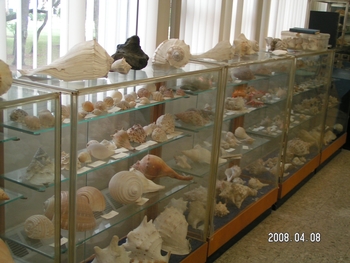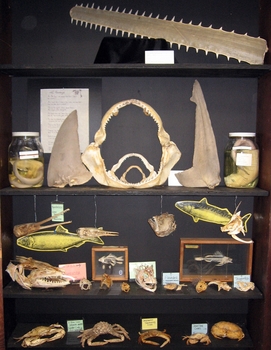 The value of each of these contributions is priceless but some costs can be specified. The taxidermist's charges for preparation of the bird collection would be $44,400. The costs of travel, skin and horn preparation and value of the specimens from the Pace family would also be very high. The contributions by Dr. Cliff Jeremiah in collection time, preparation of the many specimens, and value of the specimens themselves, are priceless. The Maggie Wheldon Memorial Shell Collection has been at Jacksonville University for many decades, contains thousands of shells and is a collection that cannot be replaced. White Oak Plantation management and staff has generously encouraged and supported scientific endeavors by JU faculty and the contributions to the JU Life Sciences Museum is a part of this support.
Dr. Ken Hoover, Professor of Biology, sta​rted the JU Life Sciences Museum in 2002 and Dr. Natasha Vanderhoff has directed its development since then.