Life Sciences Museum and Herbarium
​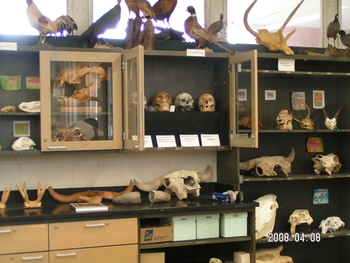 Jump to ... Herbarium
Life Science Museum
Jacksonville University's Life Sciences Museum houses an impressive collection of unique specimens; some fossils date to 400 million years ago. Included in the collection are sharks teeth, various mammal skulls (fossil and extant species), African mammal skins and horns collected in the 1920's, as well as extant species of fish, amphibians, reptiles, birds, and mammals.
Dr. Cliff Jeremiah has donated fossil specimens and time working with students setting up exhibits and preparing specimens. The Pace family donated an African Mammal Collection of skins, horns and antlers. Bob and Beverly Davis donated 184 individual bird mounts to the collection. Maggie Wheldon donated a shell collection that represents a lifetime collecting effort. White Oak Plantation donated skulls of Grevy's Zebra, Gerenuk, Maned Wolf, and Cheetah. A collection of Sherman's Fox Squirrel study skins from White Oak Plantation reside in the collection and were road kill specimens collected for JU by the late Pat Rider of White Oak Plantation and were prepared by Dr. Ken Hoover and JU students. Jean Tinsman has donated a collection of naturalists' art and African specimens to the museum. This collection was originally assembled by her late aunt.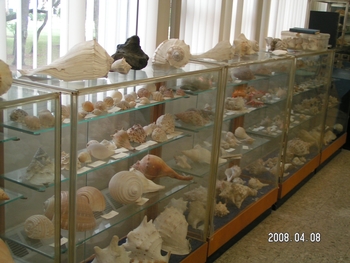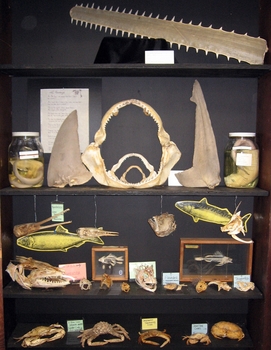 The value of each of these contributions is priceless but some costs can be specified. The taxidermist's charges for preparation of the bird collection would be $44,400. The costs of travel, skin and horn preparation and value of the specimens from the Pace family would also be very high. The contributions by Dr. Cliff Jeremiah in collection time, preparation of the many specimens, and value of the specimens themselves, are priceless. The Maggie Wheldon Memorial Shell Collection has been at Jacksonville University for many decades, contains thousands of shells and is a collection that cannot be replaced. White Oak Plantation management and staff has generously encouraged and supported scientific endeavors by JU faculty and the contributions to the JU Life Sciences Museum is a part of this support.
Dr. Ken Hoover, Professor of Biology, sta​rted the JU Life Sciences Museum in 2002 and Dr. Natasha Vanderhoff has directed its development since then.
Herbarium
The purpose of the Herbarium Collection is to provide a representation of plant communities, to study and make these collections available for study to research scientists, and to use the collections to generate information disseminated through exhibits, publications, lectures, and other educational activities. These purposes contribute to improving the significance and research value of the collection as well as preserving them for future generations.
Sources of new additions are:
specimens received on exchange from institutions which maintain a formal exchange balance with the department;
specimens received by staff members as a gift or gift for identification;
specimens collected by laboratory staff members; and
specimens which were purchased or whose collection was contracted.
Please click the link to download a spreadsheet of the latest collection.
Please click the link to access the lichen database with the Consortium of North American Lichen Herbaria.
Outgoing Loans
A loan of botanical specimens is made in response to a written and/or verbal request by established botanical institutions for use in valid scientific research projects. Loans are made on an institutional basis only and not between individuals. Exceptions to this must be approved by the Curator of the Herbarium. In routine loan requests, the Curator of the Herbarium has the authority to review and approve transactions. The Curator of the Herbarium reserves the right to refuse a loan to any institution or person who has exhibited anything less than the highest regard for botanical specimens.
Once a loan has been approved by Curator of the Herbarium, the laboratory staff selects and prepares the specimens for shipment. All pertinent loan data, including transaction number, date, description and count of specimens are maintained by the Curator of the Herbarium. Most loans of non-type specimens are made for a period of one to three years and type specimens are loaned for six months. Extensions of loan periods may be granted by the Curator of the Herbarium only after a written request has been received. Loans are monitored by the Curator of the Herbarium loaning the specimens. When a loan is overdue or the loan period is about to expire, a letter is sent to remind the recipient to either return the material or to request an extension of the loan period. If there is no response to this reminder, a letter is sent indicating that the loan period has expired and that the loan must be returned.
Occasionally, botanical specimens are loaned for exhibit purposes. The loan of these specimens is consistent with oan policies, and the loan period is defined for a specific length of time.
To access other herbarium collections, please search using this link to the Index Herbariorium.