Facilities & Resources
Facilities
The Department of Biology and Marine Science is housed in the Reid Medical Sciences Building, the Nelms Buildings, and the Marine Science Research Institute. There is also the Life Sciences Museum that includes an impressive collection of specimens.
Our f​acilities have a working wet lab with an aeration system, aquaria to maintain marine and freshwater organisms, an aquaculture compound dedicated to freshwater fish aquaculture, and a variety of spectrophotometers, centrifuges, incubators and microscopes for the use of students and faculty in laboratory and research settings.
Our newly renovated Anatomy & Physiology laboratories allow students to engage in hands-on exploration using anatomical models, simulation software, including Vernier physiological tools, and specimens. New additions include newly designed air control systems and storage solutions. Utilizing these spaces, students have the opportunity to explore the body from the cellular level to the whole organism, all the while gaining an appreciation for how the systems work together.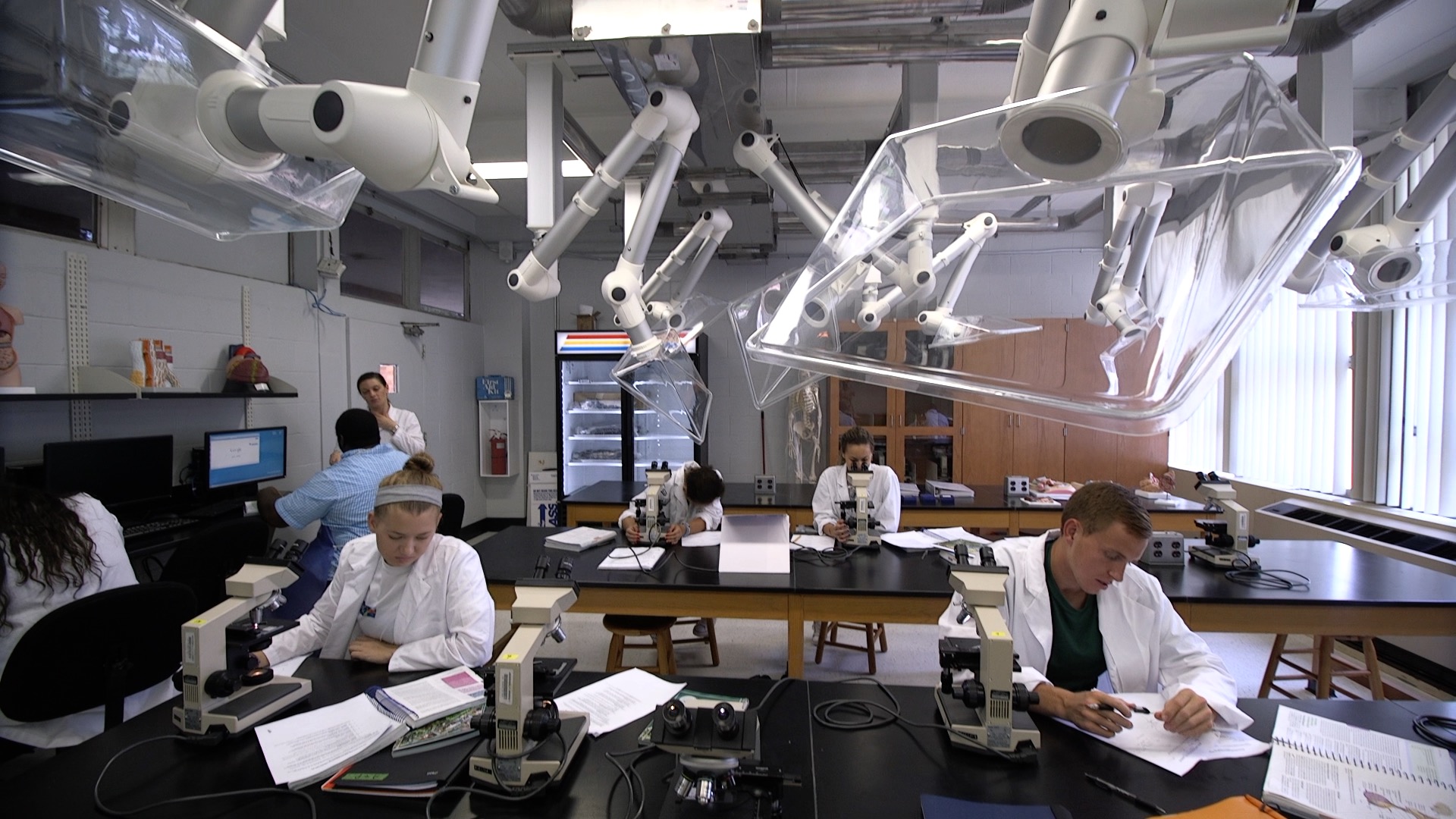 We have the capacity to teach students how to culture mammalian cells, amplify DNA using the polymerase chain reaction, use fluorescence microscopy to count cells and view subcellular structures, and measure antibodies and antigens via ELISA assays.
Shimadzu AXIMA Performance MALDI TOF/TOF mass spectrometer
Funded by the State of Florida through the St. Johns River Initiative
The MALDI mass spectrometer allows the analysis of a wide range of molecules (toxins, carbohydrates, polymers, metabolites, oligonucleotides, protein, peptides, bacteria, etc.) that are pure as well as in complex mixtures, including environmental samples with minimal sample preparation.
How MALDI-TOF MS works: Analytes are crystallized in a matrix and then loaded into the instrument. After the instrument obtains a high vacuum, the researcher shoots the sample with laser pulses, releasing the analytes into the gas phase as ions. An electric field is applied, and the molecular ions are accelerated, which travel through a vacuum tube and strike a detector at the end. The time it takes an ion to travel the vacuum tube and strike the detector is dependent on its mass and charge. The resulting data are used in a variety of ways, depending on the application. The TOF/TOF feature allows MS/MS analysis of the analytes, which is a tandem mass spectrometry technique where molecules in the instrument are fragmented with helium atoms, providing structural information.
AXIMA-iDPlus: Our MALDI-TOF/TOF mass spectrometer is configured for and combined with the SARAMIS software and database to identify a wide range of bacteria, yeasts, molds, and spores. This technique relies on producing mass "fingerprints" of the microorganism and comparing it to the extensive database.
Features of the instrument:
Mass range 1-80kDa in reflectron mode; 1-500kDa in linear mode
Mass range 1-500kDa in linear mode; 1-80kDa in reflectron mode
Mass resolution 20000 FWHM in reflectron mode; 5000 FWHM in linear mode
Mass accuracy <5ppm in reflectron mode
Sensitivity 250 amol in reflectron mode
High energy MS/MS using helium collision gas to fragment molecules

structural information for the molecule
amino acid sequences can be obtained from peptides

MASCOT database search integration for identifying proteins using peptide mass fingerprints
SARAMIS software and database for microorganism identification
Students and faculty use the instrument to identify and characterize proteins, toxins, and bacteria by analyzing intact proteins, peptides from digested proteins, algal toxins from local waters, and bacteria from local waters and oysters.
Watch two videos of how some of our students have used the mass spectrometer which were filmed at the Science on the St. Johns community event at the JU Marine Science Research Institute:
Bio-Rad CFX96 Touch Real-Time PCR Instrument
Funded by the State of Florida through the JU EPIC program
The Bio-Rad CFX96 instrument is used to conduct the polymerase chain reaction (PCR), which is a molecular biology technique that copies and amplifies specific targets of DNA. The real-time feature means that the concentrations of specific genes can be determined as well as the ability to monitor the reaction as it happens (in real-time).
How real-time PCR works:
The polymerase chain reaction uses a DNA replicating enzyme (Taq polymerase) to synthesize copies of target DNA. This technique is the basis for DNA analysis of crime scenes and suspects, where short tandem repeats are amplified from biological material (blood, saliva, semen, etc.) and the resulting data are compared. Real-time PCR additionally incorporates molecules that cause an increase in fluorescence when increasing amounts of DNA are copied.
Features of the instrument:
Ten orders of magnitude dynamic range
Melting curve analysis
Thermal gradient
Three targets with different fluorophores can be analyzed simultaneously
Takes 96 well plates, individual tubes, or strips
Students and faculty use the instrument to analyze Alu repeats in humans, to identify bacteria such as Vibrio cholerae (causes cholera) and Staphylococcus aureus (causes staph infections), and perform conventional (dark) PCR with subsequent analysis via agarose gel electrophoresis. Student projects can cover a range of target DNA.
Bio-Rad iMark Microplate Absorbance Reader
Funded by the State of Florida through the JU EPIC program
Features of the instrument:
400 nm – 750 nm wavelength range; dual wavelength readings
Takes 96 well plates or strips
Kinetic analysis
Built-in shaker
Students and faculty can use this instrument for ELISA analysis, bacterial growth curves, protein assays, enzyme assays for kinetics, and more.
Biosafety cabinet
Funded by the State of Florida through the JU EPIC program
The microbiology biosafety cabinet is used by students and faculty to work in a sterile environment. Uses include handling bacteria, including pathogens, and preparing samples for PCR analysis.
Leica DM IRB Inverted Fluorescent Microscope
Funded by the National Science Foundation
Students and faculty have used this microscope to detect specific proteins in cells using immuno-labeling, follow macrophage activity, determine and quantify live and dead bacteria, and visualize photosynthetic cells and subcellular components.
Jump to..... top of page
Aquarium Facilities
The Marine Science Research Institute houses the wetlab complete with aquarium and aquaculture tanks for freshwater and seawater projects.
Photos: Francisco Ortiz
Jump to..... top of page
Vessels
The Marine Science Research Institute and Department of Biology and Marine Science have a number of vessels available for student use. They include:
18 ft. Flat bottom Jon boat
17 ft. Mako Run-About
RV Dolphin, 25 ft. Boston Whaler
Seabattical, 31 ft. Fountain
RV Larkin, 48 ft. Floating Classroom Pontoon Boat
For daily rates, please contact Director of the MSRI, Dr. White: qwhite@ju.edu.
Resources
OCEARCH is a nonprofit with a focus on generating critical scientific data related to tracking (or telemetry) and biological studies of keystone marine species, including great white and tiger sharks, while simultaneously continuing its efforts in the areas of conservation and education, all on a measurable yet global scale. OCEARCH shares real-time scientific data through its Global Shark Tracker and leverages that data to engage students with interactive lesson plans and inspire the next generation of explorers, scientists, and stewards of the ocean.
The National Science Foundation's Ocean Observatories Initiative (OOI) has constructed a network of sustained ocean measurements to study climate variability, ocean circulation, ecosystem dynamics, air-sea exchange, seafloor processes, and plate-scale geodynamics. The program also invested in making the data available to the public through a series of web-based software tools that link data driven activities to the live data being collected by the OOI.
Jump to..... top of page