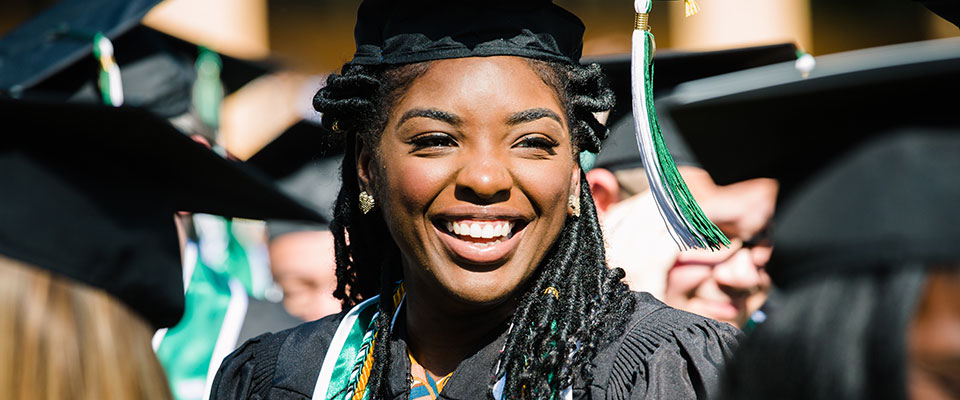 Black Alumni Network

The Jacksonville University Black Alumni Network (JUBA) is a group of Black JU alumni and allies that seek to advance and enrich the communities of Jacksonville University, the greater Jacksonville area, and beyond. JUBA engages JU students and alumni through scholarship, academic and career advising, community service, programming, and fostering relationships within and beyond the Jacksonville area. JUBA exists to trailblaze for minorities and underrepresented groups to ensure a collaborative alumni network and inclusive campus experience.
View the JUBA Executive Committee
Upcoming Events
Black Alumni Network Holiday Social
December 1, 2022 | 6:00 p.m. to 8:00 p.m. | Coop 303 - Neptune Beach
Join the JU Black Alumni Network at Coop 303 in Neptune Beach for a holiday social to start the winter season! The ticket includes drinks and appetizers, as well as a gift to our scholarship fund. We look forward to spreading some festive cheer with you as your 2020-2024 Executive Board and telling you more about our upcoming goals and events for the year!
MLK Day Parade Event
January 16, 2023 | 11:00 a.m.
JUBA members are invited to walk alongside each other in the Jacksonville Martin Luther King Jr. parade on Monday, January 16, 2023. The parade will start at the Federal Bank of America building in downtown Jacksonville. Following the parade, members are invited downtown for a breakfast at a soon-to-be announced location. Your ticket includes a $5 donation to the JUBA Scholarship Fund, and covers your first drink at breakfast!
Black Alumni Network Night at the JU Men's Basketball Game
February 9, 2023 | 7:00 p.m. | Swisher Gym
Join your fellow JUBA members to cheer on the Jacksonville University men's basketball team as they host ASUN rival Stetson inside of Swisher Gym. Stay tuned for more information on how to register for this event!
Get Involved
Getting involved with JUBA is easy! Here's how:
All Black identified graduates and students who complete at least one semester of coursework at Jacksonville University are considered members of the network. There are no dues to join.
But don't stop there! If you are interested in playing an active role within the Black Alumni Network or want to ensure you are on the mailing list, please contact us at blackalumninetwork@ju.edu or (904) 256-7202.
Submit an interest form to be a part of the planning committee for the Black Alumni Network.
Update your alumni record

to ensure your receive future communications.
Submit a Class Note

to let your former classmates know what you are up to.
Contribute to the Black History at JU Project
Join the Black Alumni Network Facebook group
Black Alumni Network Basketball Social Video
Past Events
Check out photos from our past events:
Support the Black Alumni Network Scholarship Fund
The beauty of helping students through a scholarship is that your gift will benefit students where they most need help. A scholarship can immediately impact students, giving them a chance, or a second chance, to pursue their education. And the efforts of that gift -- investing in our future leaders -- lasts a lifetime. The Black Alumni Network Scholarship fund was established in October 2019 by the JU Black Alumni Network volunteers.
Invest in the Black Alumni Network Scholarship Fund
About the Black Alumni Network Scholarship Fund
The Black Alumni Network Scholarship Fund supports the establishment of an endowed scholarship for Jacksonville University students who identify with the mission of the Black Alumni Network. Since reaching endowment in February of 2021, the Black Alumni Network Scholarship will be awarded to a student at Jacksonville University based on financial need in the Fall of 2022. The scholarship will be distributed to one or multiple students depending on endowment earnings.
With questions or to get involved, contact blackalumninetwork@ju.edu or by calling (904) 256-7202.