Ways to Give
​​​​Giving annually coincides with the calendar year (January 1- December 31) making giving easy and tax deductible!
Jump to...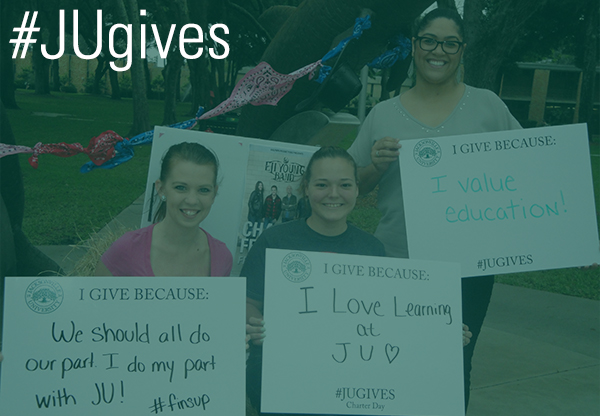 Kinds of Gifts
Annual Giving
By establishing a recurring gift to the University, you ensure perpetual support for every JU student and faculty member by providing essential resources for a variety of expenses. Tuition only covers a portion of the actual cost of educating students. The JU Fund is the primary vehicle to support the tradition of annual giving at Jacksonville University. Annual or monthly contributions to The JU Fund help provide the additional revenue required to meet JU's priority needs and are vital to enhance the University's educational excellence.
Matching Gift information
To encourage philanthropic giving by their employees many corporations will match what the donor gives to a non-profit. A corporate matching gift can double or even triple the value of your gift! To find out if your company matches gifts and how to have your gift matched. Please contact your company's Human Resources office or check out our searchable database.
Planned Giving - Define Your Legacy​
Planned gifts​ are a wonderful way to support current and future JU students and to plan for your own life with a tax-wise gift. Some planned gifts support JU and are also income producing for you! Please contact us if you wish to include JU in your charitable estate plan or you would like to discuss planned giving options such as bequests, gifts of life insurance or real estate, charitable remainder trusts or gift annuities. Please contact Leslie Redd at (904) 256-7882​.
Pavers
Looking for a unique way to make a mark on Jacksonville University? Purchase a personalized and commemorative brick paver for yourself, a loved one, a favorite professor, your graduating class, sorority, fraternity, or someone who has been a significant influence on your life. Your commemorative paver will be engraved with your selected wording and will become a lasting tribute, paving the way for generations of JU Dolphins to come.
Gifts of Appreciated Securities or Mutual Funds
Gifts of appreciated securities or mutual funds are handled through Merrill Lynch. All deliveries must include our Tax ID: 59-0624412 and our Merrill Lynch account number 283-04088. Merrill Lynch can be reached directly by calling our broker, Joe Cusick, at (904) 273-3882 or contacting Chelsea Santoro in our office at (904) 256-7167. To wire money directly, please call Chelsea at (904) 256-7167.
Other Gifts – Gifts in Kind
If you would like to talk with someone about donating gifts of property or other gifts-in-kind, please contact (904) 256-7167 or csantor@ju.edu.
---
Payment Methods
Give Online
Click here to easily give online now.
By Check
Simply mail your check made payable to Jacksonville University to the address below. Note your gift's designation on the memo.
Office of University Advancement
Jacksonville University
2800 University Blvd. N.
Jacksonville, FL 32211-3394
Credit Card/Debit Card
To make your credit card gift or set up automatic deductions, call Chelsea at (904) 256-7167 or visit our online giving page.
By Phone
Please feel free to call Chelsea at (904) 256-7167 any time to give a gift to JU. Our office is open 8:30 a.m. – 5:00 p.m. Monday through Friday.